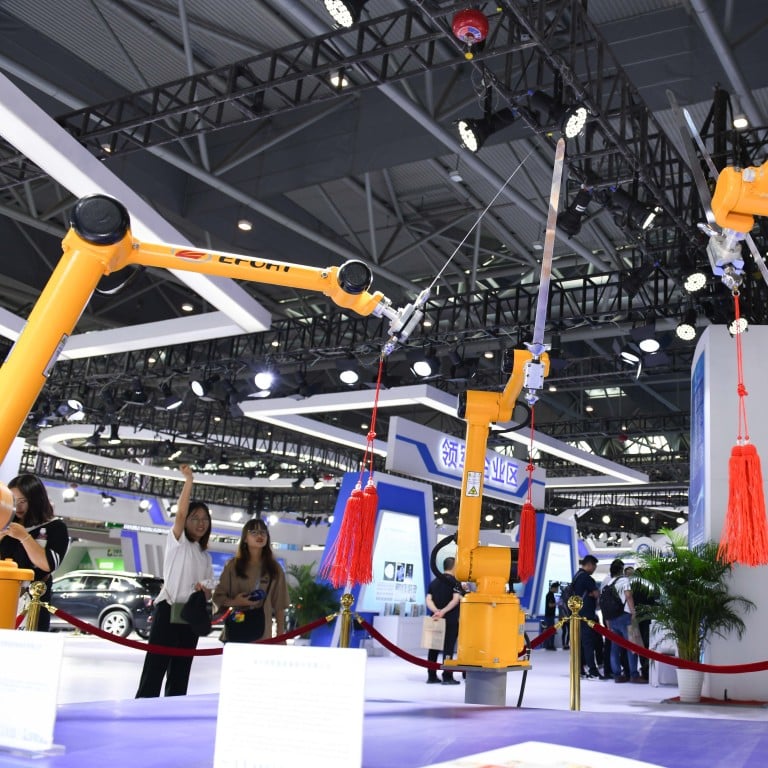 China's industrial profits contract in August as economy battles slow growth amid trade war with US
Profits at China's large industrial firms fell 2 per cent in August, with a year-to-date decline of 1.7 per cent
The National Bureau of Statistics blamed slowing sales, a drop in product prices and super typhoons that impacted manufacturing
Profits at China's large industrial firms dropped 2 per cent in August, with a year-to-date decline of 1.7 per cent, as the world's second largest economy battles slow growth amid a trade war with the United States.
The contraction followed a brief recovery in July, when industrial profits rose 2.6 per cent year-on-year, according to data from the National Bureau of Statistics (NBS).
The NBS said August's decline was largely driven by slowing sales, a drop in product prices and super typhoons that impacted manufacturing in China.
From January to August, total industrial profits were down 1.7 per cent, the same reading as
the year to July
. China's statistics agency said the profit decline eased marginally in various industries, including cars, electronics, ferrous metals and advanced manufacturing.
Overall industrial profits were driven by the private sector, which saw gains of 6.5 per cent to 1.13 trillion yuan (US$158 billion) between January and August, slowing from 7 per cent growth in the first seven months of the year.
The profitability of
state-owned enterprises (SOEs)
remained sluggish, plunging 8.6 per cent to 1.21 trillion yuan (US$170 billion) compared to the same period last year. From January to July, SOE profit was recorded at 1.09 trillion yuan (US$153 billion), a fall of 8.1 per cent year-on-year.
Ferrous metals – including steel used for the construction of bridges and skyscrapers – was one of the best performing industries, data showed, with profits jumping 180.8 per cent year-on-year, indicative of Beijing's infrastructure stimulus filtering into the economy. Profit of non-ferrous industry increased by 9.7 per cent between January and August, an acceleration of 3.7 percentage points from the first seven months of the year.
Textile profits slumped 3.4 per cent, while the electronics industry contracted 2.7 per cent in the year-to-date, the NBS said.
One of the hardest hit industry was car manufacturing, which saw a 19 per cent decline between January and August, extending a protracted slump in the
world's biggest car market
.
The NBS said while the overall profit of cars and electronics industry decreased, the rates of decline were 4.2 and 3.6 percentage points lower respectively than that of January to July period.
China's State Council announced on Thursday it will let the market set a portion of the nation's coal-fired power tariffs in a bid to boost industrial profits and reduce costs of electricity for factories.
Existing benchmark coal-power tariffs will be replaced by a new "base price-plus-floating" mechanism from January 1 next year, the State Council said in a statement.
The floating mechanism will allow the country's state-owned power generators, electricity sales companies and users to set upwards price revisions of 10 per cent and downward revisions of 15 per cent.
In a separate statement released by the official Xinhua News Agency on Thursday, the State Council raised concern about declines in the country's producer price index (PPI), a key barometer of corporate profitability, as well as soaring pork prices.
The PPI, which measures factory gate prices, fell in July and August, the worst year-on-year contraction since August 2016.
"In the face of the current situation, we must be disciplined, pay more attention to the use of market-oriented methods, curb the excessive rise of some food prices, and keep the industrial producers' prices basically stable, ensuring that the overall price level of the year is in a reasonable range," the statement said.
This article appeared in the South China Morning Post print edition as: Slow growth tears into industrial profits