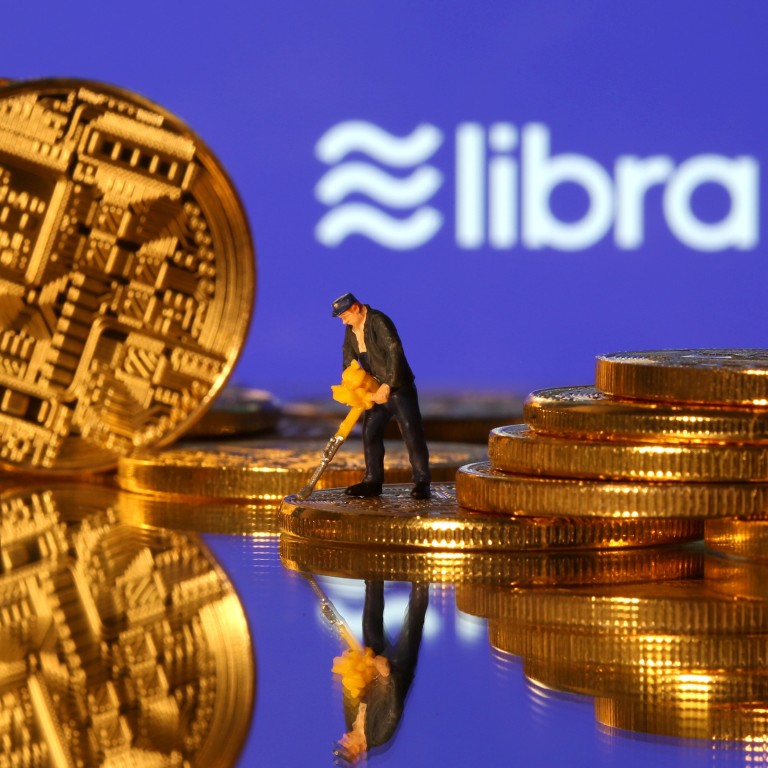 Facebook's Libra poses a threat to China's financial sovereignty, plans to use yuan overseas, analysts say
Libra was unveiled three months ago and is still pending global regulatory approvals, but could reach Facebook's 2.7 billion users worldwide
China's digital currency electronic payment (DCEP) is believed to be ready to launch by the People's Bank of China, but some question if it is enough
Facebook's planned digital coin Libra poses a serious threat to China's financial sovereignty, its capital control regulation and its plans to promote more use of yuan overseas, meaning Beijing must take bolder steps in its currency reforms, analysts said.
China has been developing its digital currency electronic payment (DCEP) for some time, and is it believed to be
ready to launch
by the People's Bank of China (PBOC), however, market concerns remain high over whether it is enough.
Libra
was unveiled three months ago and is still pending global regulatory approvals, but poses a threat to Beijing's ambitions for the yuan, despite China having been at the forefront in terms of the size of its digital economy, domestic electronic payment use and the study of a central bank digital currency.
Zhang Anyuan, chief economist from China Securities, said DCEP is just a digital form of the yuan according to the details revealed so far, and its internationalisation will not succeed without a monetary theory breakthrough or a money creation innovation.
"DCEP anchoring purely on [the yuan] won't be able to compete with Libra, despite it may draw the participation of internet giants like Alibaba and Tencent," he warned.
Facebook, which will peg Libra to a basket of currencies backed by reserves, has 2.7 billion users as well as the backing of global payment, technology, telecommunication, blockchain and venture capital firms. Its planned usage will also be more than the Chinese version, which will be first used for retail sales and potentially cross-border payments.
Raymond Yeung, the chief Greater China economist at ANZ Bank, said China's immediate reaction to Libra was to defend its financial sovereignty by issuing its own digital currency, and the subsequent move would be how to offset the US dollar system in the digital era.
While China's sovereign digital currency is welcomed and remains a pioneer among major economies, Beijing is encouraged to take bolder steps in reforms, according to Zhu Min, a former deputy managing director of the International Monetary Fund.
"China should not stay outside this, but actively participate into the competition and the global financial revamp," he said last week. Zhu added that the world's second largest economy should open up its capital account, quicken the pace of yuan convertibility and increase its use in cross-border payments.
Internationally, Zhu, who is now the head of Tsinghua University's National Institute of Financial Research, suggested that China should make allies with enthusiasts of central bank digital currencies, such as Singapore, Sweden and Britain, and join together to form an international regulatory framework.
Beijing has long been suspicious of the role the
United States has with Libra,
and has called for joint regulation globally. Currently, the US dollar makes up 50 per cent of Libra's currency basket which is higher than the current share of global payments, while American businesses make up most of the 28 founding members.
China's central bank is studying the challenges Libra poses and possible countermeasures, including many brought forward by market entities, such as issuance of its own sovereign digital currency, supporting Chinese institutions to issue Libra-like stablecoins, and joining the digital special drawing rights backed by International Monetary Fund.
"What kind of attitude and strategy should we take after the emergence of Libra? Suppose that the government support Chinese institutions to issue similar virtual money, what will be their usage scenarios? Is it for international competition with Libra, or limited in China? How would it impact on the [yuan]?" Wang Xin, head of the PBOC's research bureau, said during a speech in July.
Long Baitao, an independent blockchain and monetary theory researcher, said Beijing's policymakers might have to take a more rational view in the future, especially for technologies that contain social and economic value and that benefit the yuan's use overseas.
"There's a saying that don't throw the baby out with the bathwater. They need to distinguish the good ones from the bad ones," Long said, referring to current ban on bitcoin trading and initial coin offering, and last year's tightened regulation of fintech companies.
Libra could win more favours internationally, including with Belt and Road countries, with its neutral image and technological advancement. Domestically, the new technology would dwarf China's administrative measures of preventing capital outflows and the ban on Facebook and Google.
Long said stablecoins led by Chinese institutions, even though still far from reality, could help expand the yuan's share of international payments.
"If digital currencies can be used to promote [yuan] internationalisation and won't incur extra risks undermining financial stability, the regulators will give them certain flexibility. It's almost a consensus among market practitioners," Long added.
Alibaba is the owner of the South China Morning Post.
This article appeared in the South China Morning Post print edition as: Libra an obstacle to digital yuan