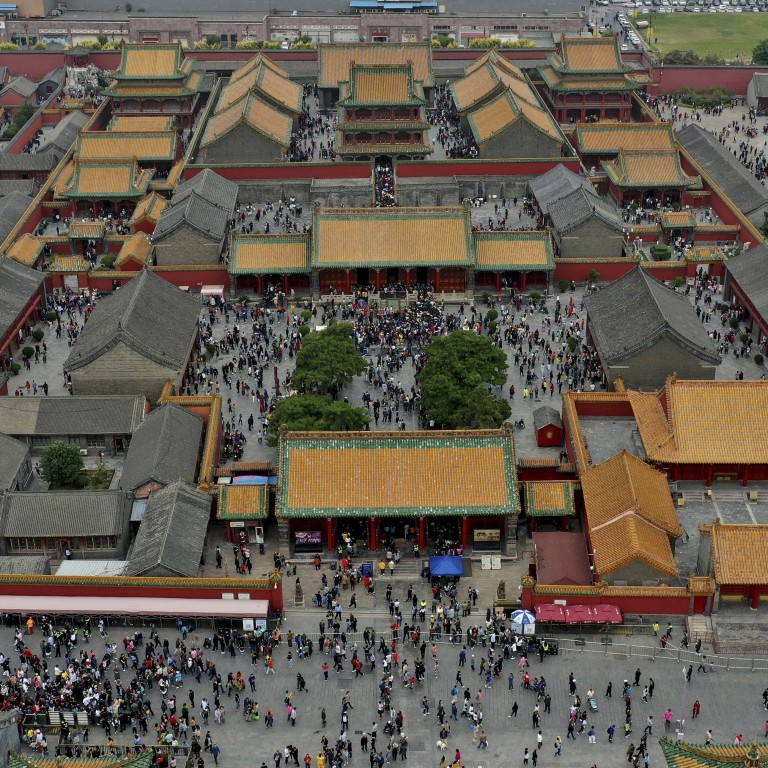 China consumers cut back on travel during 'golden week' holiday due slowing growth, weaker yuan
Many Chinese consumers are forgoing expensive trips abroad amid a slowdown in the economy and decline in the value of the yuan
Online travel site Ctrip.com International says weak outbound travel demand and a decline in air ticket prices may affect third quarter earnings
Many Chinese appear to be opting to stay at home during this year's week-long National Day holiday, as the economy stutters amid a trade war with the United States and a weakening currency makes consumers cautious about splurging on expensive holidays, but their spending on food and entertainment does not seem to be greatly affected.
National Day on October 1
marked the start of "golden week" in China, a seven-day holiday when millions of Chinese traditionally travel across the country to splurge at shops and restaurants.
While some stores and restaurants in Beijing's central business district were shut in the lead up to a military parade on October 1, it has been business as usual since Wednesday.
Chinese traditionally spend large amounts on travel during golden week, but huge crowds at popular tourist sites appear to have deterred some travellers, while a weaker yuan and slowing real income growth have dampened the appetite of many to buy holiday packages.
Online travel site Ctrip.com International said that weak outbound travel demand and a decline in air ticket prices may put pressure on its earnings in the third quarter. The US-China trade war, the weaker yuan and protests in Hong Kong meant fewer people were travelling to Hong Kong and Taiwan, which usually account for one-third of Chinese outbound trips.
Zoe Shao, a media professional who lives in Beijing, decided to stay at home this week rather than visit packed tourist spots.
"The main consideration is that if we are travelling [in China], there's just too many people and our child is too young," said Shao, who has a two-year-old son. "But we plan to go out every day to stroll in the parks and visit museums. I think we are spending the usual amount, not overboard spending nor trying to save more either."
While some people have opted to stay at home, there were signs people were getting out to shop in Beijing.
On Thursday morning, a small queue had formed outside a Starbucks branch located in the Palace shopping complex in the central business district.
"We were closed on October 1," said the branch's manager, Xia, who gave just his family name. "This morning, people actually came out early to get their coffee."
Starbucks said in August sales for the second quarter were up 3 per cent in China, its second-biggest market after the United States.
Cinemas have also been major beneficiaries of the National Day holiday, with three films that pay tribute to the People's Republic grossing 546 million yuan (US$76.3 million) at the box offices just hours after opening on Monday, according to Maoyan Entertainment, China's largest movie ticketing app.
"I am planning to see the other one during the holiday, we still have four days," said Sophie Yu, a freelance writer based in Beijing who had already seen two of the patriotic films.
Chinese consumers
remained relatively confident in the second quarter despite the trade war, which has not had a significant impact on overall domestic consumption so far, according to the latest quarterly consumer confidence survey released by the Conference Board China Center.
Nominal household consumption per capita grew 7.8 per cent year-on-year, up from 7.3 per cent in the first quarter, according to the US-based research firm. The rise was driven by increased spending on food and housing due to rising prices, the report said.
However, the growth rates of inflation-adjusted disposable income per capita and consumption per capita slowed to 6.5 per cent and 5.2 per cent, respectively, in the first half of 2019, down from 6.8 per cent and 5.4 per cent in first quarter of 2019, the report said.
Some 40 per cent of Chinese respondents said they had cut down on out-of-home entertainment spending during the second quarter to save on expenses.