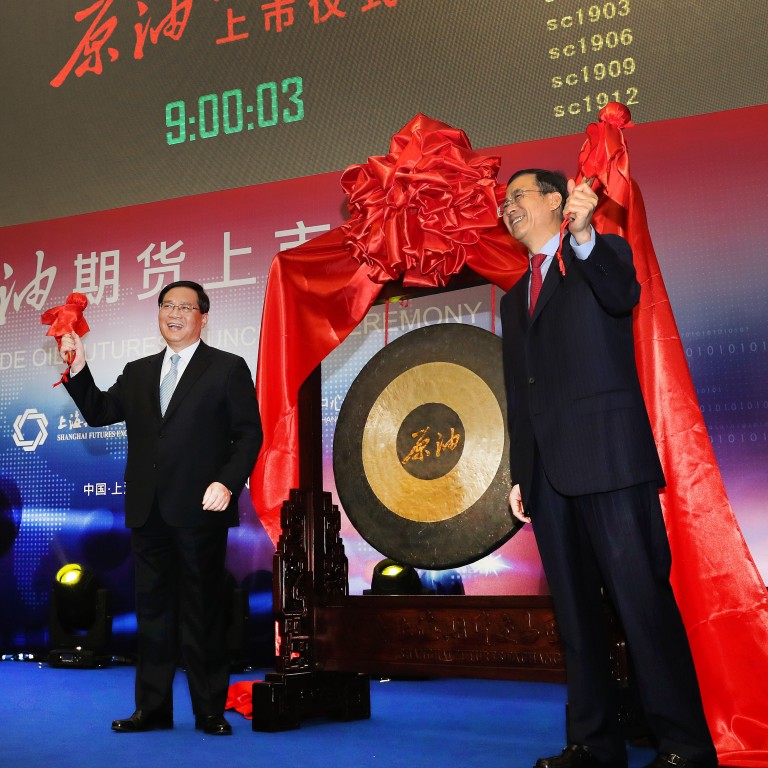 China's former securities regulator Liu Shiyu gets light punishment after graft probe
Anti-corruption watchdog finds 58-year-old used his role for personal gain, broke the rules to help others work in financial system, and accepted gifts
He has been given two years' probation, had his civil servant rank downgraded and his illegal gains have been confiscated
Liu Shiyu, a former top Chinese securities regulator, has been removed from a government post and given a relatively light punishment after a five-month probe by the anti-graft watchdog.
The Central Commission for Discipline Inspection said Liu had not upheld the principles of a Communist Party member, made inappropriate public speeches and lacked "political vigilance" and awareness of confidentiality rules.
In a notice posted on its website on Friday evening, the watchdog said Liu had been found to have used his public role for personal gain, violated regulations to arrange for others to work in the financial system or promote them, and accepted gifts to make it easier for his relatives to buy homes.
Before he surrendered himself to the anti-graft agency in May, Liu was briefly the deputy party chief of the All-China Federation of Supply and Marketing Cooperatives. He was previously chairman of the China Securities Regulatory Commission (CSRC) for three years from 2016.
The anti-corruption agency said Liu, 58, had received a lenient punishment because of his "good attitude towards admitting wrongdoing" and was given two years' probation – meaning he would not lose his party membership. Many Chinese political officials have been expelled from the party for corruption in the past.
The watchdog also downgraded Liu's civil servant rank, removed his status as a delegate to the party's 19th national congress held in 2017, and confiscated his illegal gains.
Liu took the helm at the CSRC in February 2016, dealing with a stock rout the previous year that wiped out nearly US$5 trillion from the mainland market. He replaced Xiao Gang, a reform-minded regulator who stepped down after introducing an ill-considered circuit-breaker mechanism that spooked the market, and being forced to abandon it four days later.
Like Xiao, Liu also rose through the mainland's state banking system and once worked as a deputy governor of the People's Bank of China, the central bank. He was chairman of the Agricultural Bank of China before he took up the top job at the CSRC.
During his three years at the securities regulator, Liu increased intervention and tightened regulation of the stock market to catch what he called the "barbarians, demons, evil creatures or financial crocodiles" that had taken advantage of loopholes in the system for their own benefit, and at the cost of small investors. In 2017 alone, the CSRC issued some 220 penalties and fines of about 7.5 billion yuan (US$1.05 billion).
But Liu's approach left little room for reform and innovation. Under his leadership, the CSRC shelved a high-profile scheme to allow overseas-listed mainland companies to float Chinese depositary receipts and China lost its title of the world's No 2 stock market to Japan, while the benchmark Shanghai Composite Index slid into bear market territory.
The Shanghai index slumped 25 per cent last year and was the world's worst-performing equity market as financial deleveraging eroded corporate profits and an escalating trade war with the US weighed on sentiment. When Liu stepped down from the CSRC, the Shanghai benchmark index was 258 points lower than when he took the job three years earlier.
Liu has publicly pledged his loyalty to President Xi Jinping, and when lawmakers in October 2017 approved an amendment to the constitution to remove the presidential term limit, he applauded Xi for "saving the Communist Party" by foiling a coup plot by former political heavyweights.
This article appeared in the South China Morning Post print edition as: Former securities watchdog chief put on probation