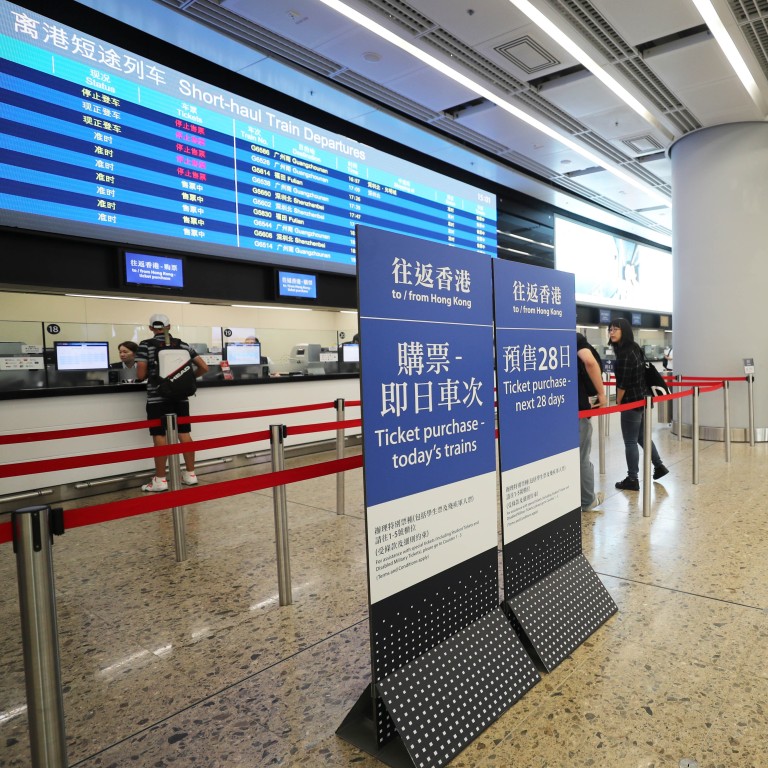 China's 'golden week' loses some of its shine as consumers show reluctance to spend amid US trade war
Retail and catering sales rose 8.5 per cent, decelerating from a 2018 growth rate of 9.5 per cent, marking the slowest growth since the comparison was published in 2001
Number of tourists who stayed in China during the seven-day holiday rose 7.8 per cent from a year ago to 782 million, but the growth rate was the lowest in a decade
China's National Day holiday during the first week of October, dubbed "golden week" for merchants, lost some of its shine this year as consumers became more cautious with their retail and tourism spending amid rising economic uncertainties.
Retail and catering sales rose 8.5 per cent between
October 1 to 7
from a year ago to 1.52 trillion yuan ($212.6 billion),, according to China's Ministry of Commerce, decelerating from a growth rate of 9.5 per cent last year, marking the slowest growth rate since the initial year-on-year comparison was published in 2001.
China started the golden week system in 2000 with the purpose of boosting consumer spending, and the National Day retailing performance has often been widely used as a yardstick for Chinese consumer confidence and purchasing power.
The overall softness in tourism and retail sales, a sign of weak consumer sentiment, could pose a challenge for Beijing, which is counting on strong consumer spending to bolster growth amid headwinds from the trade war with the United States, without significantly worsening its domestic debt situation.
However, an economic slowdown at home, as well as the impact of continuing unrest in Hong Kong – which until this year has been a prime destination for mainland shoppers – have combined to dampen consumer spending.
According to data from China's migration administration bureau, the number of mainland tourists crossing the border into Hong Kong in the first six days of golden week plunged 15.1 per cent from the same period a year ago, due in part to the reduced flow between Shenzhen and Hong Kong.
The number of people who went through the Luohu, or Lo Wu, border check point between China and Hong Kong dropped 47.8 per cent in the firs six days of October compared to a year earlier, with the number of people transiting through Shenzhen Bay fell 31.2 per cent, while the Futian checkpoint dropped 37.7 per cent, the bureau's data showed.
China's Ministry of Tourism and Culture said the number of tourists who stayed within China during the seven-day holiday rose 7.8 per cent from a year ago to 782 million, but the growth rate was the lowest in a decade, while 7 million travelled overseas.
"Compared to previous years when Chinese tourists conducted frenzied shopping abroad during the holidays, Chinese tourists this year preferred relaxation – Chinese tourists no longer scrambled for toilet seat covers, cold medicines or rice steamers," the ministry said.
Separately, home sales continued to fall during the National Day holiday, particularly in the largest, tier-one cities such as Beijing, Shanghai, Guangzhou and Shenzhen, according to Centaline Property Agency.
The number of property sales in the capital city of Beijing dropped nearly 30 per cent from the same period a year earlier to 64 between October 1 and 6, including 29 new properties.
At the same time, while Chinese consumers spent less on shopping, box office revenues surged to a new high during the week as the country's three patriotic films  My People, My Country as well as Th e Captain and The Climbers – drew over 100 million viewers into cinemas, according to Maoyan, a China box office tracking website. Revenue for the first three days alone was more than the entire seven-day holiday in 2018, when total ticket sales were down 22.2 per cent from 2017.
The slowdown in consumer spending growth is expected to contribute to a slowdown in overall growth, with a growing number of economists predicting that Chinese gross domestic product will slow to below 6 per cent next year, dropping below the government's 6 to 6.5 per cent 2019 growth target.
Bank of America Merrill Lynch economists wrote a research note to clients this week that China's economic growth rate may have slowed further to 6.0 per cent in the third quarter, the bottom of the government's target range, from 6.2 per cent in the second quarter.
China's third quarter growth figure is due to be released on October 18.
This article appeared in the South China Morning Post print edition as: Golden week sheds lustre as consumer spending slows amid dim outlook