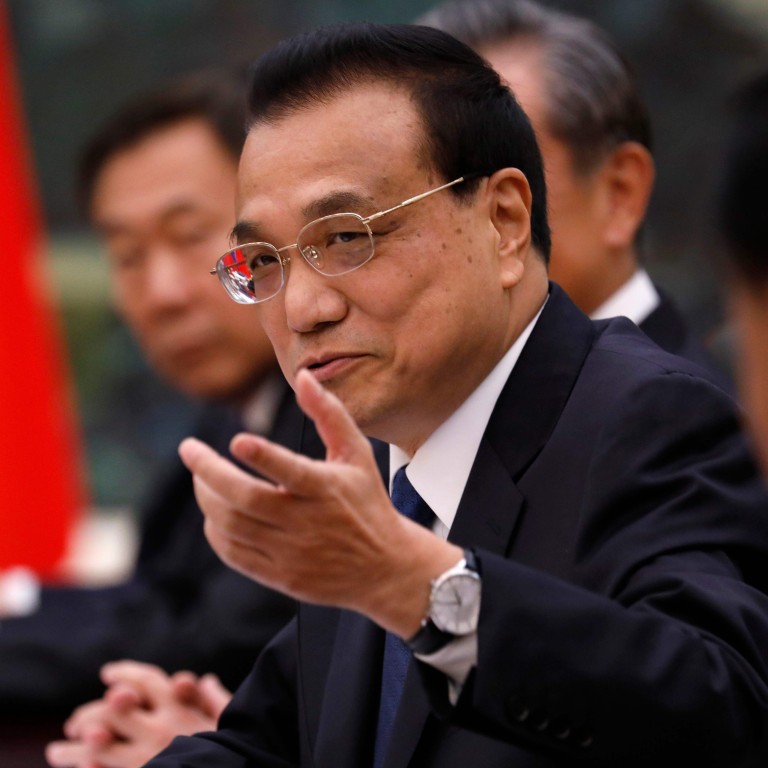 China's economy cause of growing concern in Beijing as US-China trade war takes toll on growth
Chinese Premier Li Keqiang has urged local authorities to do everything possible to tackle 'downward economic pressure' amid US-China trade war tensions
Message represents a more pessimistic reading of China's economic situation compared with previous statements from the government
Chinese premier Li Keqiang has urged local government officials to do everything possible to keep economic growth on track, sending a strong signal that Beijing is increasingly concerned about a deeper-than-expected economic slowdown amid a trade war with the United States.
Li told five provincial governors on Monday that local officials must "enhance the sense of urgency and responsibility" to ensure stable economic growth and "must put growth in a more prominent position" on their work agenda, according to a statement on the Chinese government's website.
"The downward pressure on the economy is increasing continuously, and many real economic entities are struggling amid weak domestic demand," Li said. He added local authorities must do everything they can to "make sure targets for this year are achieved."
Li also told the governors from Shaanxi, Jiangsu, Henan, Hubei and Guangdong provinces that officials must strengthen their "bottom line thinking" – Communist Party jargon that describes the need to consider the worst-case scenario and take steps to avoid it.
The premier's address was the first time the government has suggested its full-year targets – including a minimum gross domestic product (GDP) growth rate of 6 per cent – are at risk of being missed. Monday's message represents a more pessimistic reading of China's economic situation compared with previous statements from the government.
The country's GDP growth figures for the third quarter, set for release on Friday, are expected to show a further deceleration from the second-quarter rate of 6.2 per cent.
A tit-for-tat
trade war between Washington and Beijing
has dampened consumer confidence and hurt business in the world's second largest economy – and anecdotal evidence of economic trouble is widespread. Samsung, the Korean electronics giant, shut down its last mobile phone factory in China last month, while Pang Da Automobile Trade, the country's largest car dealer, was forced to start bankruptcy proceedings last month.
Even by the government's official figures, a broad-based slowdown is taking place in China with industrial production losing steam, fixed-asset investment growth slowing, and consumer spending growth ebbing. Chinese exports shrank 3.2 per cent in September from a year ago, while its imports, a barometer of domestic demand, contracted 8.5 per cent, deepening from a fall of 5.6 per cent in August,
customs data released on Monday
showed.
Combined profits of large industrial enterprises in the coastal province of Zhejiang rose just 2.8 per cent in the first eight months of 2019 from a year ago, according to data released in September by the province's statistics bureau, but later removed from the official website.
Even then, the performance was better than the overall picture, with national industrial profits dropping 1.7 per cent in the same period.
According to the post by Zhejiang's statistics bureau, industrial profits in Shanghai fell 19.9 per cent in the first eight months of 2019 from a year ago, while profits in the capital Beijing were down 14.4 per cent. Gains fell by 13 per cent in Shandong, 3.5 per cent in Jiangsu, and 0.4 per cent in Guangdong.
In addition, Chinese consumer prices
continued to accelerate in September
, driven by the spiralling cost of pork caused by African swine fever. Consumer inflation reached a six-year high of 3 per cent, which is the upper limit of the government's target for whole-year consumer price index (CPI). China's producer price index contracted 1.2 per cent, China's national statistics agency said on Tuesday, as weak domestic demand forced producers to discount their products.
Li did not announce any new economic stimulus measures in his speech, but told local officials to implement "already launched policies", including cutting personal and business taxes, and lowering financing costs for small businesses.
They were also told to make good use of "special purpose bonds" – the proceeds of which are used to fund infrastructure and other designated projects – as a way to "expand effective investment".
Larry Hu, the chief China economist at Macquarie Capital in Hong Kong, wrote in a note that Beijing has to upgrade its stimulus programme to arrest a deepening slowdown.
"With or without a trade deal, the Chinese economy would continue to slow" until the launch of a bigger and broader stimulus programme, Hu said. A trade war truce with the US is "more about stopping things getting worse, not making things materially better", he added.
This article appeared in the South China Morning Post print edition as: Focus on growth, Li tells local cadres amid slowdown