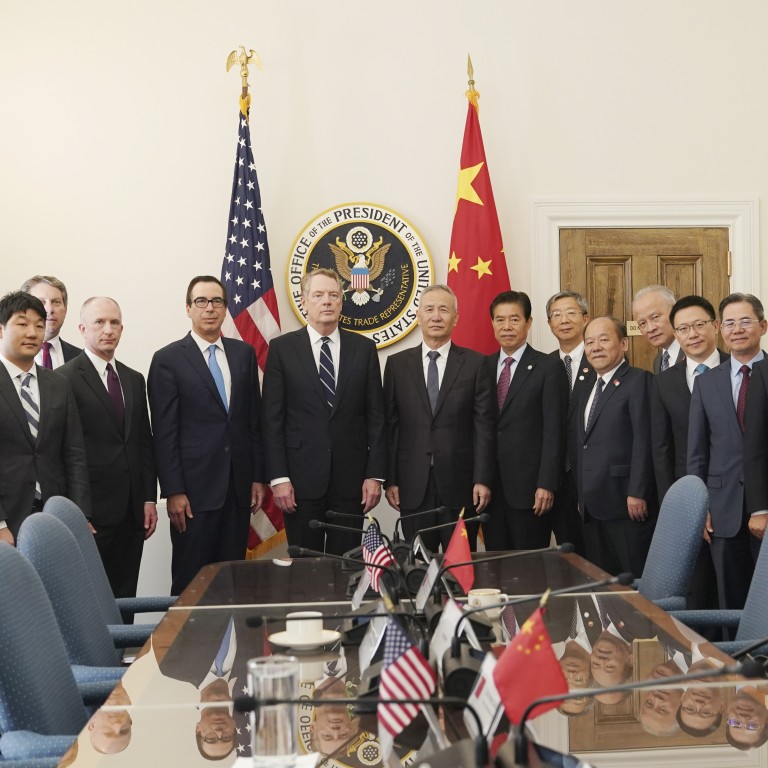 China, US praise trade war deal dispute settlement mechanism but details remain sketchy after talks
Last week's high-level talks in Washington appear to have made progress towards 'phase one' of a comprehensive trade deal
Issue of enforcement has always been one of the thorniest issues between Beijing and Washington and led to the collapse of a talks in May
China and the United States have praised the inclusion of a dispute resolution mechanism as a key element of the interim trade deal reached in high-level talks last week in Washington, but so far neither side has offered any details about how it will be implemented.
Beijing has, for the first time in almost a year and a half of trade talks, officially acknowledged progress in the area of "dispute resolution" in talks with the US.
China's foreign ministry said on Tuesday that the two countries are now on the same page on the outlines of "phase one" of a comprehensive trade deal.
Taoran Notes, a social media account affiliated with the official Economic Daily newspaper that is used by Beijing to manage trade talk expectations, said the agreement of dispute resolution element marked a step forward from the previous one-sided US demand to install "an enforcement or implementation mechanism".
"An agreement should be signed on an equal basis with mutual benefit, [so] how can one side accept an enforcement mechanism imposed by the other side? Now the wording has changed to dispute resolution, and it is an interesting adjustment that reflects a substantial change in mindset," Taoran Notes said.
US Treasury Secretary Steven Mnuchin, who led the US trade negotiating team alongside US trade representative Robert Lighthizer last week, told CNBC on Monday that Beijing and Washington have "absolutely agreed that there needs to be a dispute resolution and that it needs to have real enforcement mechanisms."
Mnuchin added that "it's something we've talked about extensively, and I expect that the agreement we sign does have a dispute and enforcement provision," although he declined to provide any details on how the mechanism will work.
"We've developed a very extensive process, a few words still need to be agreed to", Mnuchin said, noting that both sides are expected to set up "large offices to deal with these issues".
For the US, and specifically for Lighthizer, a mechanism to ensure the implementation is an indispensable part of any deal. In the war of words after
trade talks collapsed in May,
the US trade representative said that a deal needed "enforceability" that was "necessitated by China's history of making commitments that it fails to keep".
For China, however, the US demand to be able to intrusively check on China's implementation of a deal, and potentially impose unilateral sanctions for failing to comply, was a direct infringement on China's economic sovereignty. Li Deshui, the former head of China's National Bureau of Statistics (NBS) and a veteran Chinese economic policymaker, wrote in an article last month that the US's proposal of a one-sided enforcement mechanism was unacceptable for China.
"The US proposed that if the US thought China's economic policies had problems, the US side could unilaterally impose sanctions on China and China would be banned from taking any retaliatory measures," Li wrote.
A functional trade dispute resolution arrangement between the world's two largest economies would be a significant development because of the countries' very different legal and governmental systems. The World Trade Organisation has settled trade disputes between China and US in the past, but the multilateral agency's dispute settlement function is at risk of ceasing to function in December because the Trump administration is blocking the appointment of new members to the dispute settlement body.
Chinese leaders, or at least some people within the Chinese government, are very sensitive to any concessions that could potentially be seen as compromises on matters of principle, with former NBS head Li adding that the US proposal to set up a permanent joint office to discuss China's economic policy was an attempt to undermine China's economic sovereignty.
In reality, the details may only become evident after the deal is finalised and signed by Chinese President Xi Jinping and his US counterpart Donald Trump.
Chang Jian, the chief China economist at Barclays, said the agreed dispute resolution mechanism "should be more balanced than what the US demanded in April".
"The key issue is who will make the ultimate ruling," Chang said. "The US unilaterally making decisions as they demanded in April would not be acceptable to China."
Clete Willems, partner at Washington-based law firm Akin Gump and until a few months ago, deputy director of the National Economic Council and lead negotiator for the US at the G7 and G20, said: "My understanding is they're trying to work some of that [enforcement] out by November 15th.
"I don't know how that's evolved, but I do know that it's critical for the United States to get enforcement provisions because China has made some commitments before and didn't follow through on them and so we need some way to make sure that we can check if they're going to follow through.
"We did trust the China was there in good faith, but at the same time, we had been fooled before and we were gonna make sure that there was a way to verify that they would follow through."
In April, before the talks collapsed in May, Mnuchin said China and the US had "pretty much agreed on an enforcement mechanism" and "we've agreed that both sides will establish enforcement offices that will deal with the ongoing matters."
Lighthizer also said at that time that the enforcement mechanism would include monthly meetings between the Office of the US Trade Representative and China's Ministry of Commerce, quarterly meetings at a deputy ministerial level, and a semi-annual meeting between Lighthizer and his Chinese counterpart to review complaints from companies.
Additional reporting by Finbarr Bermingham
This article appeared in the South China Morning Post print edition as: Key detail in trade deal unclear