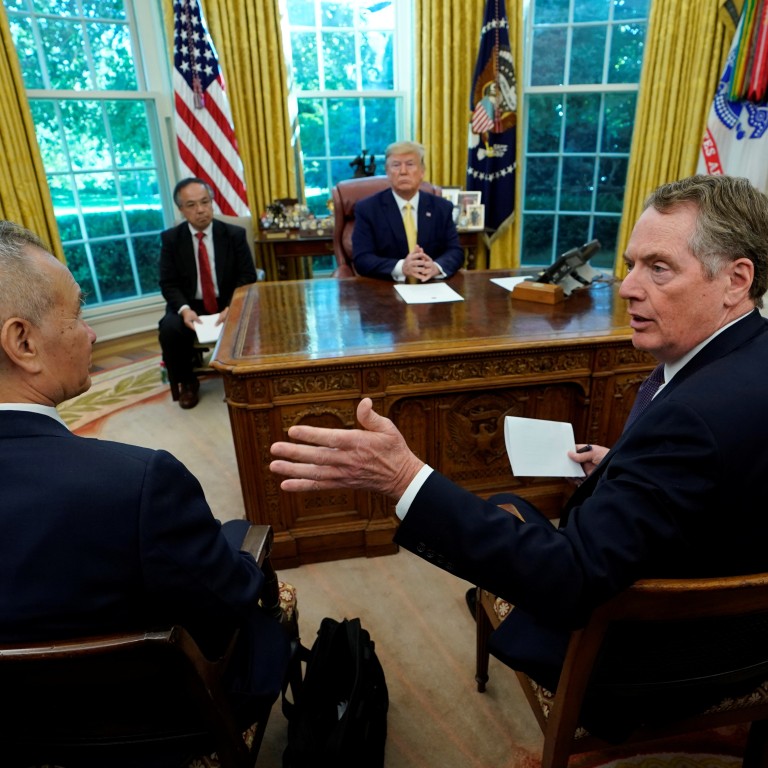 US fears over economic damage from further tariffs on China accelerated mini-deal, says Trump's ex-trade adviser
White House moving quickly to complete 'phase one' trade war deal due to economic damage further tariffs could cause both sides, says Clete Willems
Former lead trade negotiator says that 'rising nationalism in US and China' means comprehensive deal will not happen any time soon
The White House's awareness that further tariffs on Chinese goods would be "more detrimental to the United States" than earlier duties has led the Trump administration to urgently pursue a partial deal, according to a former leading trade adviser to the US president.
"The administration designed the tariffs so that the initial tranche would be much more impactful to China than to the United States," said Clete Willems, who left his role as deputy director of the National Economic Council in April after also working as special assistant to US President Donald Trump on trade and economics.
Willems, who was a key negotiator in early trade war talks with China, said the US built an algorithm to ensure that the "initial tariffs maximise the pain on China and minimise the pain on the US consumer".
But he added: "The more tariffs you put into place, eventually you're going to get to the ones that hurt the US more than China and we're getting there now.
"And I do think that there was a legitimate recognition among folks in and around the White House that these new sets of tariffs would be more detrimental to the United States than earlier sets of tariffs. That has created an incentive to try to figure out if there's a way to make some progress before they go into effect," said Willems, who worked under the council's director Larry Kudlow before his departure.
Washington and Beijing agreed in principle to a
"phase one" trade deal last week,
offering a temporary respite from a 15-month dispute that has rattled markets and sparked fears about global economic stagnation.
As part of deal, the US postponed indefinitely a tariff increase from 25 per cent to 30 per cent on US$250 billion of Chinese imports that had been set to go into effect Tuesday. Trump has not yet decided whether to postpone a new 15 per cent levy on about US$160 billion of Chinese goods – including popular products like smartphones, laptops and TVs – that would take effect December 15. But the US president could waive that if the interim deal was finalised in time for his meeting with Chinese president Xi Jinping at the Asia-Pacific Economic Cooperation (Apec) summit in Chile in mid-November.
Willems' statement runs counter to the oft-used White House line that tariffs are a money spinner for the US Treasury. Instead, they reflect genuine concern that the implementation of tariffs on December 15 could be the moment the trade war hits the pockets of Trump's political base – days before Christmas.
China has insisted the US should lift all additional tariffs on Chinese products as a condition for any trade deal, saying the tariff war is hurting both countries.
The former aide, who also spent more than eight years working in the Office of the US Trade Representative, expects that the December 15 tariffs will be delayed as part of a phase one deal.
"Realistically, China is not going to sign an agreement on November 15 if the tariffs can go up in December 15," said Willems, who now works as a partner at Washington-based law firm Akin Gump.
Willems added that while the deal will be based around large-scale purchases of US farm goods by China, it would also include some "structural issues", including better market access for US chicken, pork and beef products – all of which have faced difficulty entering the Chinese market due to the use of hormones in the raising of livestock.
However, Willems said that with nationalist sentiment on the rise in China and to some extent in the US, the "political conditions unfortunately are not conducive to the big deal right now".
That meant important structural issues that formed the crux of initial US grievances, such as weak intellectual property protection for American companies and
forced technology transfers
, will be addressed in later phases of negotiations, the former White House adviser said.
This has drawn accusations of kicking the can down the road. China had already offered to make large-scale agricultural purchases in earlier rounds of negotiations, leading critics to suggest that Beijing would be the biggest victor of a phase one deal as it gets tariff relief in exchange for buying commodities it genuinely needs.
Trump, who has claimed the phase one agreement is the "greatest and biggest deal ever made", has also been criticised for jumping the gun on a deal that has not yet been signed. Many trade watchers have fresh memories of May, when a deal appeared imminent, only for China to send back a heavily-edited version of the draft text, which insiders say was demanded by hardliners in the ruling Communist Party.
"It makes me a little nervous, because agreements in principle are not agreements. You can have an agreement in broad-strokes, only for things to go wrong when you get down to the nitty gritty," said Stephen Olson, senior fellow at the Hinrich Foundation, who was part of the US negotiating team for the North American Free Trade Agreement in the 1990s.
Dan DiMicco, a veteran China hawk and chairman of the Coalition for a Prosperous America, which has persistently promoted US tariffs, said he welcomed the prospect of a phase one deal. "However, hardliners in Beijing have not yet agreed to terms, and they may yet reject this deal – just as they did last May."
Willems said the fact that a deal was close to being agreed in May showed there was "a meeting of minds" and that the parts of the text that were previously agreed upon have been dusted off for the current rounds of talks, giving negotiators a head start.
He expects the deal to be signed in Chile, adding that said Trump's "change in tack", after earlier rubbishing suggestions that he would accept a "partial deal", makes sense given the economic imperative for both sides to avoid further escalation.
"Let's put this in context and remember where we were at the beginning of last week. At the beginning of last week, there was the controversy over the NBA. There was the announcement of new sanctions with respect to what was going on with the Uygur situation in Western China," Willems said, adding the progress should be viewed as an unambiguously positive.
Jake Colvin, vice-president for global trade and innovation at the National Foreign Trade Council, said that "a mini-deal is a step in the right direction if it builds trust and paves the way for a more intense focus on a comprehensive deal".
"Even after a mini-deal is ironed out and implemented, businesses will face uncertainty and a situation that leaves them exposed to long-term tariffs as well as to barriers to doing business in key sectors in China. There has to be a broader deal that includes a path for completely removing all of the tariffs and that addresses priority US concerns about China's behaviour," he said.
Article updated on October 17 to clarify Willems' role at the White House
This article appeared in the South China Morning Post print edition as: U.S. economy fear behind mini deal Fear for U.S. behind partial Deal