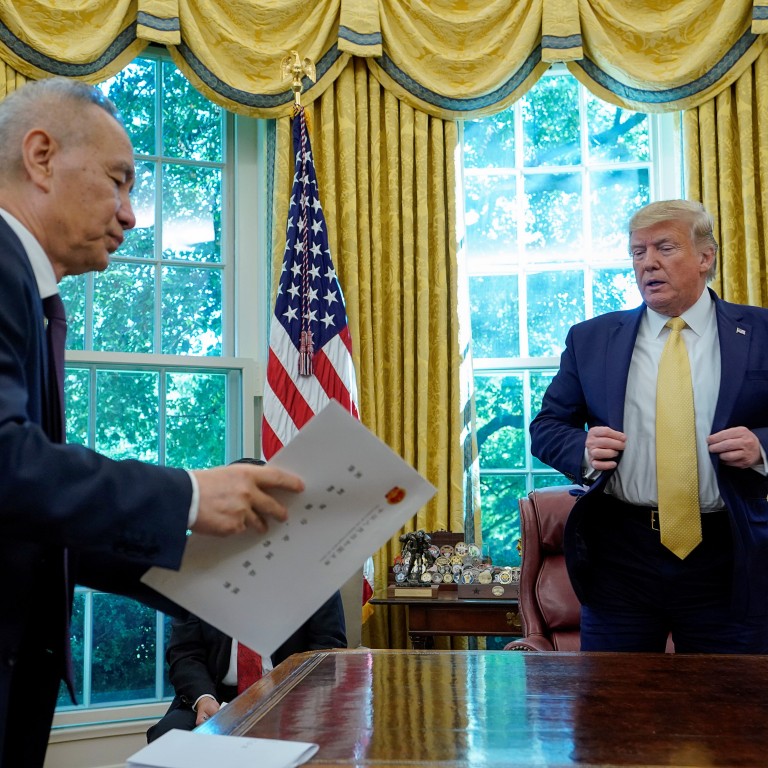 China renews pledge to open markets, level playing field for foreign firms after US trade war deal progress
State Council meeting, chaired by Premier Li Keqiang, credits 'unique and important role' foreign firms play in Chinese economic development
China has increased its efforts in recent months to boost foreign investment amid the slowing economy caused largely by the trade war with the United States
China's State Council has reaffirmed its commitment to opening up its markets further and improving the domestic business environment for foreign companies amid the latest trade war truce with the United States.
The top government administrative body, chaired by
Premier Li Keqiang,
repeated the promise that it would further open up to the rest of the world, while also giving credit to the role foreign firms have played in country's economic development and guaranteeing to protect overseas companies' rights and interests.
"Foreign capital plays a unique and important role in China's economic development. To promote high-quality development and modernisation, we must always attach great importance to the use of foreign capital," said a statement following Wednesday's weekly State Council meeting.
The statement broadly outlined China's efforts in recent months aimed at
boosting foreign investment.
It also sought to reinforce the government's commitment to banning forced technology transfer and maintaining a level playing field for foreign companies.
China's promise to open up its markets and ensure a level playing field has been called into question by its biggest trading partners, the US and the European Union.
Last week, China's securities watchdog unveiled the time frame for abolishing foreign ownership restrictions on futures, securities and fund management companies. The deregulation paves the way for foreign institutions to set up wholly-owned units to deal with futures, mutual fund management and securities businesses.
The China Securities Regulatory Commission said on Friday that limits on foreign investors in mainland-based futures firms would be scrapped on January 1, while limits on mutual fund companies will be removed on April 1, while the caps on securities firms will be removed on December 1, 2020.
But despite a
tentative trade deal
appearing to have been agreed last week between China and the US, which led to the suspension of a tariff rate increase that was due to come into force on Tuesday, the two countries continue to struggle to agree on major contentious issues, including forced technology transfer and state subsidies for domestic industries.
"It is not permitted to force or pressure any existing foreign investors or foreign-invested enterprises to transfer technology. Commercial secrets are protected according to law," said the State Council, adding that efforts to prevent patent infringement by e-commerce platforms would also be improved.
"Government procurement must not restrict [bidders] based on their ownership, the investor's country of origin, product or service brand."
In recent months, China has introduced a number of measures to widen market access for foreign firms, including issuing a shortened negative list of areas in which foreign investment is banned or limited, while the China Banking and Insurance Regulatory Commission also recently introduced plans to broaden the scope of business for foreign banks and insurers in the country.
"The pace at which foreign banks take advantage of the enlarged business scope will be influenced by their individual strategies, as well as economic and institutional factors, such as the country's current moderate growth rate and the US-China trade dispute," said Yulia Wan, senior analyst at Moody's Financial Institutions Group.
The State Council statement also said that the Chinese economy had benefited from more than 1.5 trillion yuan (US$211 billion) in tax cuts over the last eight months. The reduction in corporate and income tax has helped to hedge against the downward pressure on the economy, and has reduced the burden on businesses and individuals, the statement concluded.
On Monday, Premier Li also urged local government officials to keep economic growth on track, sending a strong signal that Beijing is increasingly concerned about a worse-than-expected economic slowdown.
This article appeared in the South China Morning Post print edition as: China renews its open-market vow