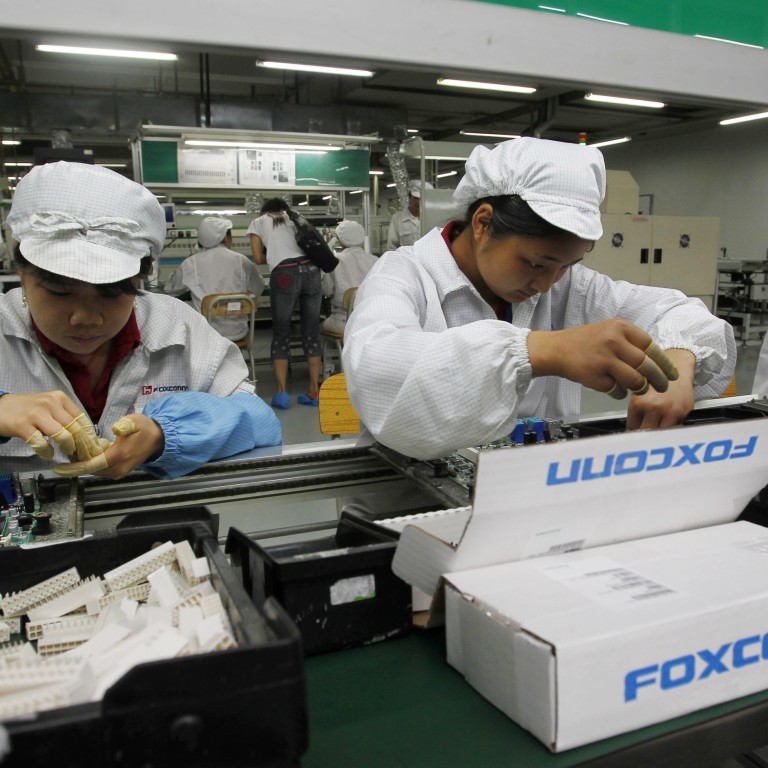 China's electronics exporters desperately look for an escape from US trade war nightmare
Exhibitors at the Hong Kong Electronics Fair said American buyers were thin on the ground, with trade war tariffs killing much of the market
Some companies have joined the exodus of manufacturers from China to Vietnam, while others are absorbing tariff costs, but trade war fatigue has set in
Ada Yeung comes to the Hong Kong Electronics Fair every year to meet potential buyers for her company's Chinese-made earbuds and speakers – but this year, having lost 70 per cent of her business to the US-China trade war, the need to find customers is urgent.
The lion's share of exports for Shenzhen-based Xinvo Industrial Company, where Yeung works as the director of international sales, were previously bound for the United States. But in today's tariff-heavy environment, she is looking for buyers from Europe and South America to try to offset some of the
damage caused by tariffs,
which have slashed nearly three-quarters of Xinvo's sales.
If the trade war goes on much longer, the company will relocate its manufacturing base out of China, said Yeung, who has considered options in Bangladesh and Vietnam.
"We also manufacture original equipment for a big US earbud brand, but we haven't received any orders from them this year," Yeung said.
Despite the ongoing trade war between the world's two largest economies and the escalating protests in Hong Kong, the Hong Kong Trade Development Council (HKTDC)'s annual event went "without a hitch", organisers said.
Exhibitors, however, reported fewer international buyers than in previous years. One exporter of gaming hardware said "the event is dead" this year, with the protests having kept many people away.
The HKTDC said that a wide range of electronic brands, retailers and distributors from China attended the exhibition, while buyers came from as far afield as the Czech Republic, Romania, Russia, Turkey, Mexico, and even Iran.
There was no mention, however, of buyers from the US, which according to exhibitors, were thin on the ground. Those American representatives that did attend were specifically looking for products made in Vietnam rather than China, according to some exhibitors, as they sought to import goods that are not subject to trade war duties.
The tariffs have placed severe strain on
China's electronics sector,
which is by far the world's largest. New figures released this week showed that as the
trade war
has escalated, China's electronics exports have declined. From January to August, both exports and imports of hi-tech products declined 2.1 and 6.9 per cent respectively. Exports of mobile phones and parts were down 15.1 per cent, and exports of liquid crystal display panels were down 6.6 per cent, according to the China Information Technology Industry Federation.
Interestingly, many China-made consumer
electronic products
– including smartphones, laptops and televisions – have yet to face US tariffs, with a planned raft of duties scheduled for December 15 set to hit many such goods. However, the chill factor has meant that many US buyers are not returning calls from their erstwhile Chinese suppliers.
Despite the growing likelihood that the US and China will sign an interim trade deal at the Asia-Pacific Economic Cooperation summit in Chile in November, expectations are managed as to how significant the deal will be. It may result in some tariff delays, but existing tariffs are likely to remain in place.
Furthermore, the constant cycle of escalation and de-escalation in US-China tensions that has characterised the past 18 months has left many companies cold to announcements of progress or collapses in trade war talks, according to speakers at a supply chain forum organised by audit company Qima in Hong Kong on Thursday.
Anticipating that the situation for Chinese electronics exporters will eventually worsen, despite the talk of a truce, some companies at the electronics fair have joined the
exodus of manufacturers from China
into Southeast Asia.
SZ Telstar moved its factory from Shenzhen to Bac Giang province in Vietnam in July to avoid paying tariffs on its sizeable US exports. Its stall at the Hong Kong event displayed a range of bluetooth projectors, to a backdrop of a sign saying "Made in Vietnam" – a signal to potential buyers that these are trade war-busting appliances. But its move out of Guangdong province has been far from plain sailing.
"The 'Made in Vietnam' label requires 40 per cent of the value to be added locally. However, raw materials cost 30 to 60 per cent more in Vietnam than in China, as the supply chain is not complete there. We are trying all possible means to purchase more materials from China," said Amy Chen, key account manager for SZ Telstar.
Chen added that infrastructure and logistics in Vietnam also lag behind China, with SZ Telstar still having difficulties in finding logistics providers three months after the relocation, a common challenge for Chinese manufacturers shifting to Southeast Asia.
iStar, another Shenzhen-based company, which makes video game controllers, has also been hit by tariffs, since 40 per cent of its market share is in the US. It could have been worse – the company has gradually diversified its customer base over the years to manage risk, even before the trade war, when its US market share was 90 per cent. Still, it has no intention to relocate to avoid the tariffs.
"Our big buyers in the US said they will shift orders to our Indonesian competitors. If we were to open a factory in Indonesia, we have to send senior managers there, but nobody wants to go," said Eva Leung, the company's representative at the Hong Kong Electronics Fair. "We still have the option, but instead we will focus on expanding our domestic market, as the Chinese market is huge."
Other attendees have so far survived the 15-month trade war unscathed. Avanline, a Shenzhen-based endoscope manufacturer which entered the US market in 2015, has kept its order book full, since its price is still competitive compared to international firms, despite additional tariffs.
"For the same product, our price is around one-tenth that of [Japanese competitor] Olympus," said Josie Chen, who was manning the company's sales booth in Hong Kong.
"Our US buyers just paid the tariffs and did not ask us to lower the prices. You know, even Nasa buys our products through our US partners."