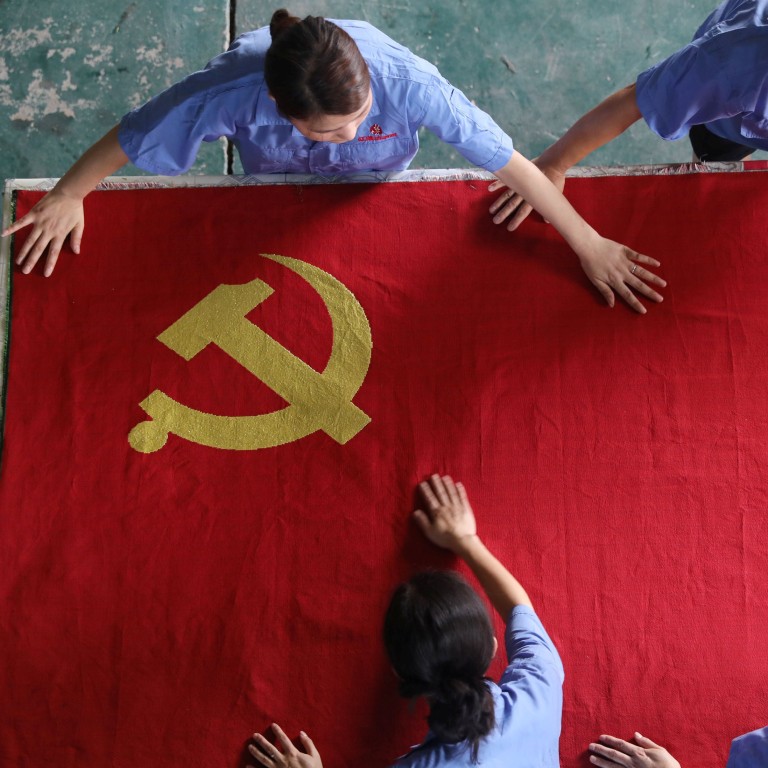 China's economic growth worse than expected, sinking to new low of 6.0 per cent in third quarter amid US trade war
Economic growth was the lowest since records began in March 1992 and below expectations of 6.1 per cent
Other figures released on Friday showed that industrial production grew by 5.8 per cent in September, while retail sales grew by 7.8 per cent last month
China's economy grew by 6.0 per cent in the third quarter of 2019, the lowest quarterly growth rate since records began in March 1992.
The new low marks a continuation in a long-running slump that has been compounded by the US-China trade war, which has hit manufacturing and exports in the world's second largest economy.
It follows
second quarter growth
of 6.2 per cent, which was itself the lowest on record. The growth rate was below the result of a poll of economists conducted by Bloomberg, which had forecast 6.1 per cent.
The Chinese government has set a target range of 6.0 to 6.5 per cent for the overall growth rate in 2019. Friday's data release shows that the economy is growing at the bottom end of this range having grown by 6.4 per cent in the first quarter.
A batch of data released on Friday by the National Bureau of Statistics (NBS) also showed that China's industrial economy performed better than expected in September. Industrial production, a measure of output in sectors such as manufacturing and mining, grew by 5.8 per cent, above analysts' expectations of 4.9 per cent and an improvement on August's figure of 4.4 per cent growth, which was a 17-year low.
Within the industrial production numbers, manufacturing output in China grew by 5.6 per cent in September, while mining grew by 8.1 per cent. The uptick in industrial growth comes after three months of decline. The trade war is certainly a factor in the slump, with a range of manufacturers this week saying that they have had to seek alternative markets due to
poor demand from US customers.
Retail sales, a key metric of consumption in the world's most populous nation, grew by 7.8 per cent
in September from a year earlier, up
from 7.5 per cent the month before and in line with
analysts' expectations. This came in the same month that
imports fell by 8.5 per cent,
which suggested that all is not well in China's consumer and manufacturing markets.
Also released on Friday was fixed asset investment for the year to September – a gauge of expenditure on items including infrastructure, property, machinery and equipment. It came in at 5.4 per cent, below analysts' expectations of 5.5 per cent and also lower than August's reading of 5.5 per cent.
The headline figure of 6.0 per cent gross domestic product (GDP) growth for the third quarter comes at a time of severe pressure on China's economy and just days after the Washington-based
International Monetary Fund (IMF)
predicted that China's growth will be 6.1 per cent in 2019 and 5.8 per cent in 2020, both downgrades from previous forecasts.
The
trade war with the United States
is now in its 15th month. Friday's data, combined with underwhelming trade figures for September released earlier in the week, suggest that it continues to have an impact, despite both sides talking up the prospects of a mini-deal.
Some analysts, however, have countered that China's domestic issues are more to blame for its slowing economy than external tariff battles. Beijing has clamped down on perceived risky lending and tightened up shadow banking channels in a bid to remove some debt from a highly-leveraged economy.
This has fed into the real economy, with businesses – particularly those on the smaller end of the scale – struggling to gain the access to credit needed to invest and expand. Consumers too do not have the ready access to capital they once did, which has meant individual purchases of big ticket items including cars have been in decline for more than a year.
A slowdown in the global economy has also made a dent in China's production output. In its report this week, the IMF slashed its global growth forecast for 2019 to 3 per cent – the lowest since the global financial crisis a decade ago. The IMF's chief economist, Gita Gopinath, pointed to "trade barriers and heightened geopolitical tensions" in explaining its downgrade.
At a press conference in Beijing on Friday, NBS spokesman Mao Shengyong played down the effects of the trade war, saying: "We should focus on running our own affairs well, take development as the top priority and place stable growth and a reasonable range of economic development as a more prominent priority.