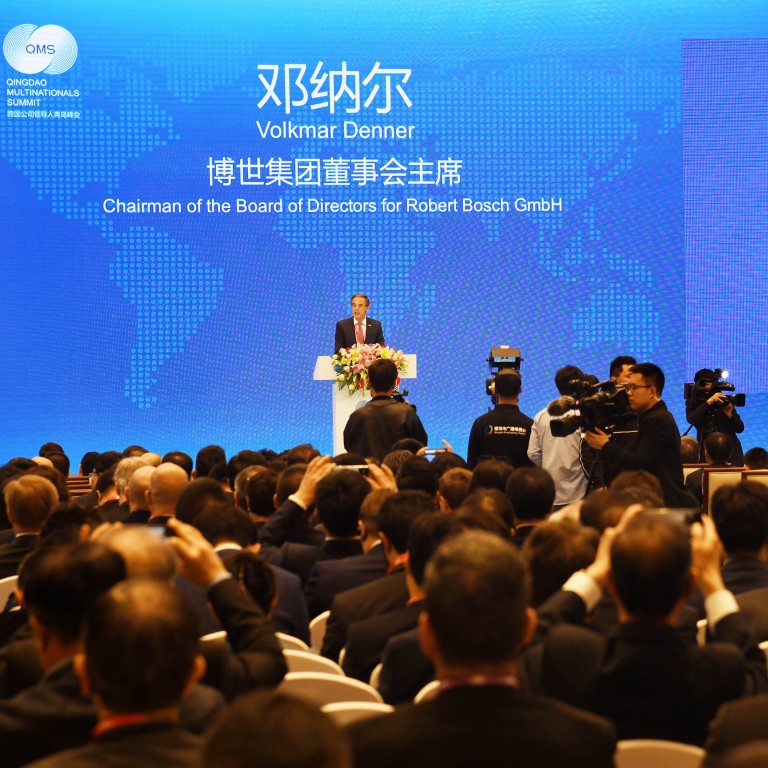 China's SOE executives defend Beijing's economic model from 'targeted attacks' by US, EU
Representatives from China's state-owned enterprises hit back at criticism from overseas executives at a conference in Shandong over the weekend
Foreign executives say SOEs create an uneven play field for private and foreign competitors, and are against the spirit of the World Trade Organisation (WTO)
China's state-owned enterprises have "become a target of the attack" from western lobbying groups, according to an executive from a Beijing-backed construction company, with the firms often a source of unfair competition complaints from the likes of the United States and the European Union.
Chen Zhong, the general manager of the overseas department of the China Communication Construction Company, urged delegates at a government-sponsored event to woo foreign investment in Shandong over the weekend to "collect more samples and conduct more analysis" to obtain "fair conclusions" about the firms China's sees as the backbone of the national economy.
"I have been working for 20 years [in the state economy sector], the state has never given us money for support, or offered us any special treatment," Chen told the inaugural Qingdao Multinational Summit on Saturday.
Chen added that the success of the company, now the third-largest international contractor in the world by business turnover, was achieved through "the sweat and blood of our 140,000 employees."
He was responding to criticism from American and European delegates who had argued that China must reduce the role of its state-owned enterprises as they create an uneven play field for private and foreign competitors, which they feel is not in line with the spirit of the World Trade Organisation (WTO).
"It is not fair, private Chinese companies cannot compete, foreign companies cannot compete," said Craig Allen, the president of the US-China Business Council. "Foreign companies want to compete, and our WTO agreement gives us the right to compete."
Jens Eskelund, vice-president of the European Union Chamber of Commerce in China, said that state company monopolies have dampened market forces and hurt small suppliers, and could go as far as to harm China's chances of escaping the middle-income trap.
In particular, foreign firms are concerned about being kept away from sectors including oil and gas, coal, steel, electric power, telecommunications, media, banking and insurance that are generally dominated by Chinese state enterprises, according to Allen from the US-China Business Council.
The debate over the role of state economy was not the only differences between delegates, with Chinese representatives often jumping to the defence of the country's model, business environment and even economic narrative.
In one case, when a global managing director for consultancy firm Roland Berger said they expected China's headline economic growth rate to drop to 5.8 per cent in 2020, the chairman of a state-controlled machinery maker offered to place a bet over China's growth rate next year.
"I want to bet 100 million euros (US$112 million) with you [that China's economic growth rate will not drop to 5 per cent next year]" said Shandong Heavy Group chairman Tan Xuguang in response to the claim from Roland Berger's Stefan Schaible.
The debate followed last week's confirmation that
China's economy grew
at a record-low 6.0 per cent in the third quarter of 2019. Most forecasts, meanwhile, put next year's growth between 5.5 per cent and 5.9 per cent, with the International Monetary Fund's projection at 5.8 per cent.
Earlier at the summit, Vice-Premier Han Zheng read a letter from
President Xi Jinping
that promised greater opening up of the Chinese economy to foreign investors.
There are 97 industrial conglomerates under the state-owned Asset Supervision and Administration Commission (Sasac), although the total number of SEO's in China is unclear since many are backed by provincial governments.
The net profits of the 97 enterprises reached 1.06 trillion yuan (US$150 billion) in the first three quarters of 2019, up 7.4 per cent from the same period of last year, according to data released by Sasac last week.
This article appeared in the South China Morning Post print edition as: Executive says China's SOEs victim of an 'attack'