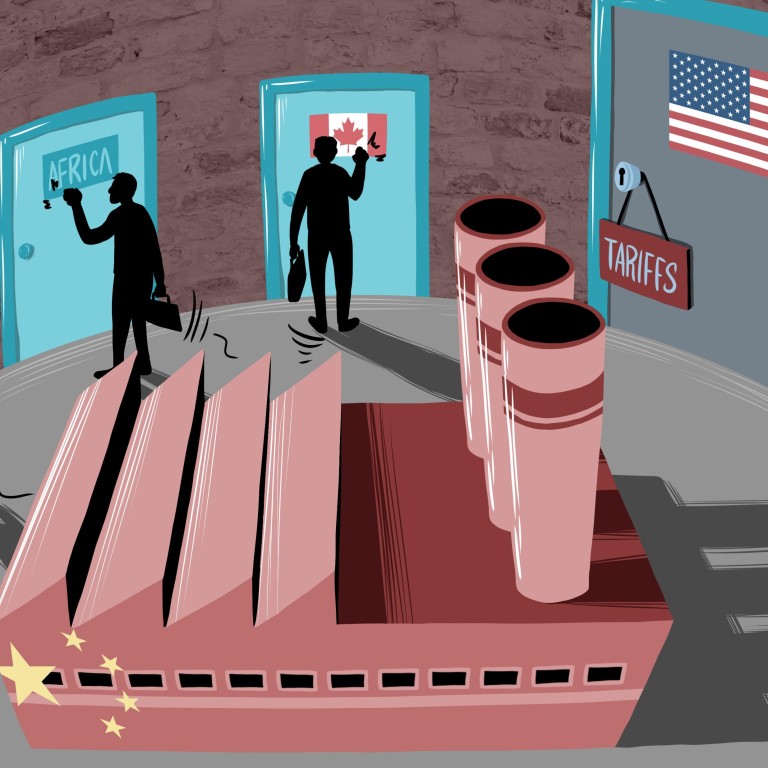 China's Canton Fair highlights changing nature of nation's manufacturing industry amid US trade war
Tariff war launched by US President Donald Trump in June 2018 accelerated changes in China's manufacturing and export industries that were already under way
Some 200,000 potential buyers will still visit 60,767 exhibition booths in Guangzhou during the three week fair as China hangs onto its manufacturing role
When US President Donald Trump imposed tariffs on the first batch of imports from China in June 2018, a move which led to the start of the trade war between the world's two largest economies, Chinese researchers put on a brave face, arguing that the levies would only have a marginal impact on exports and, therefore, on the overall economy.
That optimism was supported by facts. Among China's total exports of US$2.3 trillion in 2017, shipments bound for the United States accounted for 19 per cent, suggesting that they played only a marginal role in supporting Chinese economic growth. Wei Jianguo, a former vice-minister at the Ministry of Commerce responsible for foreign trade, even suggested in late 2018 that Africa could replace the US to become China's top export market by 2023.
But after 16 months of tit-for-tat trade tariffs, it is increasingly clear that the impact of the
trade war
has grown well beyond the question of whether African clients will buy as many Chinese goods as American consumers. At stake now is China's role in global value chains, its unfettered access to global markets and the prospects for the country's massive export apparatus that directly and indirectly employs 180 million people.
The trade war has accelerated changes in
China's traditional manufacturing
and export industries that were already under way, with the nation gradually shedding its low value-added, labour intensive industries in favour of high value-added, hi-tech sectors highlighted in the controversial "
Made in China 2025
" industrial policy blueprint. This is seen by the Chinese government as the key transition in the country's economic future.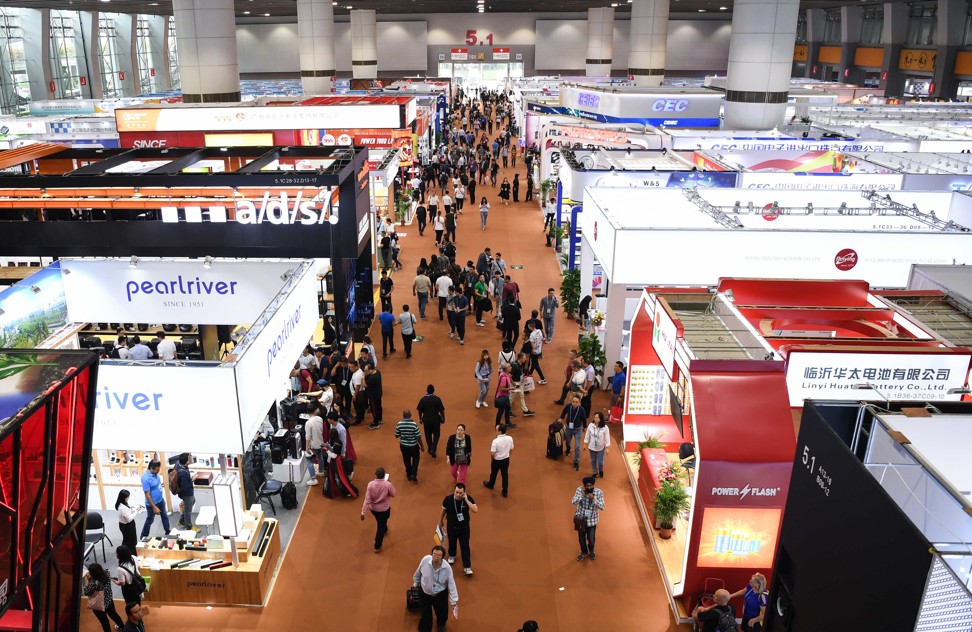 But that observation does little to ease the increasing pain of the exhibitors of mostly low-end products at the Canton Fair, China's oldest and largest export exhibition, which started last week in the southern city of Guangzhou.
Tom Yang, an exporter of outboard marine motors, generators and pumps, said that he has been selling goods to overseas buyers for the last two decades and has sensed that "great changes have taken place" in the China-US relationship.
"It's no longer the friendly trading atmosphere that it used to be in past decades," Yang said. "A lot of things are happening, and it's not hard for ordinary enterprises and people to feel the worsening atmosphere."
The prospect of a broad-based deterioration in economic, political and social ties between China and the US "would kill business in the long run", he added.
Many exhibitors share Wang's worries, with the
US-China trade war
now the elephant in the room for Chinese exporters. Some do not even sell directly to American buyers, but Trump's tariffs came on top of a series of fundamental changes that may alter China's role as the world's prime producer of a wide range of goods.
While the hollowing out of manufacturing in the world's second biggest economy started long before Trump won the US presidency due to rising labour costs and intrusive state interventions, the tariffs and an open request from the American president for US businesses to pull out of the country have exacerbated fears that China's role as the industrial production base for global customers has started to decline rapidly.
The growth of China's textile industry, for example, has been falling steadily since the global financial crisis in 2009 and it dropped to almost zero last year, while revenue and profit created by the average textile worker started to decline in 2017, according to a sector report written by Zhu Qibin, the chief macroeconomist from the Bank of China International.
"From the perspective of industrial development, the outflow of labour-intensive industries with low added value is an inevitable trend. It can either shift to the consumer end or the raw material end," Zhu said.
"Amid Sino-US trade frictions, businesses shifting their brand and designs is not realistic in the short term, because they need time to get established. However, transferring to high-end raw materials is relatively easy given China's full production chain."
As a share of total economic output, China's manufacturing sector is equivalent to that of US in the early 1950s and Japan in the mid-1980s. But structurally speaking, China's metal and energy sectors still account for a high proportion of the overall manufacturing sector even though profitability is low.
"China's metal and building materials still account for a high proportion [of overall manufacturing], while the mechanical [equipment] category still has a low share, reflecting the fact that the upgrading of the raw material industry into a processing and assembly industry has not been smooth," said Jiao Chao, chief macro analyst from Haitong Securities.
Exhibitors at the Canton Fair are largely unaware of these larger macroeconomic trends, seeing only how the changes affect their current business opportunities.
Wu Guo Xian, a Chinese merchant from Thailand, has sourced goods from the Canton Fair for the last 25 years, buying in bulk before distributing to large hardware stores in Thailand. But the volume of his purchases are now "a fifth of its peak level" in the early 2010s as price of made-in-China products has risen rapidly.
"The price of cast metal products from China has increased 50 per cent in the last three years. Many buyers from Thailand are shifting orders to India as prices there are about 30 per cent lower than in China," added Wu, who noted that the quality available in the South Asian country is catching up to China.
Wu feels that with or without Trump's tariffs, China's cast-metal industry will wither as few young people are willing to work in the factories, while the government is also increasingly strict on enforcing environmental standards that will significantly increase its costs.
Owning a factory in places like Vietnam is now a clear advantage for China's exporters. A manager for Loctek, the maker of the mechanisms used for sit/stand desks, said the firm's factory in Vietnam, with around 400 workers, is a powerful weapon for the company to beat competitors who do not have factories outside China.
"There's zero tariff to the US [for exports from the Vietnam factory]," she said.
Despite the issues, China is still a formidable trading machine. It is the largest trading partner for over 120 countries and its share in global exports stood at 12.8 per cent in 2018 – making it the world's largest exporter.
The Canton Fair, which is held twice a year in Guangzhou, remains a window to gauge the power and potential of Chinese exporters. The current fair that started on October 15 has 60,767 exhibition booths and is expected to attract around 200,000 potential buyers over three weeks.
In the era of internet and e-commerce, the fair, which survived China's Great Famine in the early 1960s and the Cultural Revolution from 1966 to 1976, is still valued by many Chinese exporters as a platform to showcase their products, to exchange information and to meet existing and new buyers.
However, because of the trade war, there are far fewer buyers from the US, which is still China's largest single-country export market.
In the first nine months of 2019,
China's exports to the US
fell 10.7 per cent from a year earlier, leading to 0.1 per cent drop in overall exports. Imports from the US also shrank by 26.4 per cent in the same period, contributing to a 5.0 per cent drop in overall imports between January-September.
Amy Cui, sales manger of Hechuang, a car parts maker based in the Chinese rust-belt province of Liaoning, said orders from the US had declined sharply since the trade war began.
"After the tariff was increased to 25 per cent last year, we basically lost all US orders. I was originally responsible for the US market and have now transferred to try to expand the Canadian market," she said.
In addition, a price war has broken out between Chinese car parts makers as they compete for the same non-US markets, Cui added.
Additional reporting by Sidney Leng