China's countryside 'returning to poverty' as lack of reforms help fuel urban-rural divide
China's rural economy is at the heart of national policy, but the income gap between the country's villages and cities is widening
Experts say the government needs to kick start much-needed reforms of the rural pension system and land rights, with US trade war increasing pressure
For most years since 2000, China's first and most important annual policy document has focused on improving the agriculture sector, an indication not just of its political significance, but its complexity and the pressing need for deeper reform.
The welfare of the agricultural economy has become ever more crucial as China's relatively untapped rural consumer market is now seen as a resource to help offset the slowest growth in more than 28 years, clouded by continuing trade tensions with the United States. Rural China, after all, accounts for more than 40 per cent of the country's total population.
But the government's good intentions could once again be thwarted by structural obstacles that stand in the way of needed economic reforms. With each year, the gap widens between China's rural villages and its cities.
"The current situation is not optimistic, the countryside is returning to poverty," warned Ma Wenfeng, an analyst from Beijing Orient Agribusiness Consultant, which includes the Ministry of Agriculture and Rural Affairs as a client.
Putting aside the not inconsiderable amount of money that migrant workers bring home, rural income has been in decline since 2014, falling by another 20 per cent in the first half of this year, Ma said. According to his firm's analysis based on government data, rural per capita income excluding the proportion from migrant workers fell to 809 yuan (US$114) at the end of June this year, compared with the 1,023 yuan ($145) at the end of 2018.
One major impediment to improving farm income is that farmers do not own the land they till. All land in China is state-owned and farmers have the right to use it under a renewable 30-year lease. But outright ownership is non-negotiable, meaning farmers do not have the right to sell what would be their most important asset and significantly diminishing their financial security.
Current government policies focus on how to grow and sell more agricultural products but do not directly address farmers' long-term welfare, Ma said.
"We [society] look down on the agriculture sector and farmers are seen as in the lowest class in our society," Ma said. "Only when we provide these workers with the same rights – in terms of pensions, education and so on – can the agriculture [sector] problem be resolved."
At the centre of the rights issue, he said, was the lack of an adequate pension system for rural residents. Many people living in the countryside are struggling to make ends meet and have little money left over to put aside for old age. Additional discretionary spending, such as buying home appliances and consumer products pushed by Beijing to boost domestic demand, are in most cases beyond consideration.
The current rural pension system, implemented more than a decade ago, is funded by the government and residents' contributions. The annual minimum contribution was set at 100 yuan (US$14), but residents who pay more stand to receive greater benefits when they retire.
Under the policy, there are 12 levels of annual contribution that increase in 100 yuan increments, from 100 yuan to 1,000 yuan (US$141), as well as contributions of 1,500 yuan (US$212) and 2,000 yuan (US$282), according to state media reports. Government subsidies range from 45 yuan (US$6) to a flat rate of 65 yuan (US$9) for private contributions above 500 yuan (US$70).
Ma said a rural resident who paid 100 yuan per year over 15 years until the age of 60 would be entitled to a monthly benefit payout of no more than 90 yuan (US$12).
But the bigger question is do farmers have spare money to contribute even 100 yuan per year to the rural pension scheme?
One unnamed farmer in China's agricultural heartland of central Henan province said he could earn about 5,000 yuan (US$707) per year from the peanuts he harvests on his 10 mu (0.67 hectare) of land, an amount that leaves his family next to nothing after basic expenses. They live in constant fear of falling ill or having to shoulder unexpected costs, he added.
"We don't have money and when this generation's young farmers have kids, they won't be able to afford to pay for [their children's] education," the 70-year-old man said in a video on Chinese social media.
"Even though North Korea is backward, people there don't need to pay for education or to see a doctor. But here, can we afford to see a doctor, and pay that 300,000 yuan (US$42,000)?"
Growth in China's total rural disposable income per capita – including migrant workers – has been slipping since 2012, from 13 per cent to 9 per cent in 2018, according to China's National Bureau of Statistics. Not only was last year's figure of 14,617 yuan (US$2067) less than half of the 39,250 yuan (US$5551) recorded in urban areas, but 90 per cent of it was accounted for by migrant workers in cities sending remittances home.
While agriculture has long been at the heart of China's national security strategy – producing enough to feed the country but also boosting incomes in the countryside – the past four decades has seen the rural sector fall further behind other parts of the economy. Rural gross domestic product (GDP) has tripled in size in the past two decades, but that is a far cry from the eight-fold expansion in manufacturing GDP and nine-fold rise in the total economic output over that period.
This year the State Council's first policy statement again centred on advancing rural development. The declaration comprised eight sections, including policies to tackle poverty, improve public services, strengthen agricultural infrastructure and widen farmers' sources of income.
Chinese President Xi Jinping has pushed hard to deepen rural reforms, making the alleviation of poverty one of the government's top objectives for 2019 and 2020. In March, Xi told delegates at this year's National People's Congress that the "country will flourish only when the countryside does, but it will also decline if the rural area does".
But these objectives are yet to make a significant difference to many farmers.
Most Chinese farms are family operations, which means they are small and lack economies of scale, limiting their earnings. Farmers also do not own their land, face rising costs – from fertilisers to electricity to labour – and are being hurt by falling grain prices.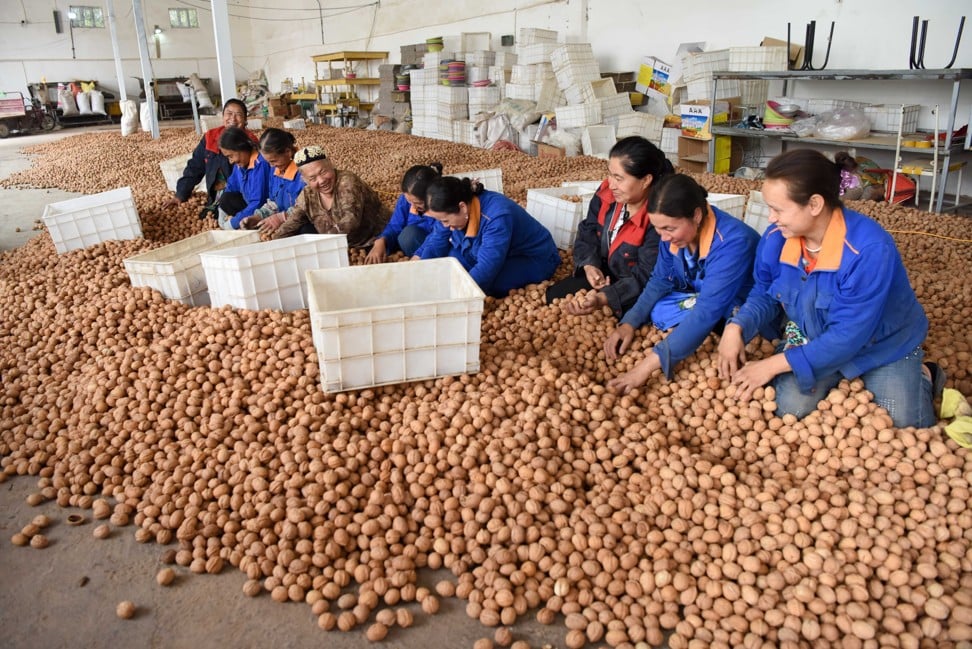 Compared to advanced farming economies in the Netherlands and the US, where output from one farm on average feeds 256 people and 146 people, respectively, a Chinese farm feeds just seven people, according the estimates by Rabobank.
Bigger commercialised farms are run by government-backed organisations that acquire and consolidate household plots with funding from banks and corporations, part of ongoing reforms to modernise the industry to produce higher yields with less labour. But local governments, not farmers, get the proceeds from the sale of farmland.
As such, commercialisation has not addressed structural issues that stand in the way of improving the lives of most Chinese farmers, Ma argued.
Many academics and economists blame China's land policy, which dates back to the early years of Communist Party rule in the 1950s, as the cause of rural problems. After redistributing land from rich to poor farmers, the party quickly moved to nationalise farm plots, which have remained government-owned ever since.
But analysts said decentralised control and privatising land were unlikely as the party's rise was built on land reforms, the bedrock of China's socialist development.
Beijing has relaxed the right to lease and use farmland over the years, which has resulted in property booms across counties and villages as China opens up and economic growth advances. Loosening policy has given rural residents greater options to rent out land and to use their rights of lease as collateral for bank loans.
But the reforms have come with a downside – helping fuel local officials' often mindless land requisitions for development, which has left a large number of farmers landless and cut the amount of arable land available.
China has only 6 per cent of the world's water resources and 9 per cent of its arable land, but needs to feed 21 per cent of the world's population, according to state-owned Xinhua News Agency.
The stakes have risen drastically over the course of the 15-month long trade war with the US. China slashed agricultural imports from America – including soybeans for animal feed – heaping pressure on its domestic agricultural industry to meet the shortfall, while banking on rural consumers to increase their to spending.
Furthermore, Beijing's tit-for-tat tariffs on American agricultural imports have made it more expensive for Chinese importers to buy them.