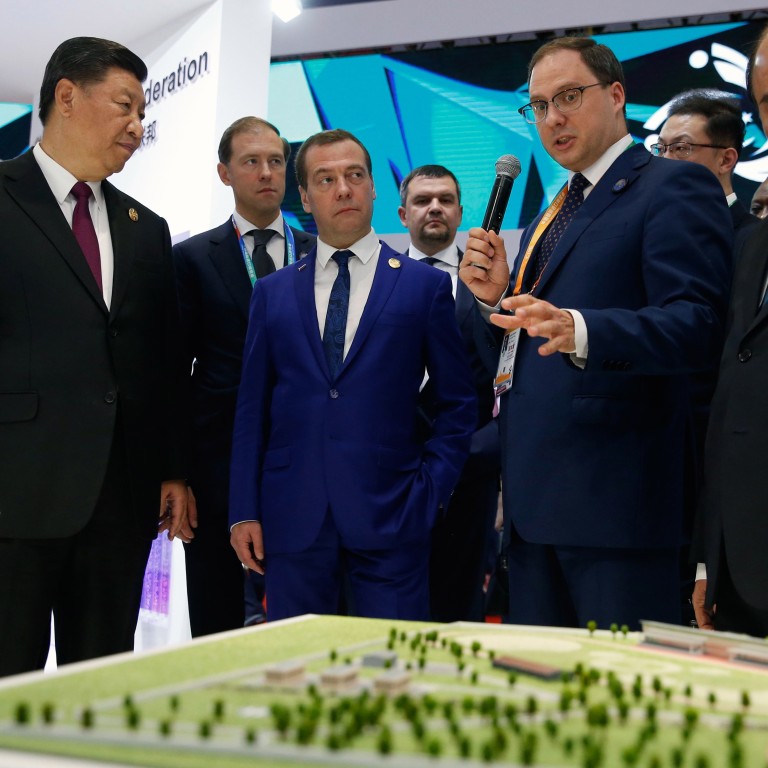 Exclusive
China President Xi Jinping to speak at Shanghai import expo next month in bid to offset US trade war worries
Xi Jinping is expected to again give a keynote speech on the first day of the China International Import Expo, which will be held from November 5-10
China is seeking to attract the international business and investment community amid the trade war with United States which has slowed growth to a record low
President Xi Jinping is again expected to attend the first day of a key import expo in Shanghai at the start of November to deliver a message to the global trade and investment community that China remains open for business, according to two sources briefed on the arrangements.
One source, who declined to be identified as the appearance is still confidential, said Xi is expected to deliver a keynote speech on the first day of the China International Import Expo, which will be held from November 5-10, to reinforce Beijing's narrative that China's development is an opportunity for, not a threat to, the rest of the world.
The event would offer a venue for Xi to present his thinking about the global economy and China's prospects just a few days before he flies to Chile for the Asia-Pacific Economic Cooperation summit, where he is expected to sign a temporary trade deal with the
US President Donald Trump.
If confirmed, it will be Xi's second consecutive appearance at the fair, which is designed by the Chinese government to impress global merchants and investors of China's huge market potential and
Beijing's commitment to market opening
.
China held the import expo for the first time in Shanghai last year, attracting over 3,600 companies from 172 countries and regions from around the world seeking to sell their products and services to China's market of 1.4 billion customers. Over a million visitors, including 400,000 Chinese buyers, visited the fair, signing purchase agreements valued at US$57.8 billion during the six-day event, according to official statistics.
In his keynote speech at the event last year, Xi said China would boost imports, lower the market entrance threshold for foreign investors, and improve its business environment – many of his promises have been realised in the last year despite an escalation of trade war with the US.
Last year, Xi also announced that
Shanghai
would expand its trade zone, create a new Nasdaq board and enhance integration of the Yangtze River Delta. Su Ning, a researcher with Shanghai Academy of Social Sciences, said the three tasks were not easy but Shanghai had been able to accomplish them.
Lu Zhongyuan, a former deputy director at the Development Research Centre under the State Council, said in Beijing on Friday that China is opening up its market according to its own process and needs.
"China is not being forced to open," Lu said. "China is following its own logic of allowing the market to play a decisive role, for which China must go further up the road of opening up."
Beijing has implemented seven new laws and regulations this year and will implement eight more next year to increase the ease of doing business in China, after implementing only six such policies in the three years from 2016-18, the World Bank said in a report released on Thursday.
The Chinese government this week published a new regulation intended to create a
level playing field
for all businesses and cut red-tape for business operations in the world's second largest economy. The new regulation will come into effect on January 1 next year along with the country's foreign investment law that is designed to protect the interests of foreign investors in China.
China has promised to lift foreign ownership ceilings in domestic financial institutions and it is allowing Hyundai, the South Korean car manufacturer, to have full ownership of its plant in China, after it also fast tracked the approval for electric car maker Tesla to produce and sell electric vehicles in China.
Beijing's renewed efforts to present a friendly face to foreign businesses came as the country's
headline economic growth rat
e decelerated to 6.0 per cent in the third quarter, the lowest in three decade since record began and touching the bottom of the government's growth range for the year.
China's efforts to use its vast domestic market as a lure to foreign businesses, however, has been tarnished by a flurry of cases exposing the risks of doing businesses in China.
The National Basketball Association is facing a boycott by some Chinese companies and consumers after Daryl Morey, the general manager of the Houston Rockets, published a tweet showing sympathy towards protesters in Hong Kong.
Additional reporting by Orange Wang
This article appeared in the South China Morning Post print edition as: Xi to speak at Shanghai import exhibition in bid to woo global investors