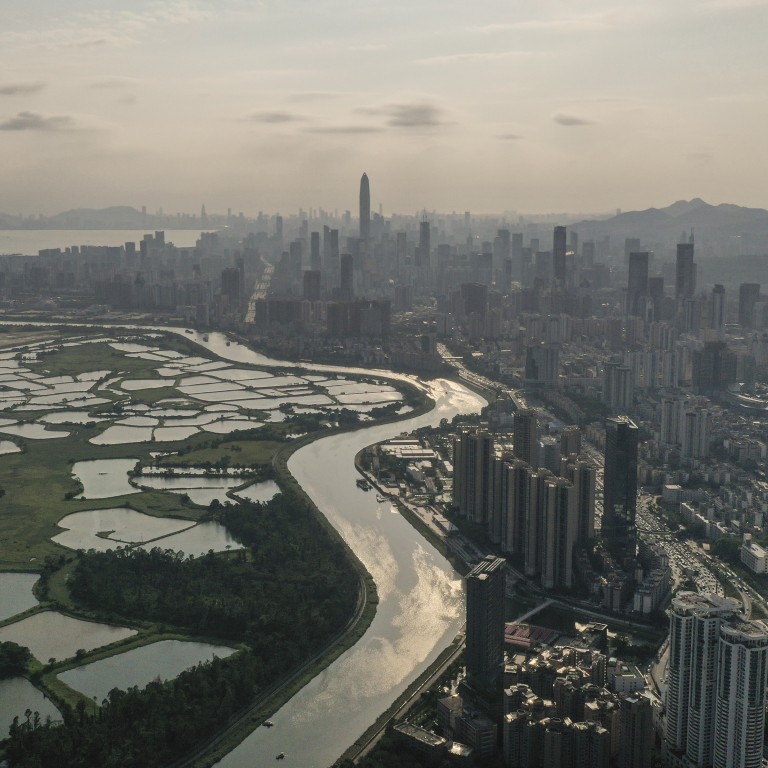 Hong Kong 'protests highlight need for new role' for city's in China's Greater Bay Area plan
Wong Chung-kiu, co-founder of the Greater Bay Area Impact Forum Foundation, says a new set of goals and ideals is needed to allow city to continue to develop
Hong Kong has now been hit by anti-government protests for the last 21 weeks
Hong Kong needs to come up with a new set of sustainable policies to address the frustrations at the heart of the anti-government protests if its role in the Greater Bay Area is to grow, according to a Hong Kong academic.
Wong Chung-kiu, co-founder of the Greater Bay Area Impact Forum Foundation, said one of the causes of Hong Kong's damaged relationship with the rest of China was a "bottleneck" in Hong Kong's social and economic development, particularly in terms of its role in the Greater Bay Area scheme.
Wong said a new set of common goals and ideals was needed to allow Hong Kong to continue to develop with the rest of the region.
"When the development [model] is sustainable, then that means we are doing something right, and we are doing something in a way that is balanced, equitable and fair," he said.
"In Hong Kong, some of the problems we are seeing are really the result of a development model that is not sustainable. We have reached a critical, inflection point where we would need to make some changes."
He said that the more than four months of increasingly violent clashes between protesters and the police in the city reflected the erosion of social, economic and political relationships between mainland Chinese authorities and many Hong Kong community stakeholders.
Hong Kong's widening political crisis has crippled growth, sending its economy into a technical recession and its tourism, retail and services industries into a free fall.
The Greater Bay Area plan, unveiled in February, aims to promote exchanges of people within the region by building a high-speed railway, a sea bridge and other infrastructure for the integration of Hong Kong and 10 neighbouring Chinese cities, turning it into an international economic, innovation and cultural powerhouse to rival Tokyo or San Francisco.
But for 50-year-old mother of three Angel Men Chan, that shared future seems a long way off.
Chan has taken part in most of the protests since late August and said the mainland had little appeal.
"Nobody wants to go to the Greater Bay Area. There's even less freedom there," she said. "Chinese people can't even get basic things like Google, unless they're using a VPN, and they definitely cannot get access to different types of media.
"Now they're even blocking my WeChat account because I'm sending messages about the protest which they don't like."
Chan's father was one of the many Hong Kong businesspeople and companies who moved their manufacturing facilities to the cities in southern China to take advantage of cheaper labour and land costs.
But in the decades since, the Greater Bay Area cities had grown, becoming more self-sufficient and less reliant on Hong Kong's traditional strengths, creating major challenges for the semi-autonomous city in the next 40 years, Wong said.
It has clearly created anxiety in Hong Kong.
In her policy address last week, Hong Kong leader Carrie Lam Cheng Yuet-ngor mentioned the "Greater Bay Area" once only, compared to 30 times in her 2018 address, an indication of an apparent attempt to play down claims of opportunities being created for Hong Kong young people and enterprises in the bay area.
Future development of Greater Bay Area must involve the responses of young people, the key stakeholders of the city's future, Wong said.
"I can see their anger, their frustration. Many of the young people may not know the real reason behind it," Wong said. "We want young people to start reasoning with themselves and with others."
This article appeared in the South China Morning Post print edition as: Protests show 'need for new HK role' in bay area