Huawei
Get more with myNEWS
A personalised news feed of stories that matter to you
Learn more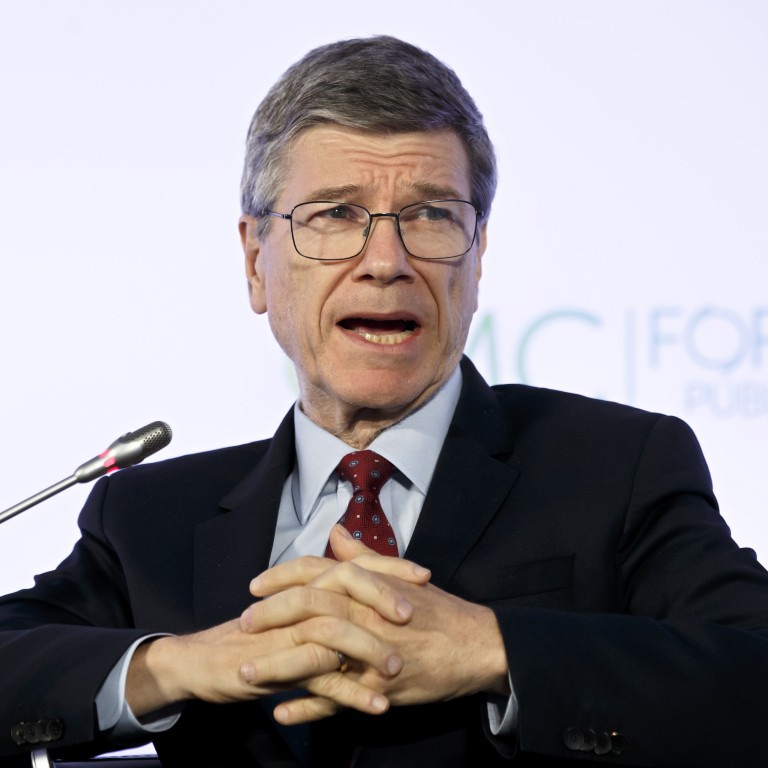 Huawei Twitter comments defended by economist Jeffrey Sachs, says Donald Trump 'still wrong'
Columbia University professor Jeffrey Sachs says he has no regrets about his comments defending Chinese executive Meng Wanzhou
Washington's policy on technology giant remains 'misguided', he says
Ten months after sparking a social media storm with his comments defending Meng Wanzhou, the chief financial executive of China's technology giant Huawei, Columbia University professor Jeffrey Sachs says he has no regrets about quitting Twitter.
Speaking on Sunday on the sidelines of the Bund Summit, a financial forum in Shanghai, the academic said he was pleased he no longer used the platform, but had not changed his view that US policy on the company was "misguided".
"I don't regret at all my Twitter comments on Huawei," he said. "I am indeed pleased that I got off Twitter. It was taking too much time. And discussions on Twitter are often much more heat than light."
In an article titled "The War on Huawei", which was published by media outlets around the world on December 11, Sachs said the Trump administration was unfairly targeting Meng for her alleged violations of US sanctions against Iran.
Washington, he said, was being hypocritical by not taking similar action against senior executives of American companies, whose only punishment for violating Washington's sanctions regime had been a fine.
He went on to describe the administration of US President Donald Trump as "the greatest threat to the international rule of law" for its unilateral sanctions against Iran and its decision to exit a nuclear deal with the Middle Eastern country.
The article drew a lot of criticism in the US, and after being bombarded online Sachs deleted his Twitter account.
But he said he still believed the US's policy on Huawei was "very misguided" and "provocative".
As the world's two largest economies continue to fight a
trade war
, Washington has punished several of China's biggest technology firms by adding them to an "entity list", which prohibits them from purchasing US technology without approval.
"The restriction on the export of hi-tech goods and services to China reflects the views of a hardline segment of the US government," Sachs said. "It does not reflect the views of the American people generally. The trade war is a Trump administration policy".
The US was only targeting Huawei because of its position as the leader on 5G, he said, adding that America's security agencies were worried that the use of Huawei equipment would make covert surveillance more difficult.
"We know that the US already listens in, maybe it will be harder if the equipment is [made by] Huawei," he said.
Last year Sachs wrote a foreword for a Huawei company position paper, highlighting its recommendations for government digital technology policy.
"Huawei is a remarkable company and, by any standard, Huawei's vision of our shared digital future is powerful, exciting, and uniquely well informed," it said.
As for finding a resolution to the trade war, Sachs said it seemed unlikely in the short term.
"Maybe we'll see a small agreement, but Trump doesn't wasn't to look weak before the 2020 elections or during the impeachment proceedings," he said.
"There is a big danger that the US is trying to divide the world into technology blocs," he said. "The main reason is that the US hardliners view the digital technologies as basically military and intelligence technologies. This militarisation of the digital world is very dangerous, and should be stopped."
The outlook did not look promising, he said.
"We need to end this dangerous, costly and useless set of trade and technology actions by the US," he said. "I'm afraid though that the anti-China US policies are more likely than not to continue under Trump in the coming year."
This article appeared in the South China Morning Post print edition as: US is still 'misguided' on Huawei, Sachs says