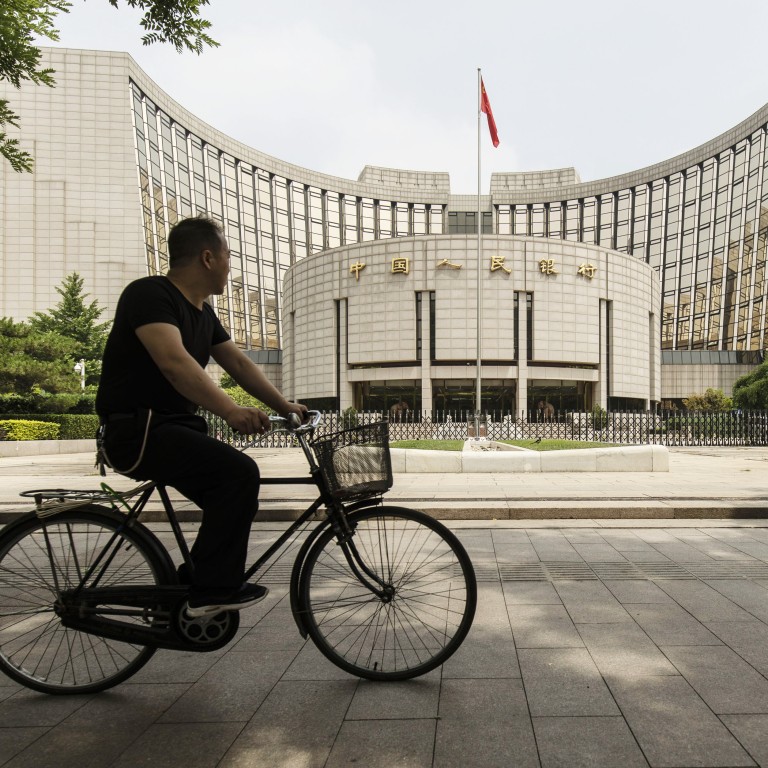 China unlikely to follow expected US Federal Reserve rate cut despite economic slowdown, analysts say
Analysts say the People's Bank of China is unlikely to immediately follow a widely tipped rate cut by the US Federal Reserve
The bank has promised 'prudent monetary policy' as it deals with domestic issues such as rising consumer inflation and the effects of the trade war with the US
China's central bank is unlikely to immediately lower its benchmark lending rate in response to a widely expected third-straight interest-rate cut by the US Federal Reserve on Wednesday, analysts said.
Market observers believe the People's Bank of China (PBOC) will refrain from following the US Federal Reserve's lead when it is faced with domestic issues ranging from
fast-rising consumer inflation
driven by the spiralling
cost of pork,
calls for structural reforms and a debate over the level of monetary stimulus to support an economy that has been hard hit by a
trade war with the United States.
Instead, the PBOC is likely to continue with its prudent monetary approach to maintain financial stability while ensuring adequate credit was available for private businesses and spending on infrastructure, analysts said.
"The PBOC could potentially become more reluctant to deliver high-profile stimulus in coming quarters," Lu Ting, chief China economist at Nomura, said on Tuesday.
The Japanese investment bank postponed from the final quarter of this year to the first half of next year its forecast of a half-point cut in China's reserve requirement ratio for all banks, which would free up more funds for lending. Nomura also estimated the first rate cut in the rate of the central bank's the medium-term lending facility, the cost that banks pay to borrow cheaply from the PBOC, would be in the first half of next year.
Raymond Yeung, chief Greater China economist of ANZ Bank, said China's current combination of fiscal, monetary and industrial policies showed that authorities were more concerned with medium-term economic trends than the short-term economic slowdown.
"China has entered a stage where printing money won't be able to solve the major problems – structural reforms are needed," Yeung said.
"Monetary policy should serve as complementary role to fiscal stimulus, providing enough credit for infrastructure construction and key industries."
China's central bank has been more focused on reducing market rates through a new loan prime rate (LPR) regime. The LPR is an average of the one-year and five-year lending rates that 18 selected banks offer their best clients and serves as the basis for all other bank lending rates. It has dropped 11 basis points over the past two months.
China's economy grew
6 per cent in the third quarter
this year, the slowest rate since records began in 1992. The record low marks a continuation in a slump that has been exacerbated by the bruising trade war with the US that started nearly 16 months ago.
While Beijing has promised bigger countercyclical measures to reverse the slide, it has repeatedly refused calls for an all-out stimulus programme such as the one that was implemented after the global financial crisis a decade ago.
Central bank governor Yi Gang has said China would continue to pursue a "prudent monetary policy"with measures taken to ensure that money supply and total aggregate credit in the economy are aligned with nominal growth.
"Counter-cyclical measures will be taken to align the growth of M2 [money supply] and total social financing with that of nominal GDP," Yi told an International Monetary Fund conference on October 19.
Liu Yuanchun, vice-president of Renmin University of China, said the central bank should be bolder, adding rate cuts would reduce the government's debt repayment burden and give it more room for tax cuts.
"Given the synchronised monetary easing worldwide, we must demonstrate our intentions," he wrote recently in an article. "We should have an clear change from a prudent monetary policy to a moderately loose one, rather than do it in a shy manner."
This article appeared in the South China Morning Post print edition as: PBOC unlikely to follow US rate cut despite global downturn, analysts say