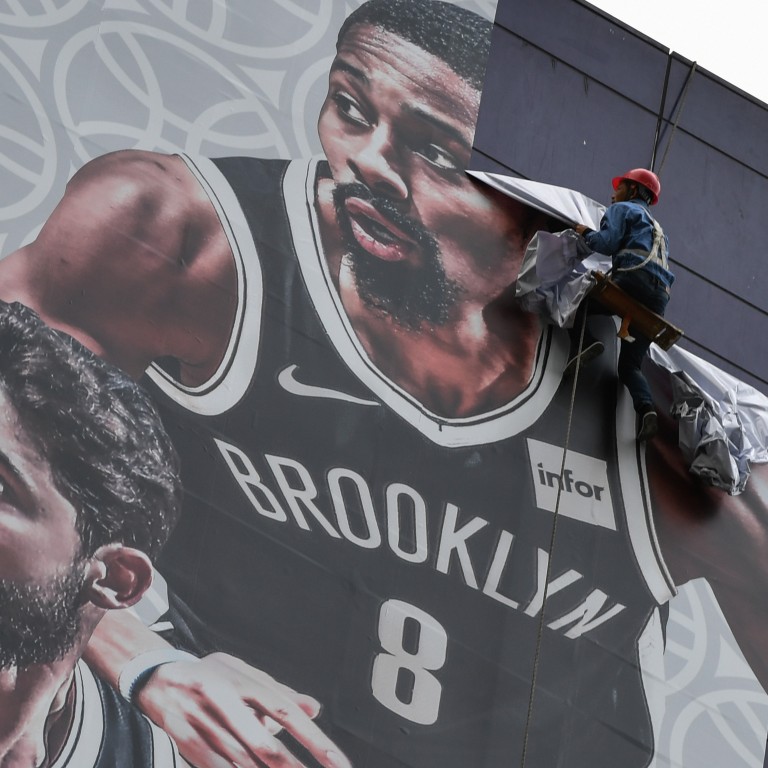 China's US trade war charm offensive was meant to stop foreign investors from leaving, but is it working?
Insiders say Xi Jinping chose non-confrontational language to avoid 'trap' of lashing out at US businesses set by 'trade hawks in Washington'
But China faces uphill battle to hold on to foreign investors, with NBA crisis example of Beijing using economic clout to secure political goals
When US President Donald Trump launched the trade war 16 months ago, there was a debate in Beijing over how China should respond.
One view was that the government should employ a tit-for-tat response to inflict pain on American businesses in China. The other argument was that instead of punishing foreign firms – particularly American ones – China should be nicer to them, to try and win them over to China's side in the dispute.
Not wanting to appear weak, President Xi Jinping responded to
Trump's tariffs
with duties of his own, but rhetorically, opted for a non-confrontational charm offensive, according to two sources informed on the policy debate.
Instead of
punishing American businesses in China,
Beijing has tried to comfort and reassure them, promising easier access to the vast Chinese market, a level playing field, and a restrained role for the state in daily economic activities.
"If China were to punish US businesses, it will only help those trade hawks in Washington who are trying to decouple China from the rest of the world," said one Chinese government official, who declined to be named as he is not authorised to speak to the media. "China will certainly not step into that trap."
He is expected to reiterate the government's mantra that "China's door will only open wider", and to announce fresh policy initiatives to help foreign traders and investors access China's domestic market of 1.4 billion consumers.
The new promises will add to a long list of measures designed to convince global investors that the world's second largest economy remains open for business.
China has promised to lift, and eventually eliminate, foreign ownership limits in domestic financial institutions and car companies; it has fast-tracked approval for Tesla to make electric cars in its brand new, wholly-owned Shanghai factory; and it is launching a series of new laws and regulations that promise fair treatment for foreign businesses.
Wang Shouwen, a vice-commerce minister who has been a key member of Beijing's trade negotiation team with the United States, said on Tuesday that China will actively comb through local laws and regulations throughout the country and change or eliminate those that are deemed unfair to foreign businesses – something Beijing has not done since it was negotiating its entry into the World Trade Organisation over two decades ago.
Peter Quinter, a shareholder and customs lawyer at GrayRobinson, a US law firm, said it would be wrong to expect China to deliver what investors wanted "as if we are ordering a hamburger at a drive through McDonald's".
"In China, the progress made in its economic system in the past 30 years is the marvel of the world," Quinter continued. The notion that China should develop its legal, political and economic system to mirror that of the US is "an uninformed way to look at China and the world".
Given the widespread suspicion – and even ridicule – of Beijing's claim to be the biggest defender of global free trade, the reception to China's new "opening up" measures has been mixed.
The World Bank,
whose president is former US Treasury under secretary David Malpass, identified an acceleration in Beijing's efforts, moving China up 14 places in its ease of doing business index earlier this month. It noted that China enacted just six market opening reforms from 2016 to 2018, but made seven this year alone, with plans for eight more next year.
China has also showered support on investors like Tesla. It took just 168 working days for Tesla to go from government approval for its Gigafactory in the Shanghai suburbs to turning on the power in October for trial production runs, the official Xinhua News Agency reported.
Data from the United Nations Conference on Trade and Development, meanwhile, showed that
foreign direct investment
(FDI) into China in the first half of 2019 rose 4 per cent from a year earlier to US$73 billion, as China remained the world's second biggest recipient of FDI, trailing only the US.
Wall Street has also maintained its interest in China, with major financial houses from JPMorgan Chase to Blackrock talking about expanding their presence in the mainland.
Beijing's promises of further opening up is also a key part of its defence of China's place in
global value chains
. China's status as the workshop for the world has for years been steadily eroded by rising domestic costs, even before the outbreak of the trade war, leading to a long list of foreign manufacturers throwing in the towel, seeking cheaper production bases in countries like Vietnam and India.
South Korean manufacturing giant Samsung, for example, recently shut down its last mobile handset factory in China.
In an article published in Huanqiu, a website affiliated with the Communist Party mouthpiece Global Times on Monday, Wei Jianguo, a former vice-minister of commerce, implied that China's opening has limits, even in designated "free trade" pilot zones.
Wei said that while the zones would lower market barriers and improve intellectual property protection for foreign firms, they will not "go laissez-faire" or embrace "neoliberalism from the West". All of China's moves to open up must support the central goal of building up "a socialist market economy", Wei noted.
Beijing has also made it clear that it will not give up its unique economic model or loosen its grip in areas where China sees dangers. Many of Beijing's recent liberalisation measures are "one-way streets" designed to encourage inflows while its draconian capital controls curb outflows.
However, the government is mindful of the key role foreign investment played in China's economic rise over the last four decades, bringing not only money but also access to advanced technologies.
China's own statistics show that it enjoyed cumulative foreign investment worth US$2.1 trillion from 1978 to 2018, helping China's economy evolve from an isolated backwater to a global powerhouse.
Winning the hearts and minds of foreign investors will therefore be crucial to China's economic future. In reality, though, the odds are stacked against it, according to Jacob Parker, vice-president at the US-China Business Council, who said many US companies are preparing for long term US-China confrontation.
Differences in ideas and values, as well as their geopolitical rivalry and conflicting security concerns, are also casting a shadow over American businesses in China. There have been plenty of examples of China using economic clout to get its way in political disputes in recent years.
A spontaneous boycott by the Chinese public pushed South Korean retailer Lotte out of the mainland market after Seoul agreed to install a US anti-missile system on its soil.
More recently, the National Basketball Association's (NBA) China marketing plan was upended after the Houston Rockets' general manager tweeted a message supporting Hong Kong protesters, leading to a public outcry and an eventual blackout of most NBA broadcasts in China.
Trey McArver, co-founder of Beijing-based research firm Trivium China, said the incident reflects why Beijing "is having a difficult time of getting foreign business back on side".
"Even though they are opening more sectors, at the same time they are also being much more forceful in attacking foreign companies that do not hew stickily to the party's political lines," he said.
"Actions speak louder than words, and I think it is particularly clear in the case of China, where the law is not always the final say on how things are actually regulated."
This article appeared in the South China Morning Post print edition as: beijing to step up its efforts to woo firms