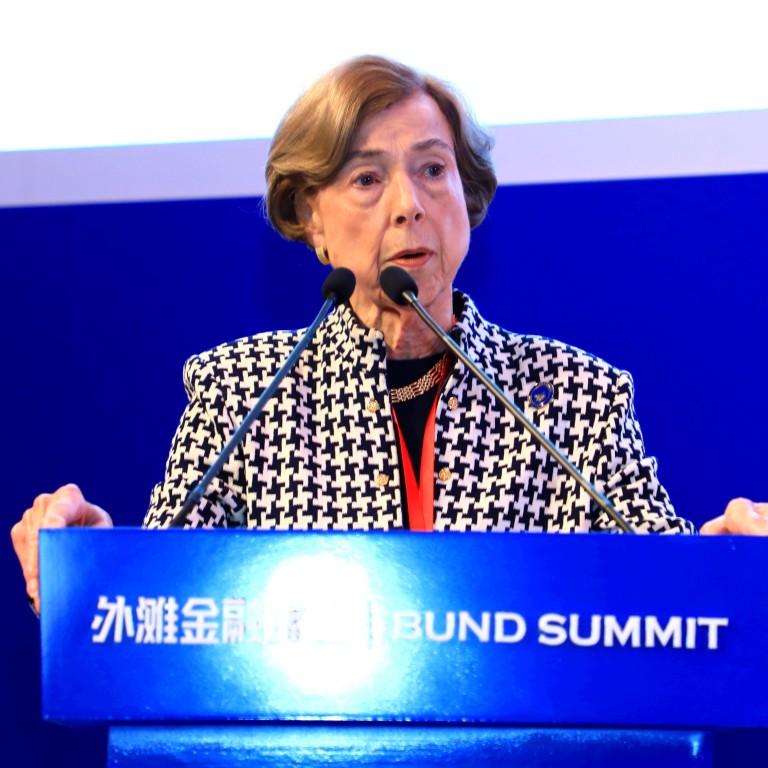 China's slowing economy offers 'magic moment' to accept US trade war demands, says ex-US trade chief
Carla Hills, USTR under George H.W. Bush, urges China to take long-term gamble on economic reform, despite short-term pain of industrial job losses
Other US and European trade figures advise China and the United States to make a deal of substance to avoid 'very worrying' trend towards economic decoupling
China should seize the current "magic moment" in its history by opening up its economy to give its people the "growth they have been promised", according to the United States' former top trade official.
Carla Hills, who was US trade representative under president George H.W. Bush, said that China's slowing economy offered Beijing a rare opportunity to grant some of Washington's top demands on
market access, a level-playing field
for American firms in China, and "strong, articulate, clear, transparent" intellectual property laws.
"When you're negotiating, you really have to understand the other side of the table and try to work with them," Hills told the South China Morning Post in Shanghai. "I think that China and the United States have a magic moment right now, because China's economy is slowing, and they simply must get the growth that has been promised to their people. They're going to have to move more readily to a supply consumer style economy from the heavy industry, and state-owned enterprises."
To galvanise this transition, which has been underway for the best part of a decade, China should be more open to US investment and more accommodating of investors' needs, including protecting technology and nurturing collaborative research and development, said Hills, who negotiated a series of trade and tech agreements with former Vice-Premier Wu Yi – known as China's "iron lady" – in the early 1990s.
Her comments come at a difficult moment for the Chinese economy, which reported the lowest official
growth rate
on record for the third quarter this year, at 6.0 per cent. However, a report released on Wednesday by financial research firm MorningStar said that its "alternative broad proxy indicated China's economic growth was merely 3 per cent in the third quarter", with greater "tariff shocks" to come in the final quarter of the year.
It is widely expected that a small-scale
trade war deal
is close to being finalised, whereby the US would postpone planned tariffs on Chinese-made consumer goods, set to be enforced on December 15, in exchange for an agreement from China to purchase large quantities of American farm goods. The deal is also believed to include market access for US goods currently banned in China, including some poultry and beef products. However, it would not address the "structural issues" in China's economy that have infuriated US companies for decades.
Many of Washington's demands – especially an end to state subsidies for favoured domestic industries – are considered to be "red lines" in negotiations, because they would likely lead to the demise of many large employers in China's heavy industries. Beijing is reluctant to agree to anything that could trigger large-scale unemployment and social unrest.
However, Hills and other former top trade officials this week called for China to make sweeping reforms and encouraged Washington to continue pushing for a level playing field for foreign businesses operating in the country.
"It is in their interest to do that politically. I understand China can't lay off 10 thousand, 10 million workers on day one, but it could be done over time, gradually," Hills said. "And they even could stop giving credit to the [industries] that are losing most of the money and concentrate on letting those sectors be taken over by the private sector."
Robert Holleyman, deputy US trade representative under president Barack Obama, said that a mini trade deal may help "rebuild confidence", but urged the US government to continue pursuing the structural changes that led it to fight the trade war with China.
"It's important that the US and China be seen as trying to work towards a solution. So, to that extent, a phase one deal is an important signal to rebuild confidence, to show that they can work with the tougher issues. But if you look at the heart of what this US trade action was about, that will require fundamental systemic change in China," said Holleyman on the sidelines of a trade conference organised by Asia House in Hong Kong on Wednesday, listing barriers to market entry and technology transfer as the most egregious issues facing American businesses.
"Ultimately, it's really going to take some rethinking on the part of China to be more open to the global economy and US investment in general."
The current political climate suggests that on some issues the world's two largest economies look more likely to decouple than integrate further.
On Monday, the US Federal Communications Commission said it would push ahead with efforts to force the removal of networking equipment from Chinese telecommunications giants Huawei and ZTE installed in the US. The proposal would also ban the use of federal funds from subsidising the purchase of Huawei and ZTE equipment for low-income consumers on "national security" grounds.
In another move that is unlikely to bolster bilateral investment flows, US Senator Marco Rubio said he would soon introduce legislation to prevent US government pension funds from investing in Chinese stocks.
In this increasingly hostile environment, Holleyman said it was imperative that the Trump administration keep "trade policy and trade agreements distinct from issues around national security", making reference to Huawei.
"The discussion between [Chinese President] Xi Jinping and President [Donald] Trump that's likely to happen in Santiago in mid-November should be, and I believe needs to be, separate from broader national security discussions," said Holleyman, who is now CEO of law firm Crowell & Moring.
Former German junior trade minister Anne Ruth Herkes said that the trend towards the decoupling of the US and China was "very worrying", but that the European Union "did not have the clout to be an honest broker because the EU itself is not united around how to deal with China", particularly with regard to technology.
"As long as we have our economic investment and trade model, we are dependent on each other. We need each other's markets and investments. Decoupling is under no circumstances a solution. We must work towards a resolution in the China-US dispute and facilitate China's continued emergence in the global markets," Herkes said.
This article appeared in the South China Morning Post print edition as: china 'must seize the chance to open more'