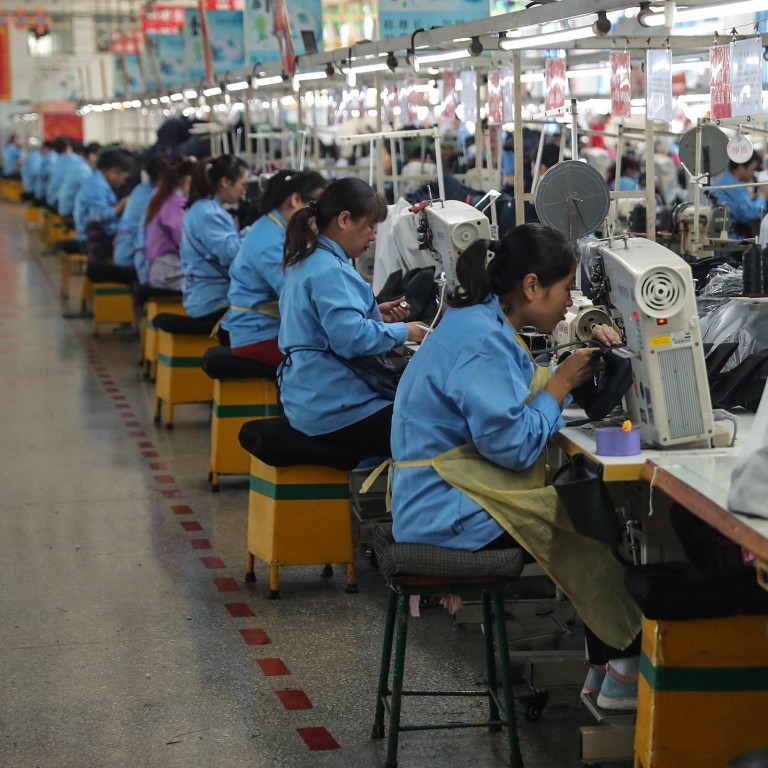 China manufacturing slumps for sixth straight month, October PMI below expectations
China's manufacturing purchasing managers' index (PMI) dropped to 49.3 in October from 49.8 in September, below expectations
China's non-manufacturing PMI also fell to 52.8 in October from 53.7 in September, also below expectations
China's manufacturing sector continued to dwell in the doldrums in October, with sentiment among factory operators remaining in negative territory for the sixth month in a row.
The manufacturing purchasing managers' index (PMI), released by the National Bureau of Statistics (NBS) on Thursday, stood at 49.3 in October, down from
49.8 in September
and below the expectation in a Bloomberg survey of analysts for an unchanged reading. The October figure was the lowest since hitting 49.2 in February.
The non-manufacturing PMI – a gauge of sentiment in the services and construction sectors – came in at 52.8 in October, below analysts' expectations for a 53.6 reading. The figure was also down from September's 53.7, dropping to its lowest level since February 2016.
The composite PMI, a combined reading of both manufacturing and non-manufacturing, was 52, down from 53.1 in September.
The official PMI is a gauge of sentiment among larger and state-owned factory operators, with 50 being the line between expansion and contraction in sector activity. In the survey, manufacturers are asked to give a view on business issues such as export orders, purchasing, production and logistics.
The decline in manufacturing activity was led by a deterioration in the new orders which fell to the lowest level since June, with export orders declining to the lowest level since July. Overall production continued to expand in October, but at the slowest pace since February.
"The official PMIs fell by more than expected this month, reinforcing our view that the improvement at the end of Q3 didn't mark the start of a sustained recovery," said Julian Evans-Pritchard, senior China economist at Capital Economics. "The main driver was a sharp drop in the output component but new orders softened too. The decline in new export orders points toward a further slowdown in export growth. And the output price index, which closely tracks producer price inflation and industrial profit growth, also dropped back."
The broad economic slowdown weighed more heavily on the construction and services sectors in October with the official non-manufacturing PMI falling to its lowest level in three and half years.
While there was a decline in October's official manufacturing PMI reading, the fact that it remains in negative territory is indicative of the weak sentiment among producers even as trade negotiators from
China and the United States
agreed on the outlines of small-scale trade deal.
The China Federation of Logistics and Purchasing, who produce the survey with the NBS, said that while growth is slowing, the "quality of development is improving".
"China's economic structure is being optimised as high energy consuming industries are gradually being degraded, having a big impact on the overall economic growth," they said in a statement.
US tariffs continue to weigh on the Chinese economy. On September 1, new tariffs of 15 per cent on about US$110 billion of Chinese goods went into effect. In addition, 25 per cent tariffs on US$250 billion of Chinese goods remain in force even after a rise in the rate to 30 per cent was postponed indefinitely as part of the interim trade deal that Washington and Beijing hope to finalise so that it can be signed by Chinese President Xi Jinping and
US President Donald Trump.
The details of the meeting, though, have been thrown into doubt after Chile withdrew from hosting November's Asia-Pacific Economic Cooperation summit where it was expected the two would meet on November 17.
A new US tariff of 15 per cent on about US$160 billion of Chinese imports – including popular products like smartphones and consumer electronics – that is due to go into effect on December 15 is expected to be postponed if the
interim trade deal
is completed.
"We will have a better sense of how China's economy held up at the start of Q4 once the Caixin manufacturing PMI, which has historically been a more reliable guide to cyclical fluctuations in growth, is published [on Friday]. The Caixin index jumped to an 19-month high in September. However, we expect it to drop back given the lack of broader evidence of a strong turnaround recently, including today's downbeat PMI release," added Evans-Pritchard.
This article appeared in the South China Morning Post print edition as: Manufacturing negative for six months