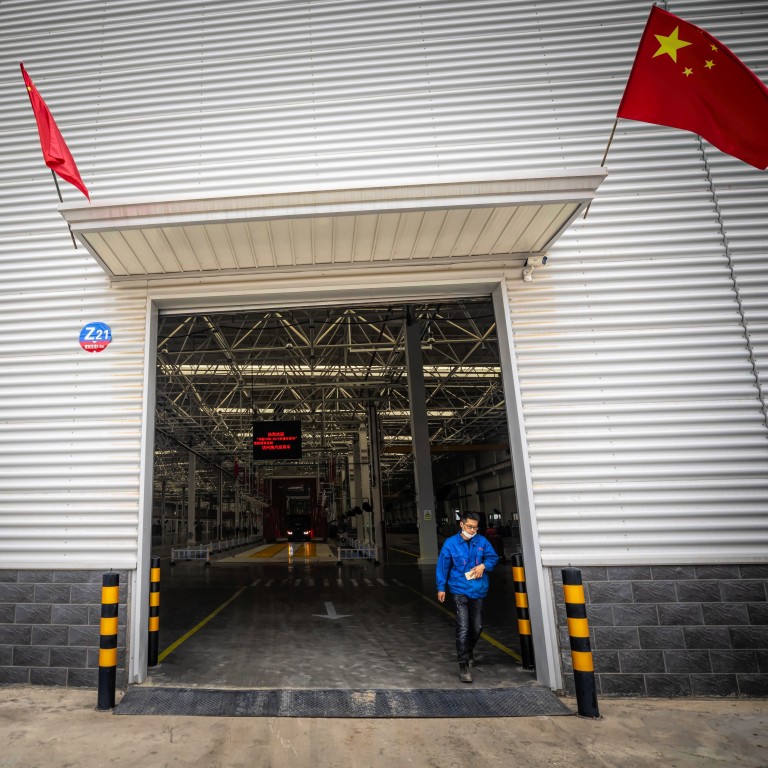 China's small factory activity best in nearly three years, but outlook for Asia region remains fragile
The Caixin/Markit factory purchasing managers' index (PMI) improved to 51.7 in October, its highest level since February 2017, and from 51.4 in September
But the regional outlook remained uncertain, with exports from South Korea and Singapore continuing to plunge amid the US-China trade war
China's small factory activity expanded at its fastest pace in nearly three years in October, a private survey showed on Friday, but outlook for the region remained uncertain amid trade war tensions with the United States.
The Caixin/Markit manufacturing purchasing managers' index (PMI) improved for a fourth straight month to 51.7 in October, its highest since reaching the same level in February 2017, and from 51.4 in September. The figure beat the expected 51.0 based on a poll compiled by Bloomberg. A reading above 50 indicates expansion, while below 50 points to contraction.
On Thursday,
China's official manufacturing PMI,
released by the National Bureau of Statistics (NBS), stood at 49.3 in October, down from 49.8 in September and below the expectation in a Bloomberg survey of analysts for an unchanged reading. The October figure was the lowest since hitting 49.2 in February.
The Caixin PMI mainly tracks 500 smaller private factories, while the official index focuses on 3,000 larger manufacturers.
The Caixin statement showed new export orders rose at the fastest pace since US-China trade war broke out nearly 16 months ago, pointing to continued improvement in the manufacturing industry, said Zhengsheng Zhong, director of macroeconomic analysis at CEBM Group
"The gauge for new export orders returned to expansionary territory and reached the highest point since February 2018, due likely to the US' move to exempt more than 400 types of Chinese products from additional tariffs," Zhong said. "If the improvement in demand, including that generated by infrastructure projects and exports, is able to continue, the manufacturing sector can gradually build a foundation for stability."
Policy easing efforts by the People's Bank of China's may finally be working so that money is getting into the hands of small and medium-sized companies in the private sector, which needs it the most, said Stephen Innes, Asia-Pacific market strategist at AxiTrade.
China's investment in infrastructure projects and regional development are also expected to continue supporting the economy through next year.
The uptick in China's Caixin PMI data raised hopes that the economic slowdown in the rest of Asia may be approaching a point where the worst days are over. Most Asian stock markets rallied on Friday, with Hong Kong's benchmark Hang Seng Index rising to its highest level in one and a half months.
Manu Bhaskaran, CEO of Centennial Asia Advisers, said that China's turnaround would boost investor confidence and, in turn, see more capital inflows into risky emerging markets.
"It makes global businesses more confident, and that could unlock capital spending that has been frozen because of uncertainty," Bhaskaran said.
Chinese imports from the region could also rise while commodity prices could be boosted, he added.
However, Julian Evans-Pritchard, senior China economist at Capital Economics, was more cautious, arguing that the divergence in China's official and unofficial PMIs made it unusually difficult to gauge how the economy was performing.
"Historically, the Caixin index has been the more reliable guide to cyclical fluctuations in China's economy," he said. "For example, it did a better job of predicting the rebound in industrial production in September. On balance, it therefore seems most likely that growth continued to pick up last month. But the picture is unusually murky."
South Korea, which is sensitive to the global technology cycle, saw its exports fall 14.7 per cent in October after an 11.7 per cent decline in September, official data on Friday showed. On top of trade war pressure, South Korea is locked in a spat with Japan, which has slowed trade flows between the two countries.
Singapore's small and open economy also posted a worse-than-expected drop in exports of 3.2 per cent in October, from a 2.3 per cent fall in the previous month.
Vietnam bucked the trend - its exports jumped 10 per cent in October after a 9 per cent increase in September. Vietnam has been a major beneficiary of US-China trade tensions, with many companies that formerly operated in China moving to its southern neighbour to avoid American tariffs.
Irene Cheung, senior strategist at ANZ Bank, remained downbeat on the region despite China's PMI data.
"Asian countries are a mixed bag because of different degrees of exposure to US-China trade tensions," Cheung said. "It is still uncertain if China's data will translate into a recovery for the region at this point."
This article appeared in the South China Morning Post print edition as: small factory activity at its highest in nearly three years