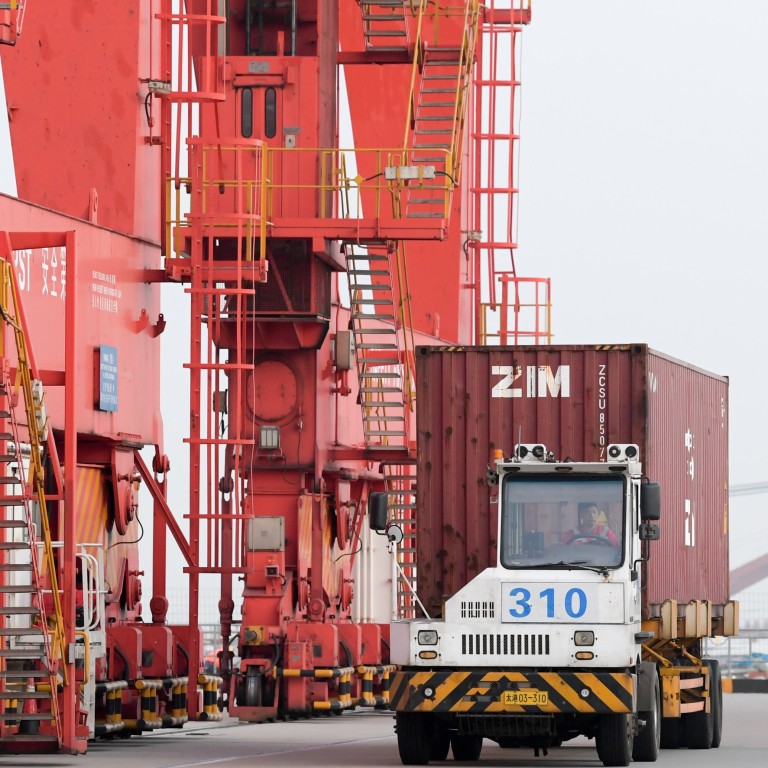 China's regional economic gap widens as more than one-third of provinces fall short of growth targets
Official data showed poorer provinces grew at slower rates in the first nine months of the year, while wealthier coastal provinces were more resilient
Regional disparities have been exacerbated by domestic structural issues and the fallout from the trade war with the United States
More than one-third of China's provinces have so far failed to meet this year's growth targets as the economy continues to sputter under the weight of domestic structural issues and the fallout from the trade war with the United States.
Official data also showed that traditionally poorer regions suffered the most, while the wealthier coastal provinces were more resilient to economic headwinds, underlining that China's economic slowdown is exacerbating the wealth gap between regions.
China's southern and most prosperous province last year, Guangdong, grew 6.4 per cent in the first three quarters of 2019, meeting its growth target and marginally surpassing the national rate of 6.2 per cent. In contrast, China's three
northeastern rust belt provinces
, which have been unable to carry out much needed reforms like easing political interference, recorded among the slowest rates of growth.
Liaoning, which had aligned itself with the national growth target of 6 to 6.5 per cent, grew only 5.7 per cent in the first three quarters. Heilongjiang expanded by 4.3 per cent, shy of its 2019 target of more than 5 per cent. Meanwhile, Jilin recorded a mere 1.8 per cent growth rate, well short of its target in the 5-6 per cent range.
Others that fell behind their targets were eastern Shandong province, southern Hainan and Guangxi, northern Shaanxi, as well as traditionally poorer regions of Tibet and Qinghai. Data for Xinjiang and Hebei are not yet available.
"The trend [of a widening gap] is inevitable, taking into account the overall economic structural problem … the contrast in growth among the regions will become more obvious," said Shao Yu, Orient Securities' chief economist.
"When that happens, the structural problems will also show in all aspects of the economy, whether it is consumption or investment."
As tensions have escalated with the US and global trading uncertainties have expanded, China has increasingly leaned towards domestic demand to offset slowing exports. But consumption has been impeded by long unresolved structural issues that have in turn obstructed broader growth.
The problems are deep-rooted and include inflated asset prices, such as housing costs that have soared so high – particularly in the major cities – that they have been pushed out of reach for many.
Manufacturers in China, which has the world's largest industrial output, are struggling to move up the value chain against a backdrop of falling sales and earnings because of the trade war, leaving them with even less means to invest and innovate.
Local governments are also highly leveraged with
debt levels reaching new highs
. China's official local government debt, measured in local government bonds, stood at 21 trillion yuan (US$2.97 trillion) at the end of September this year, finance ministry data showed. Beijing has launched a deleveraging drive to rein in excess debt and risky loans over the past two years, targeting especially off-balance sheet lending or shadow banking. The crackdown has also effectively cut off funding to the private sector, which accounts for 60 per cent of economic growth, but relies on informal channels to secure capital.
What's more, China's household debt has also risen so much in the past year that it has watered down government measures to boost spending. Household debt accounted for 53.2 per cent of gross domestic product last year, compared with 49.4 per cent in 2017, according to CEIC data.
The structural vulnerabilities are expected to continue dragging on China's economic growth going forward, economists said.
In a note published on Wednesday, Moody's Investors Service said offshore bonds issued by local government financing vehicles (LGFVs) this year were expected to exceed the 2018 record of US$22 billion.
"[To ensure] growth in the fourth quarter, it looks like there could be some special bond issuance, which could lead to a slight rebound but the improvement will be marginal," said Shao.
Beijing has already raised this year's onshore special bond issuance quota by 62 per cent to 2.35 trillion yuan (US$333.6 billion) from 1.35 trillion yuan in 2018.
Research firm TS Lombard's China chief economist Bo Zhuang is predicting that China will front load another round of fiscal stimulus in early 2020, and the bond issuance will kick off before the year's end. This will translate to a stronger recovery of infrastructure investment in the first half of next year.
On Friday, the private Caixin/Markit purchasing managers' index (PMI) – a gauge of manufacturing activity – came in at 51.7 for October. That stood in contrast to the previous day's official PMI of 49.3, which also indicated that factory activity shrank for the sixth straight month. PMI readings above 50 show expansion, while those below reflect contraction.
Julian Evans-Pritchard, senior China economist at Capital Economics, said while the divergent PMI readings made it unusually hard to gauge economic performance at the start of the fourth quarter, the Caixin/Market index was a more reliable guide because it predicted an industrial production rebound in September.
"On balance, it seems most likely that growth continued to pick up last month. But the picture is unusually murky," he said in a note on Friday.