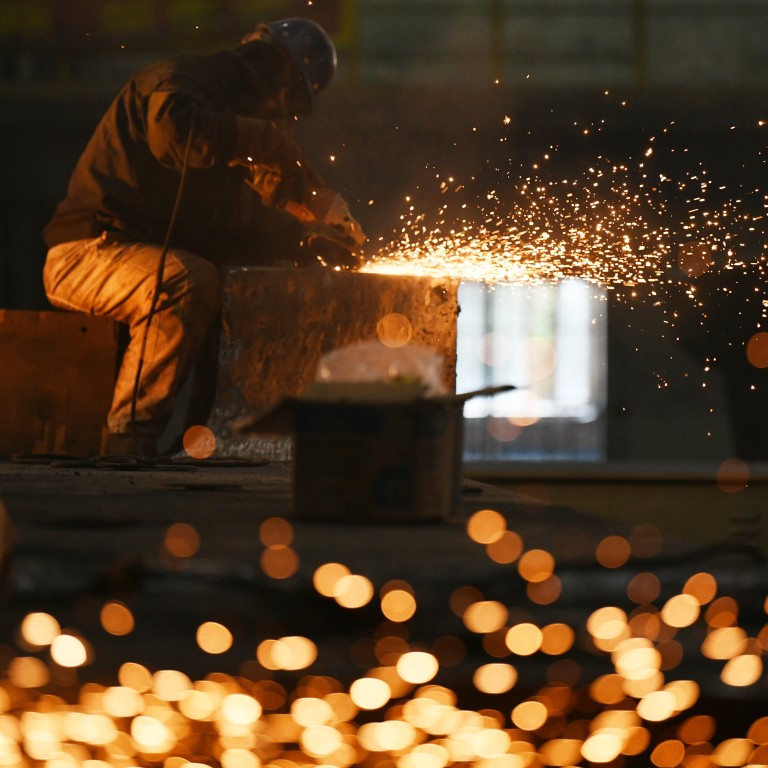 China reaffirms commitment to state-led economy despite US pressure, after top Beijing policy meeting
Beijing reaffirms 'public ownership' is fundamental to China's economic system in statements following fourth plenum this week
Top economic official promises to provide level playing field to all, including international firms, despite concerns over uneasy marriage of the two
After China's closed door policy meeting this week, Beijing's top brass reaffirmed its commitment to the state-led economy, while simultaneously promising a level-playing field to international business.
The state economy will get "stronger, better and bigger", a press conference in Beijing heard on Friday, while public ownership will remain the primary vehicle for economic growth.
China will also "unswervingly encourage, support and guide" the development of
private businesses
, and allow the market to play a "decisive" role in resource allocation, according to the official statement from the four day plenum session of the ruling Communist Party's Central Committee, held this week.
The statement conveyed the key conclusions from closed door discussions between 370 of China's ruling elite over the past four days. It also reconfirmed some of the fundamental differences between the economic models of the United States and the European Union and increasingly statist model pursued under Chinese President Xi Jinping.
While Washington and Brussels complain about the unfair advantages enjoyed by Chinese state-owned enterprises (SOEs), Beijing insists that a powerful
state sector
is vital for China's economy, but claims that it does not preclude economic fair play.
Han Wenxiu, executive deputy director the General Office of the Central Financial and Economic Affairs Commission, told the press conference that China's SOEs are "normal market players" that "follow market rules and take part in competition on an equal basis with others", after four decades of reforms.
In addition, China's state firms now largely exist in industries "important to national security that are backbones of the national economy", Han claimed, adding that SOEs have retreated from "generally competitive sectors".
"SOEs do not have advantages by definition. They are market entities the same as others, not only in the domestic market but also overseas," Han said.
Han's comments reflect Beijing's view that it is possible to achieve "competitive neutrality" among public and private businesses. But the Chinese government is struggling to convince international businesses that such an easy relationship can exist, when key sectors from telecoms to energy are dominated by state players which have clear advantages in obtaining low-cost funding and government licenses.
Li Jianwei, a professor at the China University of Political Science and Law in Beijing, said the state economy has made "the government both a referee and an athlete on the ground". "It is impossible for it to treat SOEs, private companies and foreign firms equally," Li said.
However, Han said Beijing would continue to attempt to balance the two, by more law enforcement against monopolies and a punitive compensation mechanism for intellectual property violation. "The plenum has discussed the issue of creating a fair competition for businesses of different ownership," he said.