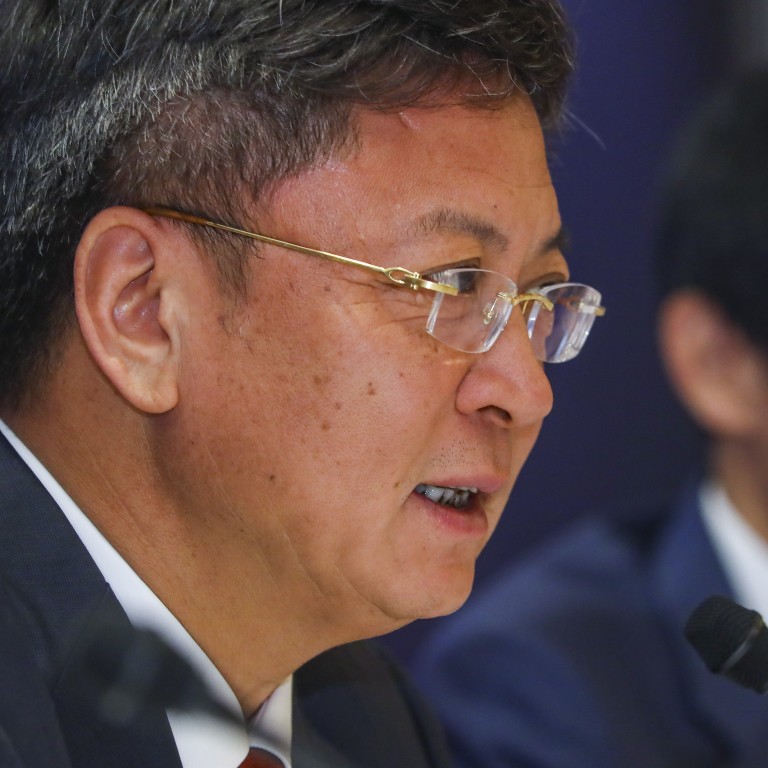 China developers should consider other industries as Beijing unlikely to ease property controls, tycoon says
Beijing has decided that the Chinese economy needs to reduce reliance on real estate industry, says Sun Hongbin, majority stockholder in Sunac
Current property market controls are unlikely to be relaxed in near future, Sun says
The Chinese government is unlikely to ease its controls over the domestic property market, so developers should consider branching out into other industries, according to billionaire real estate tycoon Sun Hongbin.
"Moving the economy away from relying too much on real estate is highly political and it is the country's choice for a long-term strategy. We must understand this adjustment," said Sun, the founder and chairman of Hong Kong-listed property developer Sunac, in a speech in Beijing on November 5 and published on Wednesday in local media.
"Many people think that the pressure [on the housing market] is so big now, when will they ease? I say it is unlikely [that they will do so]," he added.
The speech by Sun, who was ranked at No 20 on Forbes' China rich list this year with an estimated net worth of US$10 billion, highlights the dilemma facing China's real estate industry given the government's increasingly heavy-handed approach to managing the housing market and the economy. Beijing and local governments have sought to crack down on speculation in the real estate market and hold
the rise in housing prices
by introducing a series of measures such as tightening funds flowing into the sector, restricting property sales to local residents, increasing down payment requirements and putting price caps on new houses.
While the downward pressure on Chinese growth is likely to grow in coming years, Beijing is unlikely to make a U-turn in its strategy to take the steps necessary to achieve "high-quality growth", Sun said.
"For real estate companies, this control [from Beijing] must not be regarded as short-term, it is for the long-term – and it is a national strategy," Sun stressed.
"Economic growth does not need to be so high, 4 per cent is quite good, this industry [real estate] is too important, but it takes up too much [in the way of resources]," Sun said. "In addition, the pillar of the general secretary's [Xi Jinping] theory is that the people are the centrepiece, and Chairman Mao talked about serving the people … serving the people means property prices can't go up."
The world's second largest economy is growing at
the slowest rate in decades
, posting gross domestic growth (GDP) growth of just 6 per cent in the third quarter this year amid the trade war with the United States. So far Beijing has resisted launching large-scale stimulus even as exports are falling and domestic demand is weakening.
The real estate sector, including construction, remains key driver of China's economic growth, accounting for around 30 per cent of the nation's GDP. Land sales to developers also accounts for up to 40 per cent of local government revenues. Commercial bank loans made to the real estate sector slowed from almost 30 per cent in 2017 to below 20 per cent in 2019, according to a report by credit rating agency Moody's.
Sun also warned that the industry needed to reduce its overall leverage – the level of debt to sales. In addition, it should reduce its reliance on housing sales and branch out to offer "value-added" products that target consumption such as tourism, education and health care.
Sunac, which already has a tourism business, said last month that it planned to work with Tsinghua University in Beijing and the city government of Qingdao in Shandong province to establish a 4.5 billion yuan (US$642 million) medical services centre as its entry into the health care market.
"Our proposal in this area [value-added products] is mainly for five years and 10 years ahead, because it is very difficult to make money right now. We must be calm and steady, we must think about scale and high quality growth," Sun said.