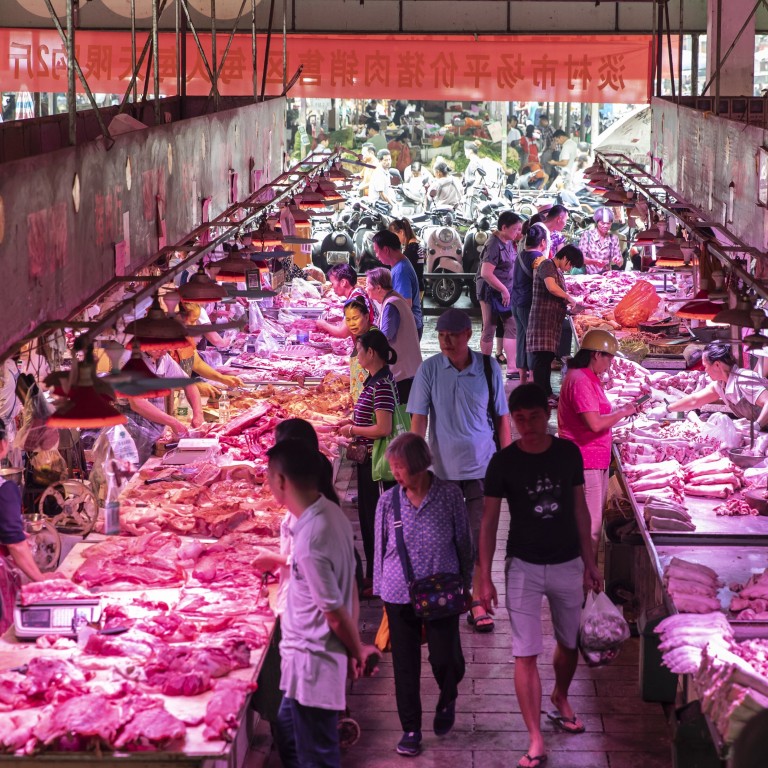 China consumer prices jump to near 8-year high as pork soars more than 100 per cent
China's consumer price index jumped to 3.8 per cent in October, the highest since January 2012 on higher prices for pork, other meats
Consumer price index above expected, up from 3.0 per cent in September
A doubling of pork prices pushed China's consumer prices to a nearly eight year high in October, as Beijing's domestic challenges intensified amid the slowing of the economy and the trade war with the United States.
China's consumer prices rose to 3.8 per cent last month, the highest since January 2012, according to government data released on Saturday. The gain was larger than the rise to 3.4 per cent expected in a Bloomberg survey of analysts and up from 3.0 per cent in
September.
The October gain was driven largely by
spiralling pork prices,
which rose 101.3 per cent from a year earlier, as the effects of the African swine fever crisis ravaging the country's pig population are increasingly being felt by Chinese consumers. With African swine fever predicted to wipe out half of China's pig population by the end of this year, the upward impact on consumer prices is expected to increase in the months ahead.
Adding to Beijing's woes, the price of poultry soared 66.8 per cent in October, as increased demand for chicken and other poultry products as a substitute for pork pushed up those prices.
But absent meat, price pressures in the economy are tame, at least for now. Consumer prices for items other than food actually fell to only 0.9 per cent in October, down from 1.0 per cent the month before.
"The inflation jump remains the pork story, a combination of [African swine fever] and the rising pork price cycle. The two-year leading indicator, sow stock, is at an historical low," said Dan Wang, an analyst at The Economist Intelligence Unit. "With no cure and no vaccination, we expect inflation to stay above 3 per cent in at least the coming two years. Markets have yet to grasp that high inflation will be a persistent, rather than temporary, phenomena," she said.
The sharp rise in meat prices poses a huge challenge for Beijing. The Chinese eat more pork by far than any other people in the world. The shortfall in Chinese pork supply is so large aggressive imports from the rest of the world would not be able to fill it.
Higher prices for pork and other meats fly in the face of Beijing's efforts to encourage consumer spending to stabilise the slowing economy. With consumers spending more on food – amid fears about jobs and income caused by the trade war – they are less likely to spend on other products, particularly expensive items like appliances and cars.
Soaring inflation, if it persists, also poses a risk to social instability, a key worry for Communist Party leaders. The party came to power in the 1940s in part because hyperinflation had eroded support for the ruling Nationalists. In addition, rising prices were one factor contributing to the Tiananmen protests in 1989.
Chen Dafei, a senior analyst at Shanghai-based Orient Securities, dismissed the near-term risks to social stability, noting the current inflation rate was still far below the increases seen in 2008 and 2011. "In February 2008, the CPI for food soared by 23.35 per cent, which is higher than the current rate," he said, comparing it to the 15.5 per cent increase in food prices in October.
The Chinese government is acutely aware of the inflation problem and has been taking steps to address it. "We must be clear-eyed about the challenges in agriculture," Premier Li Keqiang said after the meeting of the State Council, China's cabinet, last Wednesday, according to the official Xinhua news agency. "In particular, the relatively fast CPI rise deserves our close attention."
The State Council "urged efforts to take multipronged steps to restore hog production at a faster pace, by removing unjustifiable farming bans across the country. Local governments should … link social assistance with price rises to meet basic livelihood needs of those living in difficulty," Xinhua said.
Under pressure from the growing pork crisis, China agreed to drop is ban on pork and beef imports from Canada this week. Beijing had halted imports of Canadian beef and pork in June amid the escalating diplomatic feud after Huawei CFO Meng Wanzhou was arrested in Vancouver on a US warrant.
In addition, China has been buying more US pork and other meat in anticipation of a "phase one" trade deal with the United States in exchange for lower trade tariffs. The completion of that trade deal would likely lead to even larger Chinese meat imports from the US.
On Friday, Dutch financial services firm Rabobank forecast that China's pork imports would jump to a record level of 4.6 million tonnes next year as domestic production plunges.
The government also released data on Saturday showing that the prices that factories charge wholesalers for their products declined for the fourth month in a row.
The producer price index (PPI) declined by 1.6 per cent in October, a further drop from September's reading of minus 1.2 per cent and the largest decline since July 2016.
The negative price data indicates manufacturers are increasingly having to discount their products due to the slowdown in the economy amid the trade war with the United States.
"The PPI breakdown suggests enduring weakness in the industrial sector, which will cause corporate debt problems to deepen," The Economist Intelligence Unit's Wang said. "Yet aggressive monetary stimulus remains unlikely, constrained by high CPI. We expect more fiscal expansion, and relaxed policies in property market," she added.
Liu Feng, chief economist at China Galaxy Securities, expected that producer prices would stop declining in the fourth quarter of this year but industrial firm profits would continue to drop for the next three quarters due to lower sales prices.
Additional reporting by Yujing Liu
This article appeared in the South China Morning Post print edition as: inflation rate soars as pork prices double