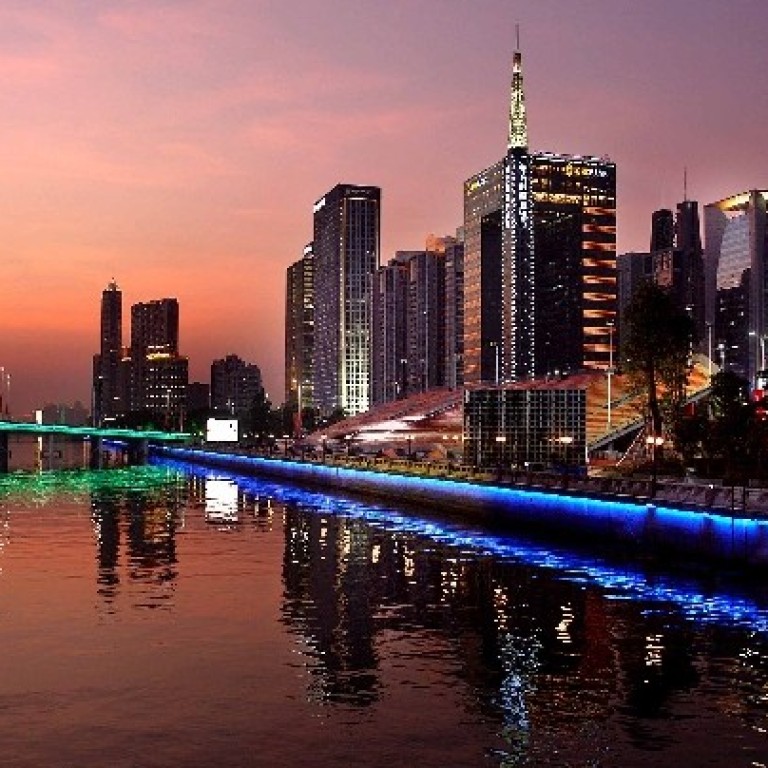 Hong Kong start-ups lack Shenzhen's international focus, limiting opportunities, survey finds
Mainland firms more focused on cutting-edge technology, Deloitte survey finds
Hong Kong government support slow and inefficient compared to mainland, limiting chances to expand
Local start-ups in Hong Kong are lagging behind their counterparts in Chinese mainland cities, including Shenzhen and Guangzhou, because of a home-market bias that minimises or ignores opportunities internationally, according to a survey by international tax and consultancy firm Deloitte.
Despite Hong Kong being one of the most competitive cities in the world, 65 of the 130 Hong Kong entrepreneurs surveyed said the city's small market size and lack of dynamic vitality were major challenges to starting a business there. Inefficient government support was also cited by many firms, in contrast to the situation on the mainland.
And Hong Kong businesses were less likely to embrace new technologies than their Chinese counterparts, who were less worried that cutting-edge research would pay off with market demand later on.
The survey was conducted during the third quarter among small, mid-sized and large Hong Kong start-ups, more than 40 per cent of which had revenues of over HK$10 million (US$1.3 million) in 2019. The same survey was conducted with 615 start-ups on the mainland to compare the experience of and environment for start-ups in Hong Kong, the Greater Bay Area cities and the rest of the mainland.
"[The survey finding] reflects a very localised mindset in Hong Kong, which needs to be broadened out," said Philip Law Yuen-kwong, partner audit and assurance at Deloitte. "Hong Kong's advantage isn't in the size of its market, but being a convenient, global connector with foreign countries and different people. Chinese firms do not have such an issue."
Compared to their mainland counterparts, Hong Kong CEOs and founders of start-ups put significantly less importance on advanced products and services, with only 36 per cent of respondents saying their organisations would focus on developing and applying new technologies to achieve cutting-edge innovation, less than half the percentages among respondents from
Shenzhen
(82 per cent) and Guangzhou (76 per cent).
Moreover, without sufficient, stable cash flow, the cost of doing business in the city remained a top concern when compared with the convenience and relatively lower cost on the Chinese mainland. The lack of access to necessary resources and supply channels also added to the cost of Hong Kong firms exploring the Chinese mainland market, the survey found.
At a media roundtable organised by Deloitte, executives of the Hong Kong firms which came out on top in the consultancy's Technology Fast programme said support from the Hong Kong government was slow and inefficient compared to that available on the mainland, hampering their ability to expand.
Jonathan Lee Shu-chuen, executive director of Hong Kong-based wireless solutions firm IOE Technologies, which targets customers in the US, said he was trying to cooperate with Chinese state firms to break into the mainland market.
But it was not particularly easy because of his unfamiliarity with China's tax system and the difficulty in getting funding from the Hong Kong government. Under Hong Kong's Enterprise Support Scheme (ESS) for small and medium innovative business, it took him 14 months from application to actually receiving HK$400,000 in funding, longer than the 12 months it took him to complete his research into the project.
"My project is already almost finished. Frankly, we could not wait that long because innovation can become outdated in just one year. We are already selling into the market, and now I just got the funding and I have to give a report to the [Hong Kong government] bureau. They don't have the mindset of an investor," Lee said.
Jeffrey Ren Yu-nan, CEO of OKLink Fintech, which employs blockchain technology in cryptocurrency and financial products, agreed that Hong Kong's government was particularly slow and bureaucratic compared to the mainland, hindering innovation opportunities for companies in the city.
"Why would you ask me to be a fast company then? If you want to survive in a slow market, you better do something slow and structured and professional and play by the rules. So we don't need government funding," Ren said. "Actually getting funding from the mainland is even easier. For a good project, if you go around with the right contact person in different localities, they can really give you a lot of funding."
However, Christine Huang Yuan, COO of Cellomics, a biotechnology firm established only 15 months ago, said she appreciated the support from the Hong Kong government in providing talent. She was able to obtain 20 years of biopsy research and development information at Hong Kong's City University that her firms used develop into medical devices for clinical cancer tests in Europe.
 "R&D is the most important area in the biotech industry," Huang said. "So we used the benefits of Hong Kong technology [and] Hong Kong funding and integrated it with the talent and the geographical benefits of Shenzhen and the Greater Bay Area to create Cellomics."
The Deloitte survey also found employee loyalty was the top human resources issue for organisations in Hong Kong, cited by 39 per cent of respondents. This was almost 30 percentage points more than in Chinese mainland cities, suggesting Hong Kong firms have more difficulty retaining talent. Only 29 per cent of Hong Kong entrepreneurs said they provided systematic leadership training for mid- and high-level managers, less than elsewhere in the Greater Bay Area.
The survey also showed that escalating international trade frictions and uncertain government policies were perceived to be doing more long-term, far-reaching harm to organisations in Hong Kong than to their counterparts on the mainland.
This article appeared in the South China Morning Post print edition as: Hong Kong start-ups 'lack global focus'