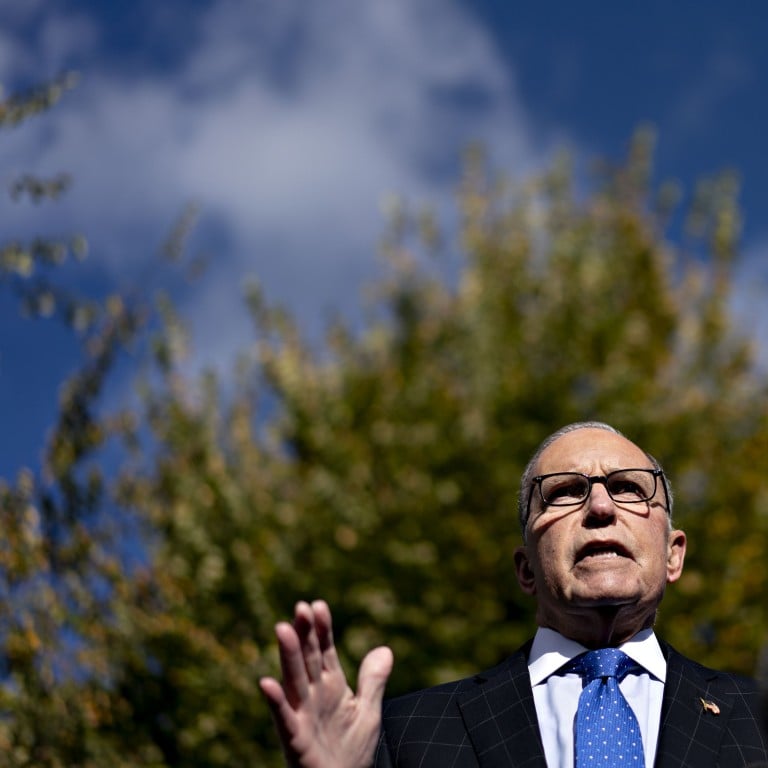 US trade adviser Kudlow says deal with China in final stages after Beijing insists on tariff cut
White House chief economic adviser Larry Kudlow says a trade deal with China is close but 'not done yet'
Top trade negotiators from Washington and Beijing will talk on Friday, US Agriculture Department official says
White House economic adviser Larry Kudlow said on Thursday that negotiations over the first phase of a trade agreement with China were coming down to the final stages, with the two sides in daily contact.
Speaking after an event at the Council on Foreign Relations late on Thursday, Kudlow told reporters that a deal was close though "not done yet," Bloomberg reported.
US President Donald Trump's top trade advisers met on Thursday evening to discuss the China talks, said Kudlow, who heads Trump's National Economic Council.
"We are coming down to the short strokes," Kudlow said in Washington. "We are in communication with them every single day right now."
Separately, Ted McKinney, US Agriculture Department undersecretary for trade and international agricultural affairs, said in a video interview with the University of Illinois's Todd Gleason that he expects top trade negotiators to talk by phone on Friday.
Kudlow's upbeat comments come amid reports that new obstacles had emerged to securing a "phase one" trade deal that could potentially end a bruising tit-for-tat tariff war between Washington and Beijing that is now in its 17th month.
CNBC reported on Wednesday that the United States was trying to secure bigger concessions from China to regulate intellectual property protection and stopping forced technology transfers, while The Wall Street Journal reported that China was hesitant to commit to buying a specific amount of agricultural products in the text of the deal.
In addition, the Chinese Ministry of Commerce reiterated on Thursday that the interim trade deal would depend on the US removing some, if not most, of the
tariffs already in place
.
"That is the important condition for reaching the deal," ministry spokesman Gao Feng said in a press conference on Thursday. "The significance of the phase one deal should reflect the scale of the tariff roll back."
Kudlow did not address the question of tariff cuts in his comments.
Trump warned on Tuesday that he would
"substantially" raise tariffs
on Chinese imports if a deal was not reached. Still, he held out hope for a near-term agreement, saying China was "dying to make a deal."
Unless a deal is reached before December 15, the US is set to impose a new 15 per cent tariff on about US$156 billion of Chinese products.
Other than the Ministry of Commerce comments, the Chinese government and state media have been largely silent this week on the progress of trade negotiations.
However, Beijing and Washington made reciprocal goodwill gestures late on Thursday to increase agricultural trade that could help the trade talks.
China lifted a ban on American poultry that began in 2015, after the US Department of Agriculture made a similar decision to allow Chinese poultry into the US.
"This is great news for both America's farmers and China's consumers," Robert Lighthizer, the US trade representative leading the discussions with China, said in a statement after the ban was lifted. The government estimates American producers will be able to export more than US$1 billion worth of poultry to China annually, he said.
This article appeared in the South China Morning Post print edition as: Talks on first phase of deal 'in final stages'