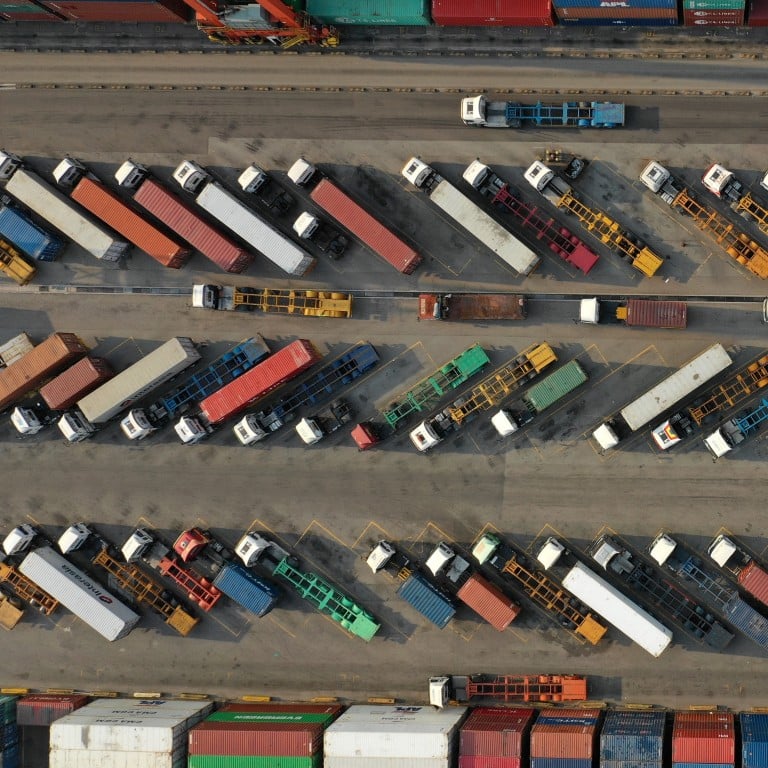 US-China trade war has caused major shift in global trade landscape, says Li & Fung
US-China trade war has created an increasingly complex global trade environment, especially for the logistics industry, says global trading group Li & Fung
Companies should diversify their sourcing base to avoid tariffs and consider onshoring in major consumer markets, Hong Kong company says
Global sourcing and logistics giant Li & Fung said the ongoing US-China trade war has created a new trading landscape that has complicated global supply chains and had "huge impact" on the company.
The Hong Kong-based
global trading group
, which supplies consumer goods to major retailers worldwide, is more than a century old and has been a big winner from China's rise as the world's factory.
But the logistics industry is now facing an extremely complex global trade environment, especially when it comes to customs regulations, said Ka-mun Chang, managing director of Li & Fung Development (China).
"This is the major new landscape. This is all related to geopolitics," Chang said. "It does not optimise our supply chain. I would say that it has a huge impact on us."
The rise of bilateral trade agreements and regional trade pacts underscored the deterioration of the multilateral trading system, showing the challenges faced by the World Trade Organisation (WTO) in administering common rules and resolving trade disputes, Chang said.
China and the US have been locked in a tit-for-tat
trade war
for the past 17 months, slapping billions of dollars worth of tariffs on each others' goods and forcing companies to rejig supply chains.
With the Trump administration targeting "Made in China" products, mainland manufacturers were playing "country of origin" games and may invest in developing countries for the final stage of production to avoid tariffs, Chang said.
"Until they really sign their agreement there are still a lot of punitive tariffs going on," he said in reference to the so-called phase one trade deal being negotiated between Washington and Beijing.
China remains the world's most important manufacturing base but Vietnam, Bangladesh, and Cambodia were gaining market share as low-cost sourcing bases, Chang said. Myanmar, Kenya, Madagascar and Egypt were also emerging as hubs for the production of mass market and high-volume goods, he added.
"Companies should diversify their sourcing base, consider near shoring or onshoring in the major consumer markets including the US," Chang said.
The trading and logistics industry is one of Hong Kong's economic pillars, accounting for 21 per cent of gross domestic product and 19 per cent of employment. The city is home to more than 800 shipping companies and firms that provide related maritime services, while its main shipping facility, the Kwai Tsing Container Terminals, has 310 liner services each week connecting some 450 destinations worldwide.
Although
Hong Kong's port
has been among the world's busiest over the past four decades, dominating global transshipments in the 1990s and early 2000s as China's economy opened up, it has fallen off its perch in recent years. Last year it was ranked at number seven in the world, slipping out of the top five busiest shipping container terminals for the first time, as it faced increasing competition from ports in mainland China and the continued resilience of Singapore.
Coleman Nee, senior economist at the WTO's Economic Research and Statistics Division, said rising trade tensions had come with increasing trade restrictions.
Between October 2018 and May 2019, restrictive trade measures covered about US$340 billion of goods, up from the previous high of US$588 billion between October 2017 and October 2018.
The WTO forecasts world trade growth at 1.2 per cent this year, its pace weakest since the global financial crisis in 2008 and below average annual growth for the period starting in 2000.
"This is quite worrying because we seem to be in a slowdown in general because of the deteriorating relationship of world trade," Nee said. "We don't see firm signs of a turn around yet."
In Asia, the Geneva-based WTO forecasts a sharp slowdown in export growth from 3.8 per cent in 2018 to 1.8 per cent in 2019, and import growth to slow from 5 per cent to 1.3 per cent.