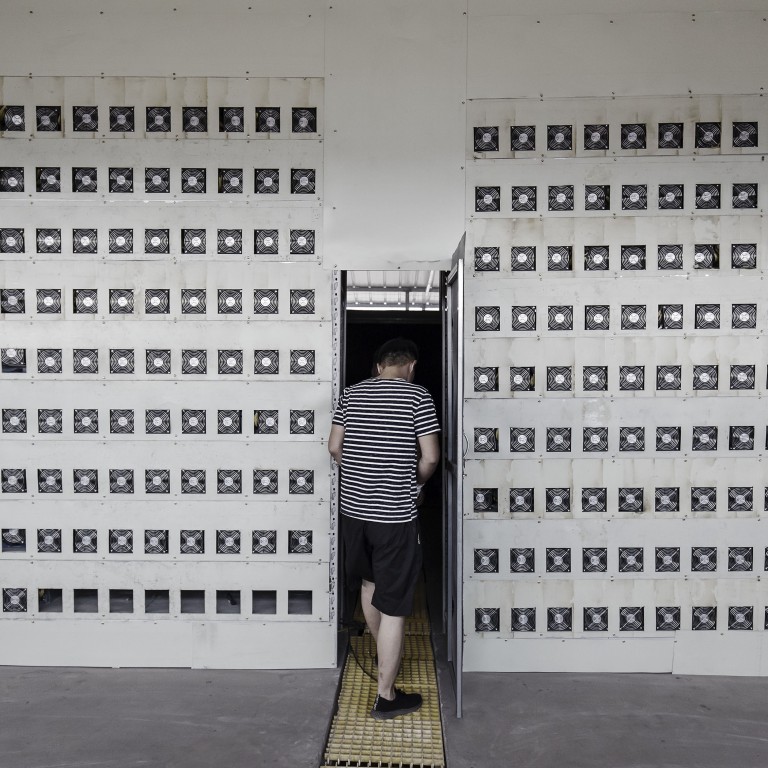 China's cryptocurrency miners look to capitalise on policy shift and cheap power, despite trading ban
In a surprising policy shift in late October, China's economic planning agency removed cryptocurrency mining from a list of activities set for elimination
China dominates 70 per cent of global mining operations, although trading cryptocurrency is banned
China's cryptocurrency miners are cautiously celebrating a government decision not to ban the energy-intensive industry even as authorities launch a fresh crackdown on trading virtual currencies, though operators remain wary of more robust regulation in the future.
In a surprising policy shift in late October, China's economic planning agency, the National Development and Reform Commission (NDRC), removed cryptocurrency mining from a list of activities set for elimination by the end of 2020.
Mining is the process of verifying transactions on a blockchain network, a decentralised system that underpins cryptocurrencies like bitcoin or ethereum. Miners are rewarded with digital coins for being the first to validate blocks of transactions on the digital ledger by completing complex algorithmic problems.
Some facilities run hundreds of thousands of
mining machines
24 hours a day, keeping temperatures in check with elaborate cooling systems - an operation that requires huge amounts of electricity.
Although trading cryptocurrency is banned in China, mining is not, and the country dominates 70 per cent of global mining operations thanks primarily to cheap electricity supply. Its nearest competition, India and the United States, accounted for 4 per cent and 1 per cent of total mining share respectively, according to blockchain.com.
Beijing's change of stance on cryptocurrency mining came soon after Chinese President Xi Jinping publicly endorsed blockchain in late October, leading some industry players to predict a "spring for miners".
Yet mixed messages from the central government, including a fresh warning on virtual currency initial coin offerings and
cryptocurrency trading
last week, mean most miners still prefer to keep a low profile.
The NDRC decision has left many miners confused about the central government's stance, which appears to have morphed from opposition to "acceptance if in compliance with government regulation," according to Wang Hongyi, who manages hundreds of thousands of mining machines in the provinces of Sichuan and Shaanxi, as well as Xinjiang and Inner Mongolia autonomous regions, where cheap energy is abundant.
The miners "believed that while this was positive news, it didn't mean there would be a wild growth of mining farms. They actually think very far ahead in the future and [believe] this type of business will come under regulation," Wang said.
"The electricity fees will rise, because once the government regulates it, they will want the fee to cover construction and fire services, etc. This will increase the costs of operation. But at the same time, [the arrangement] will make it easier for us to work with government and power suppliers."
From a regulator's point of view, cryptocurrency exchanges, which were banned in late 2017, helped fuel speculation and capital flight – essentially not benefiting the real economy – while mining could provide some tax revenues to poor areas in western China, according to Martin Chorzempa, a research fellow from Peterson Institute for International Economics.
The mining business is also a key part of bitcoin's value chain, as it has given birth to the lucrative industry of designing and manufacturing energy-efficient mining hardware, the market for which is dominated by Chinese firms Bitmain and
Canaan
. The two companies control more than 90 per cent of the mining hardware market in terms of sales, according to consulting firm Frost & Sullivan.
"My sense was always that they [miners] are easier to regulate because they run on physical hardware in China and you know who won each block and how much that is worth because that is all public information," Chorzempa, said.
"The one thing you want to prevent with miners is corrupt deals with electricity companies that give the suppliers kickbacks in exchange for artificially low prices or free electricity. The government will also be interested in what happens to the cryptocurrency they earn."
After Xi's blockchain speech, the government of Sichuan, which is China's largest producer of hydropower, organised a meeting of large cryptocurrency mining operators to explore how they could take advantage of the province's excess electricity supply to turn the industry into a major component of the local economy.
To complete their "proof-of-work" calculations faster than competitors, large mining operations hoover up substantial amounts of electricity to power banks of servers and cooling systems that can fill entire warehouses.
Compared to cheap electricity in coal-rich Xinjiang and Inner Mongolia, Sichuan's abundance of hydropower is clean and more likely to win support from the central government, Wang said.
Sichuan produced 78.2 gigawatts of electricity annually and exported 30 per cent to other regions last year. A gigawatt can power 830,000 Chinese households for a year.
During the rainy season,
Sichuan's electricity
tariffs can drop to as low as 2 US cents per kilowatt-hour (kWh), compared to 11 US cents reported in coastal cities, according to economic data provider CEIC. Tariffs rise to 4 US cents per kWh during the rest of the year – though this is still attractive for miners, as energy bills amount to about 90 per cent of operating costs.
The global bitcoin network is estimated to consume 73 terawatt-hours per year, close to the annual amount of electricity consumption in Chile, according to an index developed by the Cambridge Centre for Alternative Finance.
"Clean energy is Sichuan's advantage, which is why [the province] might want to promote the industry," Wang said. "But the disadvantage is that during the dry season, there is not enough electricity to power mining machines around the clock and we have to move them to other places."
In its most recent planning guidelines, the NDRC stated that industries that do not comply with laws regulating air and water pollution, as well as energy conservation, should be eliminated. That has led some miners to suspect that local governments could still restrict the development of mining.
Earlier this month, the Inner Mongolian government started another round of inspections focused on cryptocurrency mining firms that contribute little to the real economy. Officials suspect some are evading supervision, consuming large amounts of energy, and taking advantage of tax incentives, cheap land and electricity prices under the camouflage of the "big data industry."
"Multiple explanations may lay behind the Mongolian mining inspections," Garrick Hileman, head of research at Blockchain.com.
"In contrast with the primarily hydro-powered cryptocurrency mining taking place in Sichuan province, Mongolian cryptocurrency mining makes significant use of low-cost coal-powered energy. Inspections may be related to rising Chinese environmental concerns, or driven by domestic competitors lobbying against Mongolia's low-cost advantage."
This article appeared in the South China Morning Post print edition as: Miners cautious after industry ban liftedCrypto firms cautious after mining ban lifted