Hong Kong shipping could get a shot in the arm from China state-owned firms, says China Merchants
Government-backed companies could compliment the business models of private firms in the financial hub, says China Merchants Energy Shipping
State and private collaboration could boost development of Greater Bay Area and help the performance of Hong Kong port, state firms says
China Merchants Energy Shipping, a major carrier for crude oil from the United States to China, said state-owned companies should play a more active role in Hong Kong's shipping industry, including partnering with private firms.
The international bulk cargo carrier, which is owned by state-owned China Merchants Group, said government-backed companies could compliment the business models of private firms in the financial hub and help development of the Greater Bay Area.
"I think if you combine [government and private structures] together, that may be a better entity," said Su Xingang, a director of China Merchants Energy Shipping (CMES) and China Merchants Group. "We should not use a traditional perspective to look at state-backed companies."
Private companies exercised greater flexibility and were more responsible for their investments and operations, while
state-owned enterprises (SOEs)
had the advantage of size, scale and more capital, said Su, who was speaking at the Asian Logistics and Maritime Conference in Hong Kong last week.
Shanghai-listed CMES is controlled by China Merchants Group, a leading state-owned conglomerate based in Hong Kong that is under the supervision of the state-owned Assets Supervision and Administration Commission, the powerful central government agency that oversees the nation's state sector, including some of the world's biggest steelmakers, shippers and telecommunications companies.
"As a listed company, China Merchants Energy is actually a mixed ownership firm," Su said. "We use completely commercial principals. The demand from society enables [our] investment in the industry and management to gain profit and efficiency."
Su's comments underscore growing state involvement in Hong Kong's shipping industry. Last year state-owned shipping giant Cosco Shipping completed a US$6.3 billion purchase of Hong Kong's Orient Overseas as part of ongoing consolidation in the industry. The merger between the two companies made it the world's third largest container line.
The trading and logistics industry is one of Hong Kong's economic pillars, accounting for 21 per cent of gross domestic product and 19 per cent of employment. The city is home to more than 800 shipping companies and firms that provide related maritime services, while its main shipping facility, the Kwai Tsing Container Terminals, has 310 liner services each week connecting some 450 destinations worldwide.
Hong Kong's port was ranked number seven in the world last year, slipping out of the top five busiest container terminals for the first time, as many domestic shipping companies went bankrupt due to a decrease in profitability in the face of stiff competition from China and Singapore.
Shipowners were also increasingly hesitant to invest in ships due to the fast-changing technological and regulatory environment, said Hing Chao, executive chairman of Wah Kwong Maritime Transport Holdings, a Hong Kong-based bulk carrier and tanker shipping company.
This is where closer ties between Chinese SOEs and private companies had merit, Su said, adding state and private firms could take responsibility for various subsectors in the industry. For example, shipping and freight forwarding agents, as well as marine legal services, should rely more on private companies because they were more flexible and responsive to changing conditions, he added.
The Hong Kong government has pledged to help local firms partner with SOEs to expand operations in the
Greater Bay Area
– Beijing's top policy initiative to bolster regional growth through increased connectivity and competitiveness of Hong Kong and Macau, along with nine other cities in southern China.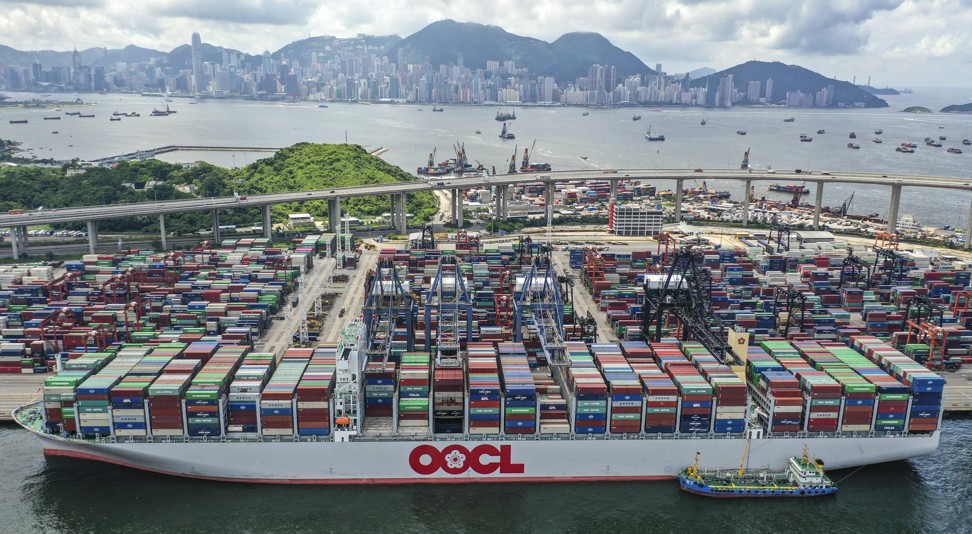 However, industry observers said generally it has been private firms, which were run more commercially, that have helped turn Hong Kong into the globally competitive shipping hub it is today.
China's big state firms, a central pillar to the country's economic model, have also been one of the key disputes between the US and China in their 17-month long trade war, with Washington alleging Beijing uses SOEs to subsidise the economy and put foreign firms at a disadvantage.
Kenneth Lam, chairman and CEO of Credit Agricole Asia Shipfinance, said the private sector played an important role in telling the government about the changing international business and regulatory environment, helping to keep the city competitive in areas such as customs clearing, along with low tax rates.
"In this day and age, we need the private sector to feed all this information to our government," Lam said.