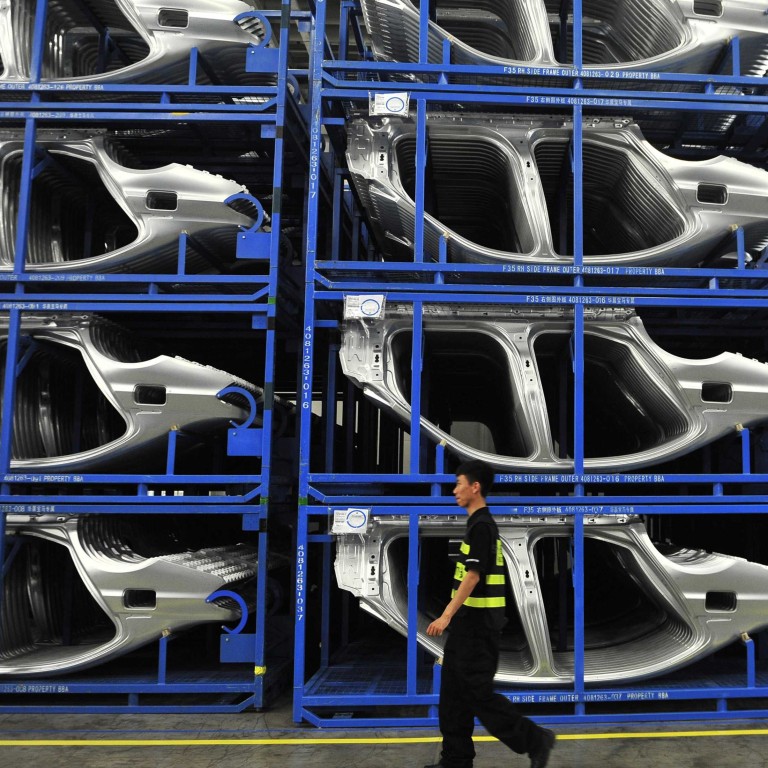 Chinese small manufacturers' rising exports to Africa help offset plunging sales to US amid trade war
Some exporters say a sharp uptick in exports to belt and road countries, particularly in Africa, has helped offset declining demand in the US
Sales are being supported by cheap lending to foreign buyers by Chinese banks and improved transport links, exporters say
Growing optimism is spreading among some small Chinese manufacturers in sectors ranging from car parts to textiles, as a spike in exports to countries involved in the Belt and Road Initiative is starting to offset a portion of lost demand from the United States due to the trade war.
Exporters say they have seen a sharp uptick in demand from nations involved in Beijing's
trademark foreign policy initiative
, which aims to link Asia, Europe and Africa with a network of ports, motorways and railways.
"Take the textile industry as an example, many export-oriented factories in Zhejiang that I know have doubled or even tripled their orders to the African market this year," said Steve Xie, a textile exporter from the Chinese manufacturing hub, whose own business has seen a 40 per cent increase in orders.
"Every textile factory in Haining and Yiwu city is talking because there have been a particularly large number of African buyers placing orders this year. The increase in orders from Nigeria and Ethiopia is huge."
Africa in particular has emerged as a fast growing market for Chinese goods, thanks in part to easy access to loans from Chinese banks. While orders from European and American buyers are often of higher value, companies were making up for it with quantity, Xie said.
"We were once very worried about the impact of the US trade war on our exports," the businessman said. "Now, although orders on the whole cannot be said to be completely balanced [with pre-trade war levels], the belt and road market, including the African market, can make up … up to about 70 per cent."
The total value of imports and exports between China and the 61 countries involved in the
Belt and Road Initiative
was 6.65 trillion yuan (US$945 billion) in the first 10 months of this year, up 9.5 per cent, official data from China's statistics agency showed. The figure accounted for 29 per cent of the value of China's total foreign trade.
China-US trade was worth 2.75 trillion yuan (US$390.9 billion) over the same period, down 10.3 per cent, accounting for about 12 per cent of China's total trade value.
The US and China, the world's first and second largest economies, have been embroiled in a
trade war
for the past 17 months, slapping billions of dollars worth of tariffs on each other's goods and disrupting global supply chains.
The effects of the tariff battle, coupled with domestic headwinds, are weighing on the Chinese economy, which is growing at its slowest pace in nearly three decades.
Still, many exporters like Jason Ding, who purchases car parts in bulk from factories in Dongguan city and ships them mainly to East Africa, have a new-found optimism because of growing sales to belt and road countries.
"Because we are targeting the African market, we luckily avoided the impact of weak domestic demand and the trade war," said the 36-year-old Ding who started his business in 2017. "In addition, our profits are benefiting from the yuan's depreciation."
The company now has seven Chinese employees and 30 African employees. Between January and November this year, the company's sales increased by 30 per cent to about 50 million yuan (US$7.1 million), and Ding conservatively estimates they will rise another 30 per cent next year. Last month, he expanded the size of their warehouse in Guangzhou from 500 to 2,000 square metres (21,528 sq ft).
Another car part exporter, Wang Wei, said: "Now everyone is rushing to the belt and road market to cushion the decline in both the domestic and US markets due to the high cost of [US trade] tariffs and sharply weaker domestic consumption power."
In 2014, amid China's booming car sales market and rapidly rising logistics and transport industry, Wang and her husband invested 300 million yuan (US$42 million) to establish Beststone, a recycled tire factory in Dongguan.
Sales totalled 120 million yuan (US$17 million) in 2016 – 99 per cent of which came from the mainland Chinese market. But in 2017 domestic demand began to shrink amid oversupply and sales slipped to 103 million yuan (US$14.6 million), and further again last year, Wang said.
Increased sales to belt and road countries saved the firm, she added.
"Since May last year, we rushed to several developing countries to participate in exhibitions and contacted agents," Wang said. "Our tires were sold in many countries in Africa, Southeast Asia and the Middle East.
"They do not have the capacity to produce tires and are now very friendly with China. So in just six months, we exported 40,000 tires."
One key to rising sales in belt and road nations was cheap loans being offered by Chinese banks and financial institutes, said Xie, the textile exporter.
"Now, as long as they import goods from China, even small and middle-sized African merchants can easily borrow money from Chinese banks, like the China Development Bank," Xie said. "That means for buyers purchasing Chinese goods, the risk is so low.
"They used to buy only one container a month, but now they can buy triple the amount in a month and then go back to Africa to sell with low capital risk."
China's large-scale infrastructure investment in Africa has also helped business, cutting the cost of shipping to the continent from 80,000 yuan (US$11,300) per container to about 26,000 yuan (US$3,600), Ding said.
But despite the growing trade ties, China needs to be alert to financial risks that could hinder trade with belt and road markets in the future, according to Liu Kaiming, head of the Shenzhen-based Institute of Contemporary Observation, which monitors working conditions and performance among hundreds of Chinese contract manufacturers.
"We need to understand that trade is sustainable only if these developing countries have healthy economic growth and domestic consumer power." he said.
He added China's rising debt burden could also bring uncertainty, undermining its ability to support such trade links in the future.
This article appeared in the South China Morning Post print edition as: Chinese exports to Africa offset plunging US sales