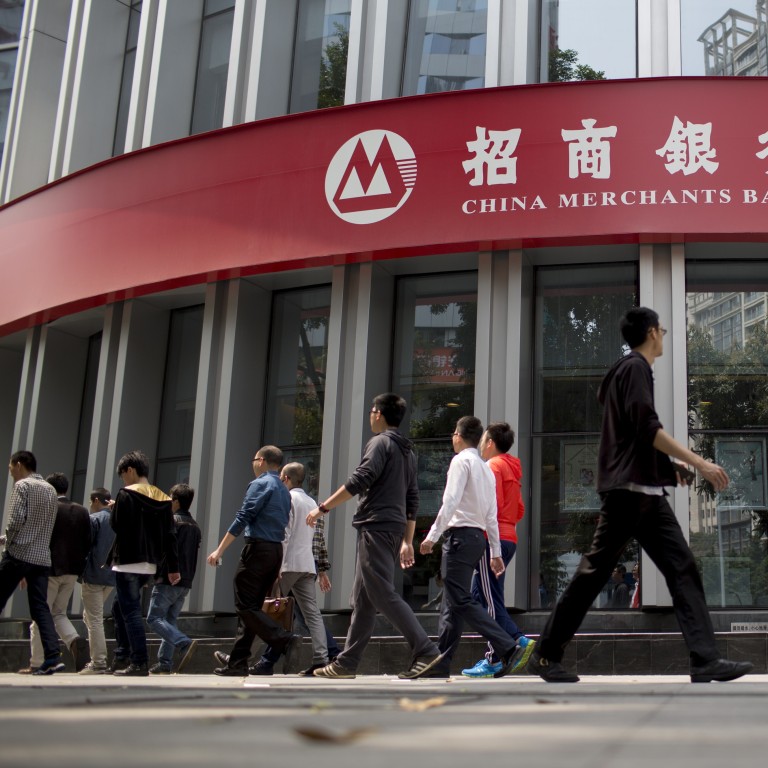 US dollar transfers cut back by Chinese bank as Beijing steps up scrutiny of capital outflows
China Merchants Bank suspends programme that allowed customers to set up automatic transfers to overseas accounts in US dollars
Beijing has tightened rules on overseas transfers by individuals in recent years to ensure control of capital outflows
China Merchants Bank has suspended some of its US dollar remittance services as Beijing steps up its efforts to scrutinise funds flowing out of the country amid the
trade war
with the United States.
China Merchants notified customers on Thursday last week that new transfers under the bank's "Overseas Remittance Programme" would no longer be accepted from December 2, and the entire programme would be shut down on December 30. On Friday, in response to a large market and customer reaction, it announced it would resume the services on January 2.
The programme allowed customers to make foreign exchange remittances to overseas accounts at a specified date or through automatic, periodic transfers based on online instructions. Withdrawals of foreign currency were limited to US$30,000 for any single transaction.
China Merchants Bank said in a statement on its official Weibo account, a Twitter-like microblogging site popular in China, that the decision to suspend the services was due to "system upgrades and improvements" and it would resume on January 2 next year. The Shenzhen-based lender's ordinary cross-border payment services are unaffected.
China has implemented draconian capital controls in recent years designed to prevent its citizens taking cash out of the country, especially due to trade war tensions between China and the US, and domestic headwinds that have seen
growth fall to near a 30-year low
.
Credit Suisse has forecast China's economic growth to slow to 5.9 per cent in 2020, below Beijing's target of between 6 per cent to 6.5 per cent for this year, amid ongoing trade volatility.
Every Chinese citizen is allowed to buy foreign exchange worth up to US$50,000 a year, although they still face major administrative hurdles within that quota, such as close examination of their applications and declarations that indicate how and when the foreign exchange purchases are to be spent.
Last month, the Beijing branch of the foreign exchange regulator, the State Administration of Foreign Exchange, named and shamed seven banks and online payment companies for violating rules of transferring money out of China. A total of 31.8 million yuan (US$4.5 million) in penalties were imposed on the companies, which included China Construction Bank and the Bank of Communications, two of the five largest state-owned banks.
China's efforts to allow greater cross border flows have so far been lopsided, with Beijing opening up its domestic stock and bond markets to encourage foreign investors to bring money into the mainland while strictly controlling outflows by Chinese individuals and businesses.
Wooing global investors has become a priority for China as the surplus in its current account – which measures a nation's transactions with the rest of the world, including trade-in goods and services, net earnings on foreign investments and net financial transfers – has been shrinking every year since 2015, hitting a 15-year-low of US$49.1 billion last year.
The expected shift into current account deficit in coming years will result in part from changes in the yuan's exchange rate, which is likely to face downward pressure to attract investors even if the central bank continues to support the currency.
China's capital controls are especially important under the current situation to ease worries about capital flight out of the country, said Adarsh Sinha, co-head of Asia rates and foreign exchange strategy at BofA Merrill Lynch.
So far capital outflows have remained stable, declining modestly from US$85 billion in the second quarter to US$81 billion in the third quarter, according to Alicia Garcia Herrero, Chief Economist, Asia-Pacific at Natixis Bank.
But capital outflows from China could increase, especially if the yuan continues to depreciate as expected, Herrero warned, gjven domestic conditions are unfavourable due to high corporate indebtedness and an anticipated further deceleration of growth.
China's yuan currency plunged below the key seven-to-dollar level in August to an 11-year-low as trade frictions with the US intensified. The currency declined by as much as 5 per cent compared to the end of last year before increasing to trade at current levels of 3 per cent lower.
It is critical for China's economic outlook to strike a so-called phase one trade deal with the US, which would entail rolling back some American tariffs that could in turn ease pressure on capital outflows and the yuan's exchange rate, Sinha said.
"There is always going to be a risk that people's expectations destabilise and lead to capital outflows," Sinha said. "So you have to maintain capital controls in this environment."
The outlook for a trade deal remains uncertain, with US President Donald Trump saying Tuesday he has
no timetable for a deal
and it could be delayed until after the US presidential elections in November.
Chinese state media this week reported that a rollback in tariffs would be a necessary precondition for a trade deal with the US, in which it might buy unspecified quantities of imports from the US as a "special treat". Work to protect intellectual property and liberalise capital markets would continue, but as part of business as usual and not a quid pro quo, it was reported.