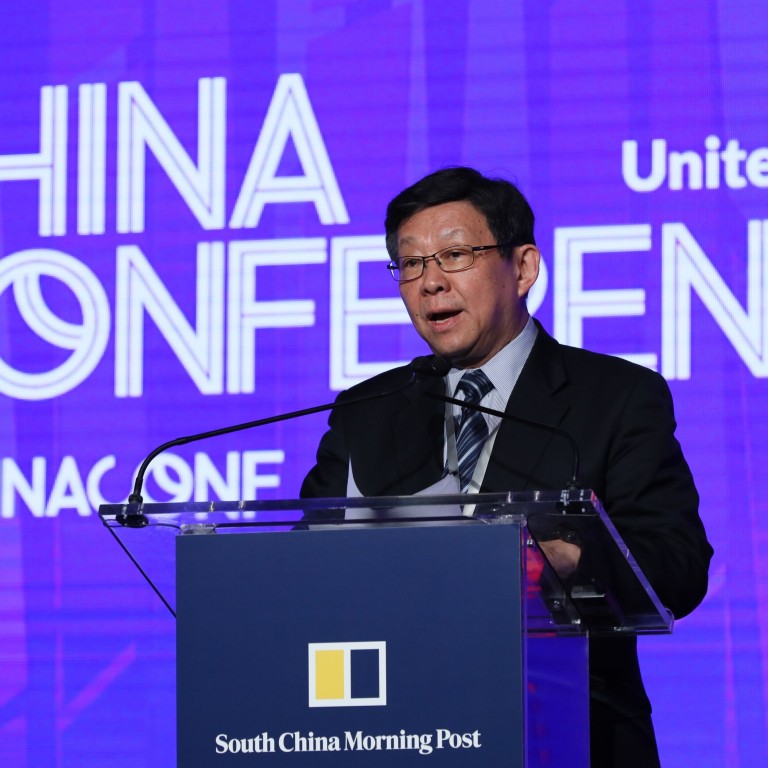 Exclusive
Trade war: China using talks to prevent relations with US spinning out of control, former minister says
China using trade talks to keep relations with US from spinning out of control amid an increasingly hostile bilateral atmosphere, says Chen Deming
But Beijing still strongly opposes US legislation on Hong Kong and Xinjiang and will enact retaliatory measures, former Chinese Commerce Minister says
Beijing is using trade war negotiations to prevent bilateral relations with the United States from spinning out of control after Washington passed legislation targeting Xinjiang and Hong Kong, China's former commerce minister has said.
Tensions over the recently passed bills stoked concern over the future of a "phase one" trade deal between the two countries, but Chen Deming, who headed China's Ministry of Commerce from 2007 to 2013, said China was keeping the issues separate.
"[The bills] hurt the feelings of the Chinese people, which is certainly not helpful for trade talks," said Chen in an exclusive interview with the South China Morning Post at an event hosted by the media company in New York this week.
"But fundamentally [trade and the bills] are two different issues. If we meld the two together, there won't be trade talks any more."
China will enact retaliatory countermeasures in response to the two US bills, but Beijing has no plan to call off trade talks or the prospects of a trade deal, Chen said.
"As far as I know, the trade team led by Liu He is still engaged by phone with the US side," Chen said. "The fact is that talks are continuing".
His comments were made before Trump was widely reported by western media to have approved on Thursday the details of an interim
trade deal
, though there has been no official announcement yet of an agreement.
Chen said US President Donald Trump had in the past claimed that trade negotiations and Beijing's response to the Hong Kong protests are linked, but for Beijing, they were always two different issues.
"We have our own positions and principals. The China-US trade issue is not only about the conditions of two countries, but also matters to the future of the global economy next year," he said. "It is about whether the world economy is going into recession or will prosper. I hope the US will stop linking the two together."
Even though he expressed confidence that Beijing and Washington would reach a phase one trade deal, Chen warned that the broad bilateral relationship was set to worsen.
"A phase one deal can't solve the fundamental differences between China and the US," Chen said, adding that Washington now views China as a strategic competitor.
"But at the moment when both economies are facing difficulties, a [trade] deal can at least offer some light, a bit of good news, a bit of comfort … but it can't solve all problems," Chen said.
China reacted furiously after the US passed legislation paving the way for sanctions against Chinese officials over human rights abuses against the
Uygur ethnic minority in Xinjiang
. The bill's passage came shortly after Trump signed legislation targeting Chinese interference in Hong Kong.
Chen said it is a bad idea for the United States to view China as an enemy.
"Some US media and think-tanks are describing China as a concern or even a threat to US and paint China as an enemy. But if you decide to make an enemy with a country of 1.4 billion people, it's really not wise," the former minister said. "In fact, China is not an enemy of the US. We are so far away on the other side of the planet, and we haven't send our naval force to the US coast, unlike the US navy that is often sending warships through the Taiwan Strait."
China would work hard to open its market so that other economies do not have to choose between the two powers, he said.
"If the Chinese and US economies decouple, other countries in the world would be forced to take sides, and that's a dangerous choice for them," Chen said. "For China, we will open our markets wider to the outside world, including Europe and Japan. The only way that we can send decoupling to hell is to open up the Chinese market further."
"If human beings lose this multilateral institution and there's no alternative, the global economy will degenerate into recession, including the US," he warned.