Macau
Get more with myNEWS
A personalised news feed of stories that matter to you
Learn more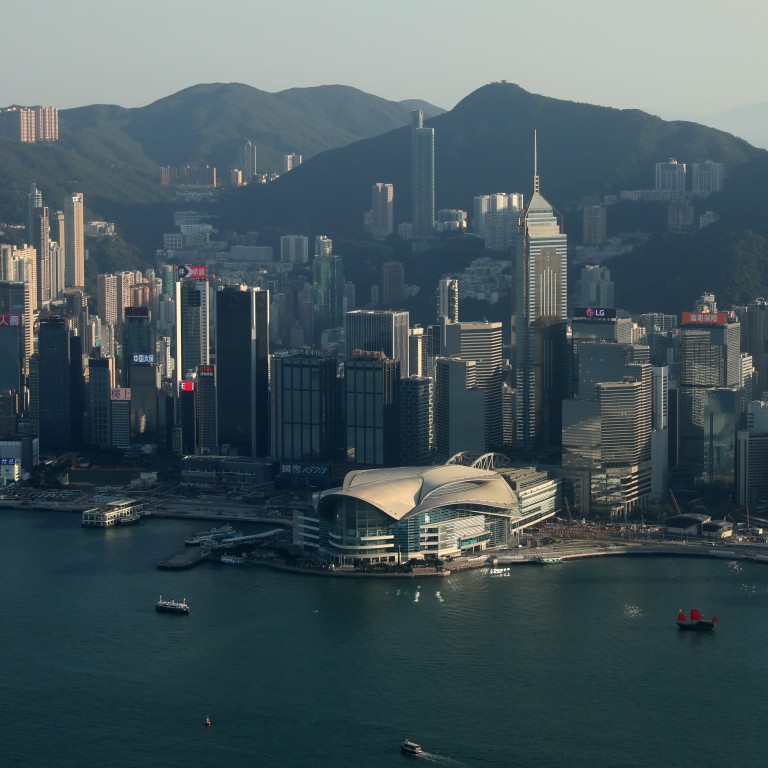 Hong Kong dollar peg: could the financial hub's stable exchange rate keep Shenzhen and Macau at bay?
Analysts say Hong Kong's importance to the mainland will continue because of its stable exchange rate under the US dollar peg, despite anti-government protests
Macau and Shenzhen unlikely to replace the city due to Beijing's reluctance to end restrictions on domestic money exchanges and fully open its capital account
This is the final instalment of a three-part series looking at the outlook for Hong Kong's dollar peg system under the city's current political turmoil. You can read the first story in the series  here and the second story in the series  here.
China will continue to value the stable US dollar peg system that underpins Hong Kong's status as an international financial hub, despite six months of anti-government protests that have been strongly criticised by Beijing, analysts said.
The Chinese leadership has widely condemned the civil unrest in Hong Kong, pledging to strengthen supervision of the city's affairs through legal means and new enforcement mechanisms.
That has contrasted sharply with language used to describe Macau, which has been praised for its adherence to the Basic Law and the principles of the "one country, two systems" principle.
Both Macau and Shenzhen have recently been endorsed by Communist Party officials in an apparent effort to reward them for having avoided protests, and signalling an official policy shift away from Hong Kong for driving national economic development.
"The only problem with Shenzhen, Shanghai, and Macau is that they don't have the Hong Kong dollar," said Rob Carnell, Asia-Pacific head of research and chief economist at ING Bank. "If Hong Kong still has the Hong Kong dollar, then these other places don't really hold a candle to it."
"Macau, like Hong Kong, is also a free port, with a diverse and tolerant cultural environment with the intersection of China and the West," said Xu Ze, head of the semi-official Chinese Association of Hong Kong and a former deputy director of the Hong Kong and Macau Affairs Office said.
But Beijing's reluctance to end restrictions on domestic money exchanges and fully open its capital account means the yuan-based financial development of Macau and Shenzhen is unlikely to deliver significant results, said Kevin Lai, chief Asia economist excluding Japan at Daiwa Capital Markets.
Many economists believe the yuan will remain partially inconvertible in the foreseeable future, meaning mainland companies may still need Hong Kong for fundraising Hong Kong and US dollars because the city's peg system allows free movement of capital and free transferability into American dollars.
"Unlike Hong Kong, where Chinese financial products are settled in Hong Kong or US dollars, the challenge for foreigners in Macau and in China is their payment in yuan," Lai said. "It may be difficult to convert the yuan back into US dollars or hard currency because of China's capital controls."
So far this year, Hong Kong's share of Chinese initial public offering (IPO) listings outside the mainland and of Chinese offshore syndicated lending is 87 per cent, according to financial data provider Refinitiv, even though Hong Kong's contribution to China's gross domestic product declined to 3 per cent from 16 per cent in 1997.
Beyond funding, Hong Kong is China's most important springboard for foreign direct investment (FDI), either into or outside China, due to high trust in Hong Kong's institutional framework, said Alicia Garcia Herrero, chief Asia-Pacific economist at Natixis. In particular, 64 per cent of FDI to China came from Hong Kong between 2010 and 2018, and 65 per cent of outward investment was channelled through the city.
John Woods, Asia-Pacific chief investment officer at Credit Suisse, said the size of Hong Kong's capital markets underscored how important it was for issuers who were fundraising, especially at a time China needed US dollars to pay for massive import and borrowing requirements.
"Singapore's equity markets have a market cap of US$500 billion. Hong Kong's is US$5.1 trillion, which is 10 times bigger. That's why you have benchmark flagship IPOs in Hong Kong that couldn't be conceived ever being done outside," Woods said.
"Many reports in the media seem to have written off Hong Kong as a financial centre. I profoundly disagree."
Last month, Alibaba Group Holding's US$12.9 billion Hong Kong IPO was the second biggest across global markets this year. Alibaba owns the South China Morning Post.
Cliff Tan, East Asian head of global markets research for Asia at MUFG Bank said that the Chinese government's strategy was perhaps to keep Hong Kong's financial markets viable ahead of 2047, when its special administrative region status will expire.
Chinese money appears to be entering Hong Kong, and could be used in the future feature to support the dollar peg, despite the explicitly anti-mainland protests and violence, Tan said.
"The irony here is protesters may be scaring away non-Chinese capital but increasing mainland dominance in Hong Kong."
The first part looked at the outlook for Hong Kong's dollar peg system under the city's current political uncertainty.
The second part looked at the outlook for Hong Kong's dollar peg system under the city's current political turmoil.
This article appeared in the South China Morning Post print edition as: Dollar peg a boon as Macau, Shenzhen rise