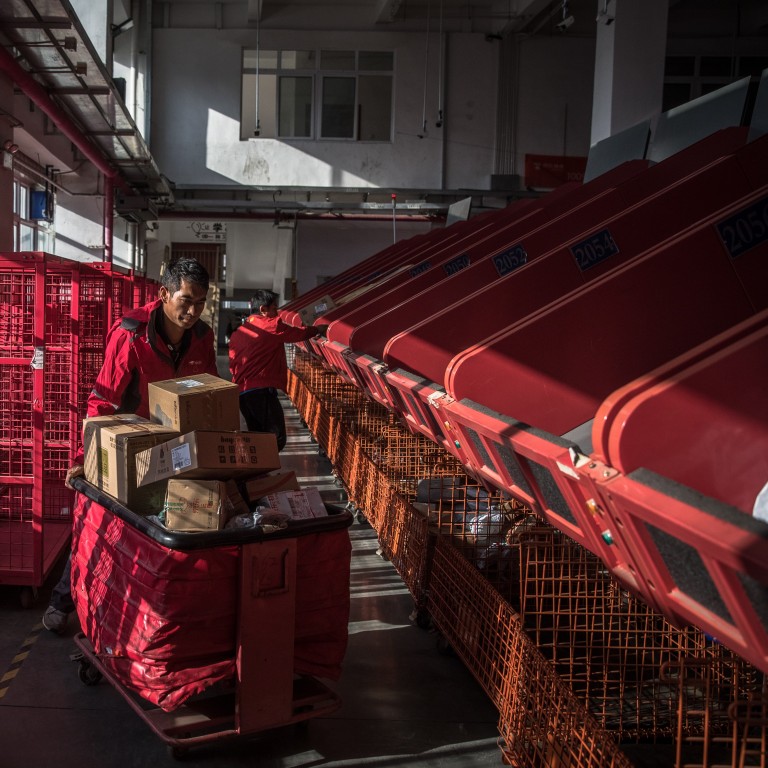 China's consumer spending on services and in smaller cities to pace growth, e-commerce giant JD.com says
Consumers in smaller cities spend most of their income on essential items, leaving room for increases in discretionary spending if incomes rise
Consumption contributed to more than 60 per cent of Chinese growth in the first three quarters of 2019, but has been under pressure during the trade war
China's retail sales have not yet shown signs of a rebound, but rising service consumption and the potential for a significant increase in spending in smaller cities as incomes rise could rapidly reshape the country's consumption landscape, according to a report released on Tuesday.
Consumption, which contributed to more than 60 per cent of Chinese growth in the first three quarters of 2019, has been under constant pressure during the 18-month-long trade war.
But the results from JD Digits Research Institute, analysing spending habits based on data from JD.com, one of the country's leading e-commerce platforms, painted an upbeat picture for consumer spending and supported the view expressed recently by Beijing officials that growth has been better than expected even before the
phase one trade deal
with the United States was announced.
That, in turn, reinforced the repeated message from the government that
major economic stimulus
it unnecessary to support stable growth next year.
Signs of a slowdown in spending triggered a debate on whether the country's 300 million middle class consumers were
"downgrading" their consumption
to save money amid the economic slowdown due to fears about their job security and income.
"The downward pressure [on consumption] is obvious," the report said, citing the slowdown in the three-month moving average of JD online sales growth, which is seen as a reflection of total national retail sales about eight months in advance. The three-month moving average has declined from around 50 per cent to around 20 per cent in October 2019.
The pressure was also evident in the divergence between spending on non-essential and staple goods like food and clothing. The proportion of discretionary goods bought dropped by several percentage points to about 56 per cent of total spending in the first 10 months of the year, according to the report.
"Counter-cyclical measures should concentrate on stabilising employment, managing expectations [about the economic outlook] and reducing economic uncertainties, so that people's consumption capability and willingness improve," he said.
"The smaller the city, the more obvious the consumption upgrade," Shen said. "We must provide a better [spending] environment in these cities. While it is important for the government to maintain market order by encouraging competition, more logistical support is needed."
Some of the items most affected by the consumption slowdown were cultural and entertainment products, sales of which fell 10 per cent from a year earlier on the JD.com e-commerce platform in the first 10 months of this year, while sales of local leisure activities and travel products fell 14 per cent. Sales of car accessories, bags, luggage and shoes grew at relatively slower rates than the overall average.
Data from US-listed e-commerce giants Alibaba, JD.com and Pinduoduo showed the increasing importance of digital sales to the consumption landscape. Alibaba is the owner of the South China Morning Post.
Online goods sales jumped 19.7 per cent to 7.6 trillion yuan (US$1 trillion) in the first 11 months of 2019 compared to a year earlier, accounting for one fifth of total national total retail sales, National Bureau of Statistics (NBS) data showed. Online service sales stood at about 1.9 trillion yuan (US$272 billion).
According to the NBS, total online sales jumped 16.6 per cent to 9.5 trillion yuan (US$1.4 trillion) between January and November.
This article appeared in the South China Morning Post print edition as: Small cities may fuel retail spending boom