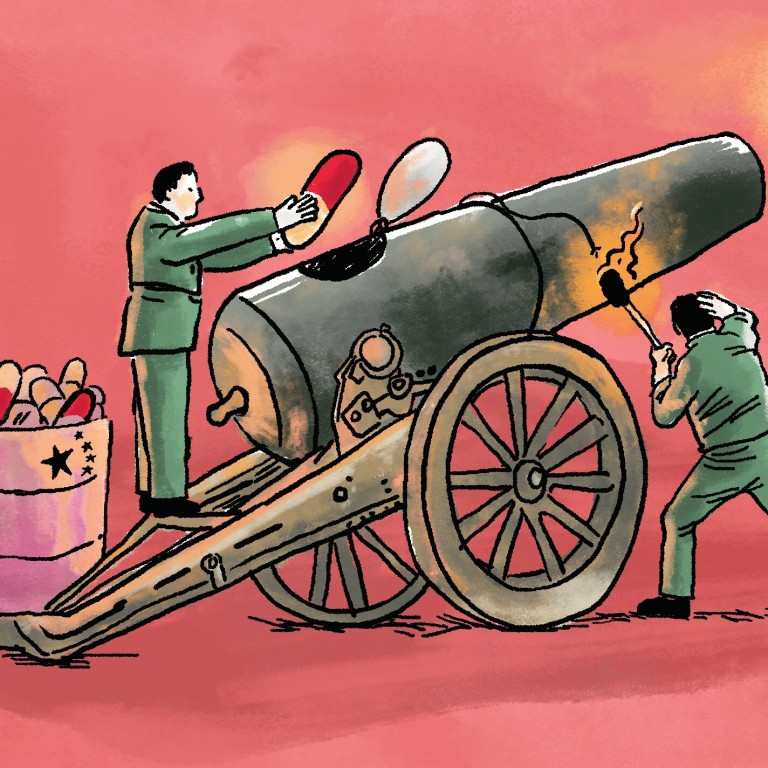 Trade war fears spook US policymakers into thinking China could weaponise drug exports
Pharmaceutical products have thus far been exempt from trade war tariffs, but there is growing fear in Washington about reliance on China
Experts suggest US is unprepared to deal with minor disruption in supply of many basic drugs from China, with some fearing a malicious contamination
This story is part of an ongoing series on US-China relations, jointly produced by the South China Morning Post and POLITICO, with reporting from Asia and the United States.
One of the biggest national security threats in the
US-China trade war
could be lurking in your medicine cabinet.
The United States relies on imported medicines from China in a big way. Antibiotics, over-the-counter pain medicine and the stuff that stops itching and swelling – a lot of it is imported from China.
US President Donald Trump and Chinese President Xi Jinping so far have left pharmaceuticals out of the bilateral trade war, including the announcement last week of a mini-deal. While Trump has used national security as a rationale to slap tariffs or trade sanctions on a variety of imports, medical supplies have not fallen under such scrutiny.
But the US is woefully unprepared to address even minor disruptions in the supply of these drugs.
"Medicines can be used as a weapon of war against the United States," Rosemary Gibson, a senior adviser on health care issues at the bioethics-focused Hastings Centre and co-author of China Rx: Exposing the Risks of America's Dependence on China for Medicine, told lawmakers last month. "Supplies can be withheld. Medicines can be made with lethal contaminants or sold without any real medicine in them, rendering them ineffective."
A watchdog report published last month by the US-China Economic and Security Review Commission and a recent US congressional hearing warned that China hopes to surpass the US as the world's biggest producer of
pharmaceutical products
.
Last year, China accounted for 95 per cent of US imports of ibuprofen, 91 per cent of US imports of hydrocortisone, 70 per cent of US imports of paracetamol, 40 to 45 per cent of US imports of penicillin and 40 per cent of US imports of heparin, according to data from the US Commerce Department. In all, 80 per cent of active pharmaceutical ingredients are produced overseas, mostly in China and India.
In a rare high-profile public comment, one former central bank adviser suggested that China could curb its exports of antibiotics to the US as a trade war retaliation tool.
"We are at the mercy of others when it comes to computer chips, but we are the world's largest exporter of raw materials for vitamins and antibiotics," Li Daokui, a professor of economics at Tsinghua University, said in March 2019 while speaking at the National People's Congress.
"Should we reduce the exports, the medical systems of some western countries will not run well," he added.
The number of Food and Drug Administration (FDA) import alerts – which can lead to a complete blocking of flagged products from entering US ports – regarding Chinese companies has steadily risen, from 19 in 2016 to 23 in 2017 and 28 in 2018.
Gibson noted that a single factory in China made the active pharmaceutical ingredient for a common blood pressure medicine,
valsartan
, which was found to contain a cancer-causing chemical that has been used to make liquid rocket fuel.
Some of the companies on the FDA's warning list also benefit from generous state subsidies. In general, successive US governments have railed against this sort of behaviour from China, one of the driving forces behind the near 18-month trade war.
Zhejiang Huahai Pharmaceutical (ZHP), producer of the contaminated valsartan, disclosed in a 2018 annual report that it had received 312 million yuan (US$44.4 million) in government subsidies. Over the first half of this year, it had received an additional 92 million yuan (US$13.1 million) in state funding.
Despite the contamination incident, ZHP still leads the US market share in 10 of its product lines, it said, including drugs used to treat high blood pressure and Alzheimer's disease.
When FDA inspectors visited Henan Lihua Pharmaceutical's facilities in the city of Anyang two years ago, they found "significant deviations from current good manufacturing practice". Among the red flags were product release forms stamped in advance to speed up warehousing processes. Its parent company was also a generous recipient of Chinese subsidies for research, renovations and infrastructure last year.
There are not enough FDA personnel to conduct on-site inspections in China, adding to the worries of many in the US Congress. But a shortage of some critical medicine has prompted the FDA to allow the sale of some Chinese-made drugs that could pose a safety risk, rather than be caught without any supply.
"If we have quality problems at a plant, we have to make a medical decision" about the consequences of banning the use of the drug, Janet Woodcock, director of the FDA's Centre for Drug Evaluation and Research, testified in October. "It puts us in a difficult position."
Lawmakers also say they are concerned about a growing dependence on China for imports of active pharmaceutical ingredients (APIs) – the actual medicine contained in a pill, capsule, or shot.
The FDA estimates that 13 per cent of the
world's API production
facilities are in China, compared with 28 per cent in the US. About 26 per cent are in the European Union and 18 per cent in India.
There is concern the actual amount of active pharmaceutical ingredients coming from China is much higher than those figures suggest. An FDA spokesman in Washington said the US imported over 6,000 APIs from China in the 2019 budget year that ended in September. The FDA in Beijing declined to comment on the supply risk.
But the China Chamber of Commerce for Import & Export of Medicines & Health Products states that China is the world's largest producer of generic drugs. More than 90 per cent of China's 4,300 API and pharmaceutical manufacturers produce generic products. As with other industrial sectors, China's strength is in its scale.
"Thanks to its low-cost structure, China is already a dominant supplier of APIs to a number of countries, including the US," said Knut Slatten, senior analyst at Moody's Investors Service. "Companies do not generally disclose data on this, however, up to 90 per cent of drugs by volume consumed in the US are generic drugs."
A high-profile group of senators, including Democratic presidential candidate Elizabeth Warren and senator Mitt Romney, this month called on US Defence Secretary Mark Esper to examine the national security risks of US dependence on imports of active pharmaceutical ingredients and finished drugs from China.
Previous incidents of contaminated drug shipments from China have also prompted lawmakers to ask for a staff-level briefing by Friday to answer a number of questions, including what steps the US Department of Defence has taken to protect the medical supply.
"Millions of Americans, including service members, rely on drugs to stay healthy – yet the United States imports a significant portion of these drugs' components from China," the senators, joined by senators Tim Kaine and Tom Cotton, said in a letter.
The lawmakers, however, point out that such reliance on "a geopolitical rival for critical drugs presents a clear risk to our national security, even more so in a period of heightened tensions".
false
Generic drug companies believe critics such as Gibson and the US-China Economic and Security Review Commission, a watchdog panel Congress created, are overstating the risks. Last year, the US imported US$115 billion of finished pharmaceutical products, with just US$1.5 billion coming from China.
If heart patients stop taking their drugs because of concern that they may come from China, "that is going to be very detrimental to the American public health," said David Gaugh, senior vice-president for sciences and regulatory at the Association for Accessible Medicines, a generics drug industry group.
Some who follow the Chinese sector say such concerns are misguided because of numerous other nations that provide medicines.
"I don't think the US' concerns are particularly tenable, as the US also imports a lot antibiotics from India. The US imports a lot of APIs, and if the FDA conducts annual inspections on these factories, then why should the US worry?" asked Frank Wang, an analyst at Capital Securities, based in Shanghai.
Zhu Jianyun, deputy secretary-general of the supply chain division at the China Association of Pharmaceutical Commerce, put the blame on manufacturing companies rather than US-China policy.
"I know the US' generic drug manufacturing capacity is relatively weak, but they decided to relocate their production lines to China and some Southeast Asian countries to save on costs, so they cannot simply say China is a threat just because they wanted to save the cost," Zhu said.
The US-China Commission in November laid out a set of recommendations aimed at discouraging US companies from importing Chinese-made medicines.
Those include mandatory country-of-origin labels for APIs used to make drugs and making importers liable "for any health risks incurred by consumers in the event the product is proven unsafe due to contamination, mislabelling, or other defects".
It also recommended steps to increase domestic pharmaceutical production, which has fallen in recent years as more and more manufacturers have moved production to lower-cost markets like China and India.
"Our biggest vulnerability is overdependence and single source of supply," said Mike Wessel, a long-time member of the US-China Commission. "For critical products like antibiotics as well as life-sustaining drugs like blood pressure medicine, China, directly or indirectly, is the major or potentially sole supplier of those products to the US."
Senate Democratic leader Chuck Schumer last week called on the US Government Accountability Office to investigate the capability of America to manufacture finished pharmaceutical products and active pharmaceutical ingredients.
"I am greatly concerned by the strategic vulnerability created by our reliance on China, a strategic adversary, for the APIs used to manufacture a very wide range of life-saving drugs that are vital to our health care system," Schumer said in a letter.
Doug Palmer reports for Politico from Washington, Cissy Zhou and Finbarr Bermingham report for the South China Morning Post from Hong Kong.