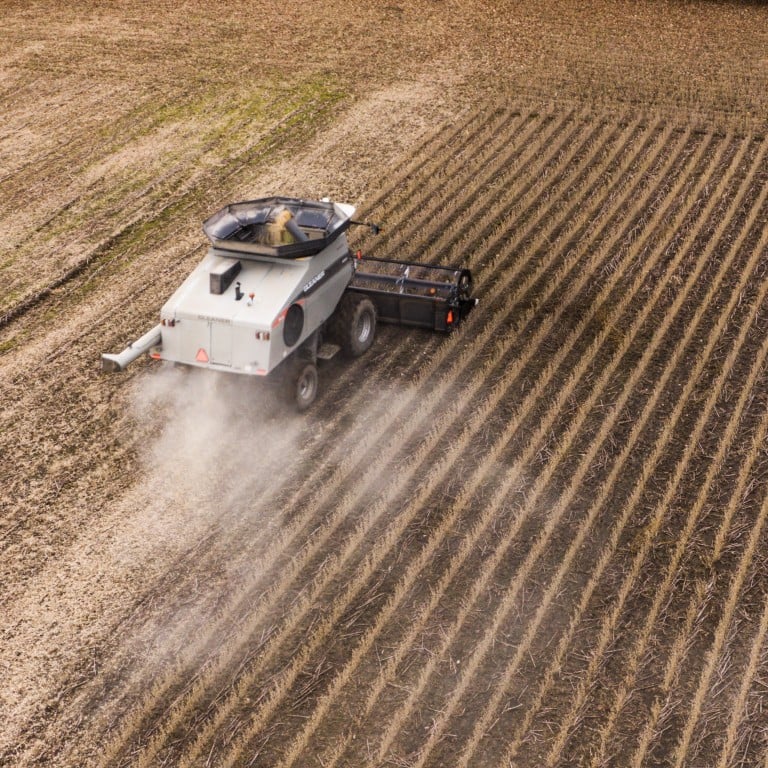 Trade war: China's trading partners wary of phase one deal, while analysts puzzle over US$200 billion import figure
Giant increase in China's imports from the US would come at the expense of other trading partners, which are concerned at the prospect of phase one trade deal
Analysts say US$200 billion purchase agreement is mathematically possible, but wonder about long-term impact on trade and supply chains
Economists continue to puzzle over the details of the US-China phase one deal announced last Friday, particularly Washington's demand that Beijing imports an extra US$200 billion of American goods and services over two years.
The deal
would effectively double China's imports from the United States, which were around US$188 billion in 2017, the last year before tariffs decimated shipments, according to a fact-sheet released by the Office of the United States Trade Representative.
China's total imports of goods in 2017 were US$1.84 trillion, meaning that it is mathematically possible to meet Washington's demands, especially as this does not include services. If Beijing reverts to 2017's levels and adds US$200 billion, it would buy US$576 billion over two years.
"Any number is possible if you try really hard, the problem is how many other countries do you want to make unhappy?" said Alicia Garcia Herrero, chief Asia-Pacific economist at Natixis.
Some exporters have toasted the moratorium on new tariffs and a rollback of others, with certain sectors in America set for a bumper payday.
China imported US$131 billion in farm goods from across the world in 2017, with record shipments from the US valued at US$29.5 billion in 2012, according to data from INTL FCstone, an agricultural research company. Again, this shows that US$40 billion of American imports per year is theoretically possible.
However, it would not be without its problems.
Centro Insper Agro Global, a São Paulo-based research institute, said that Brazil could lose US$10 billion – some 28 per cent – of its agricultural exports to China, as a result of the phase one deal and the boost to US soybeans.
One quarter of New Zealand's agricultural shipments are now bound for China, after the two nations signed a free trade deal in 2008. Dairy and meat were among New Zealand's top three exports to China in 2018 – sectors the US will now be eyeing hungrily.
"We will undoubtedly see more competition for food exports to China from the US, but I think New Zealand food exporters are up for the challenge," said Catherine Beard, executive director for Export NZ.
Stephen Jacobi, executive director of the New Zealand International Business Forum, added that the US-China deal "is an important issue" for New Zealand. "We are happy to compete on a most favoured nation basis, but managed trade has never been something we warm to. We will be looking for the detail of the agreement to assess whether our trade interests are affected," he said.
Agricultural analysts worry that "super windfall profits in the pig business" from importing American pork and selling it on at a high margin could disrupt China's efforts to recover from the epidemic.
"The imports have a somewhat negative effect on rebuilding the herd," said E. Wayne Johnson, a veterinary consultant at Enable AgTech Consulting in Beijing. "However you're going to have to do both – import just to meet people's needs and you're going to have to rebuild the herd somehow."
America's highest total pork export was US$6.5 billion in 2017, while China bought a record US$900 million in 2012. Pork alone will not plug the gap.
Energy would form an important part of the equation, but that too would require a significant upgrade on previous years to make a serious dent in the US$200 billion demand. From a high of US$254 million in January 2018, China's imports of American liquefied natural gas (LNG) disappeared completely in the six months since May 2019, according to Chinese customs data.
Even if China matched its record monthly LNG purchase over a two-year period, it would account for just US$6 billion. Adding China's record monthly purchases of US petroleum products over a two-year period would bring that total to around US$10 billion, calculations based on customs data show.
The likelihood is that hi-tech and intermediate goods would have to account for a significant chunk of any purchase agreement. For the European Union, this is bad news, since it shares eight of its top 10 export markets to China with the US, including chemicals, aircraft, cars and automotive parts. The two exceptions are energy and agricultural products.
"You just cannot make up US$200 billion from agrofoods and energy," said Garcia Herrero at Natixis.
"US imports currently account for only 1 per cent of the vehicles sold in China," said Bill Russo, the founder of Automobility, a Shanghai-based consultancy. "However, US manufacturers still export more than US$10 billion worth of related automotive products to the country. That's just a small fraction of the [US$200 billion] number cited."
Across the board, however, there is scepticism as to whether the figure is feasible or sustainable in the long term. Should China spend so big in a condensed period, there would likely be a drop-off in the years that follow.
"Limiting the retaliation if tariffs had gone through in the next 60 days may be considered," said Patricia Kontur, director at the Wild Blueberry Commission in Maine. "But US-China trade in wild blueberries has been nil since 2018 when the tariffs were first levied."
Timothy Scott Stuart, director of Hong Kong-based toy company Unit Bricks, stood to incur a 25 per cent tariff on his Chinese-made US exports last Sunday before it was halted as part of the phase one deal. Even so, he is wearied by the constant back and forth.
"Despite the looming threat, we assumed it was more bluster to waste everyone's time once again," he said.