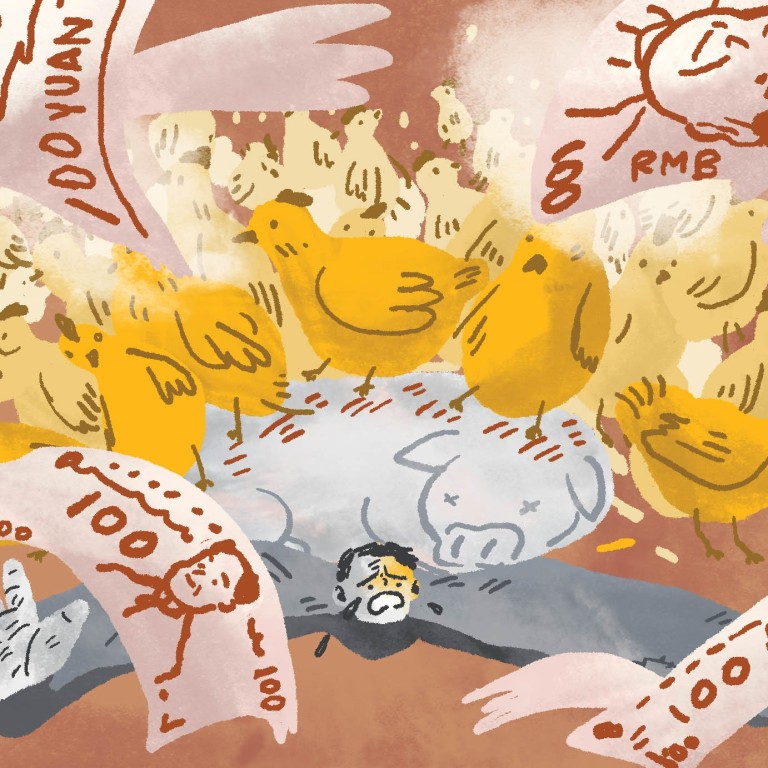 African swine fever: China's chicken farmers feeling the pinch as pork crisis takes toll on poultry industry
Former pig farmers, whose herds were devastated by African swine fever, are now raising chickens
Retail chicken prices have risen 24 per cent in the past six months, but the prices that farmers get for their birds has fallen sharply due rising supply
Standing on his chicken farm at the foot of a mountain in China's southern Guangdong province, farmer Mo Bangmin is counting his losses alongside his wife.
"I lost about 400,000 yuan (US$57,000) as one-third of my pigs died last year. Now, I'm facing a loss of 200,000 yuan (US$28,500) from these chickens – all my life savings are gone," said Mo as ducks and geese quacked and honked in a nearby pond.
Mo, who is in his early fifties, is one of China's many pig farmers who turned to raising chickens after
African swine fever
began ripping through the country's hog population, causing up to half of the national herd to be wiped out through culling or disease.
Pork production has plummeted and prices last month jumped by 110.2 per cent from a year earlier, driving the country's
consumer inflation rate
to an eight-year high. The skyrocketing cost of China's favourite meat has forced many people to turn to more affordable forms of protein like chicken and, in some cases,
even dog
.
National per capita consumption of poultry rose to 9kg in 2018 from 8kg in 2014, according to the National Bureau of Statistics. It is forecast to increase to 11.4kg per person by 2020, according to data from the China Chamber of Commerce in the Netherlands, with government data showing that annual poultry production is estimated to have jumped by more than 3 million tonnes this year.
But for many former pig farmers like Mo, the pivot to rearing poultry has not proved as lucrative as first expected.
While government data showed the retail price for chicken increased by 23 per cent between June and November, and the price of eggs rose by 29 per cent over the same period, increased production from new farmers has driven producer prices to rock bottom.
"The retail price of chickens is indeed rising and people think we chicken farmers are making a fortune," said Chen, another chicken farmer who gave only his family name. "However, we farmers are suffering in silence while wholesalers are making huge profit."
Chen, who has been raising chickens for more than a decade, said because many of the pig farmers lacked experience raising poultry, the quality of their birds is poor and the prices they command low.
That has "created cutthroat competition in the industry", he said, adding the prices he receives today are worse than during China's bird flu outbreaks that led to mass culling of poultry.
"Pig farmers have flooded the
chicken industry
because of African swine fever," said Chen, who is raising about 100,000 chickens and sells chicks from his farm on the outskirts of Foshan, a city neighbouring Guangdong's capital Guangzhou. "
They snapped up baby chicks and pushed the chick price up to an unprecedented level."
China raises about half of the world's pigs, and the spread of African swine fever has seen millions of animals killed across the country since the first outbreak in August last year.
The timing of the outbreak could not have been worse for Mo, who had just leased a new plot of land and built two pigsties with an initial outlay of 65,000 yuan (US$9,300) for annual rent, plus 300,000 yuan (US$43,000) for the buildings.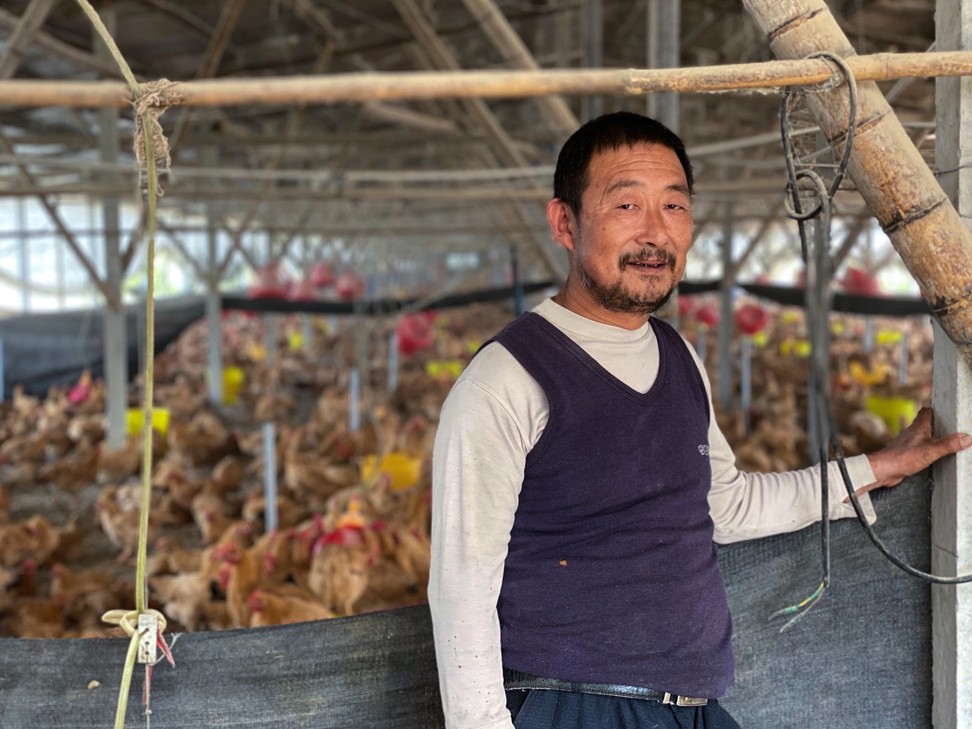 Mo had been forced to move deep into the countryside to avoid being affected by a nationwide environmental programme that saw hundreds of thousands of small and medium-sized
pig farms shut down
and demolished across the country.
"About 160 of my pigs died and I sold the remaining 450 pigs while they were still alive," said Mo, who left his job in a factory to raise pigs some 30 years ago. "I had to dig holes by myself and bury a dozen pigs every day. My wife's hair turned grey almost overnight."
Mo said he earned some profit after selling his first batch of chickens in September, but the second and third batches turned out to be disasters, with the price offered by middlemen dropping from 18 yuan (US$2.50) to 10 yuan (US$1.40) per kilogram.
"Baby chicks cost 8 yuan (US$1.10) each and the average feeding cost for each chick is about 16 yuan (US$2.30). I was supposed to sell them after 65 days, but I couldn't sell them for another 90 days after that. I sold 10,000 chickens at a loss yesterday," he said.
In Foshan city, some 70km away, new chicken farmer Chen Chunhua had a similar tale of loss and financial strife after more than half of her pigs died last year.
"My heart was broken when I was burying my contaminated pigs, they were still alive as I buried them. I didn't eat for a few days afterwards," she said.
Chen is in her early thirties, and like most younger Chinese does not want to work in a factory as it "lacks freedom". Instead, she prefers to raise chickens on her former pig farm. Chen sold almost all of her chickens by early December, keeping only about 30 of the 40,000 chickens she reared this year for the Lunar New Year celebration in late January.
Quickly leafing through her old notepad, she calculated she had lost about 20,000 yuan (US$2,900) while raising the flock – about 20 per cent of her husband's annual salary as a truck driver for a nearby factory.
"The middlemen offered 11.60 yuan (US$1.7) per kilogram on the first day, but when he came to take my chickens the next day, the price dropped to 11.20 (US$1.60). I couldn't help crying as I was already losing money," she said.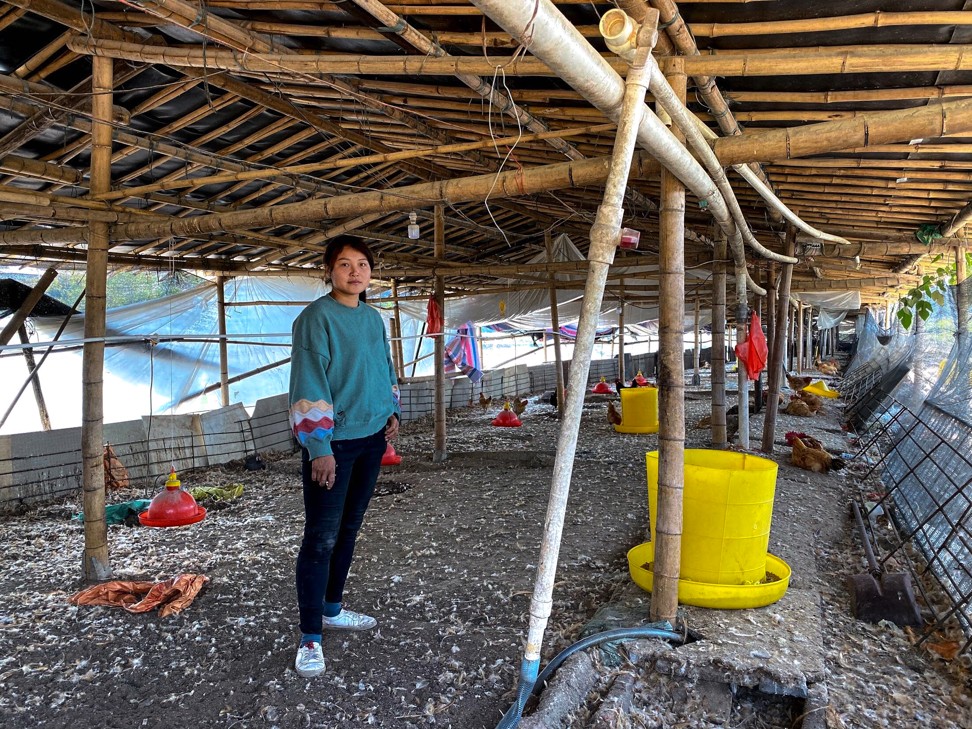 "This type of chicken sells for at least 30 yuan (US$4.30) per kilogram in the market. We have no choice but to sell the chickens when they are under 4kg , otherwise they become more difficult to sell."
China's government has introduced a range of measures to help pig farmers deal with the effects of African swine fever, including subsidies, discounted loans, insurance for live pigs, as well as opening up land supply to help the hog population recover. But analysts say it will take years for the country to rebuild its stocks.
Mo and his wife hope to resume raising pigs soon. However, after losing their life savings raising chickens, the couple say they can no longer afford to buy piglets, especially as the price has increased about fourfold over the past year and a half.
"We have nothing left to start again with," Mo said.