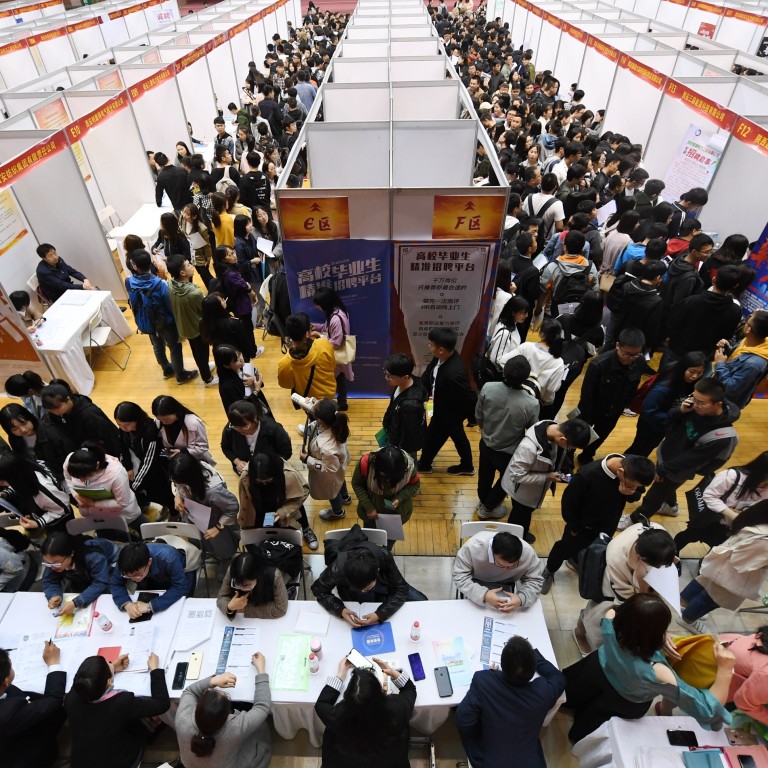 China puts focus on job creation to weather slowing economic growth, trade war
State Council announces 'targeted measures to prevent the risk of mass unemployment'
Funding for small businesses and migrant workers among the initiatives, along with plan to develop labour-intensive service industries
China has released a plan to stabilise its employment, including relief measures and a promise to create more jobs to help withstand the pressures on the economy.
The plan came after
Beijing's policymakers
prioritised social stability at their
Central Economic Work Conferenc
e two weeks ago and vowed to prevent trade tensions with the United States and domestic headwinds disrupting China's plan to create a well-off society by 2020.
"[We] will make coordinated efforts and take targeted measures to prevent the risk of mass unemployment," the State Council, the country's cabinet, said on Tuesday.
Employment, seen as a key element of social stability, has received fresh attention as the world's second-largest economy has slowed, with the
third quarter's gross domestic product
of 6.0 per cent being China's lowest in nearly three decades and with additional US tariffs on US$350 billion worth of Chinese goods set to bite exporters harder.
The new circular vowed to improve monitoring of this and allow workers who are laid off to register online so that their information and job interests can be shared across the country.
Having pledged that "there will be no families in which all members are unemployed", Beijing has paid particular attention to three groups: the 288 million migrant workers, the more than 8 million college graduates, and the hundreds of thousands of soldiers who are demobilised each year.
On Wednesday, the cabinet announced in a separate circular the scrapping of household registration restraints in cities with population of less than 3 million, which will allow rural migrant workers to stay in big cities where there are more job opportunities.
Cai Fang, deputy president of the Chinese Academy of Social Sciences, said the monthly surveyed unemployment rate, published since January 2018, was reliable and could be used for international comparisons.
"China's natural rate of unemployment, which excludes structural and frictional factors, is about 5 per cent," the prominent labour economist told the NetEase economists' annual conference in Beijing on Monday. "If it goes up, a certain degree of countercyclical adjustment will be needed."
The national surveyed unemployment rate stood at 5.1 per cent in November, 0.3 percentage points higher than a year earlier, according to the National Bureau of Statistics. The rate among those aged 25 to 59 was surveyed at 4.6 per cent.
It is widely believed that the government has set a growth target of about 6.0 per cent next year, with no major stimulus being considered at present.