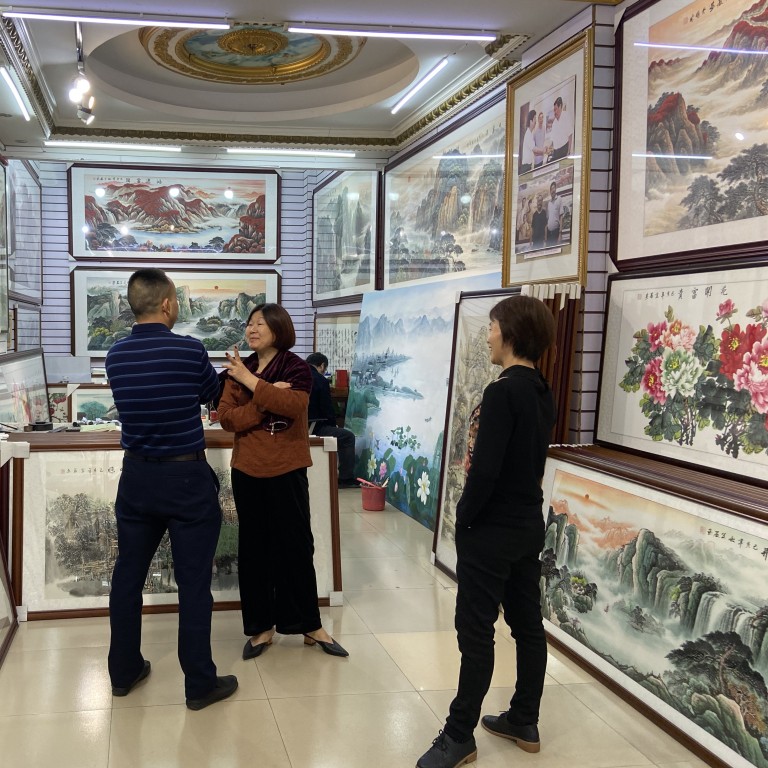 Hong Kong protests, trade war paint picture of tough times for China's go-to village for fake oil paintings
Business is drying up as exports fall, domestic demand declines and the unrest in Hong Kong saps interest, insiders from the village of Dafen say
The village in Shenzhen used to be home to more than 1,200 galleries, up to 20,000 painters and, at its peak, accounted for about 60 per cent of the global market
For three decades the urban village of Dafen in southern China was a hive of artistic industry, churning out metres after metres of reproduction oil paintings to adorn walls throughout the country and overseas.
The village in the northeastern part of Shenzhen, just over the border from Hong Kong, was an assembly line for copycat masterpieces and the place to go for a knock-off of Vincent van Gogh's Sunflowers or a fake Fang Lijun.
"Every gallery and self-employed painter in Dafen saw their business drop by between one-third and half this year," Lisa Zhou, a painter in her thirties, said. "Many of the veteran painters have left Dafen, and those still left are struggling. I have never seen the village so deserted as now."
Artists began flocking to the village in the early 1990s, attracted by low rents and proximity to Hong Kong, a gateway for exports.
Others followed, and soon there were galleries churning out high-quality fakes for overseas buyers. Trained artists could earn between 100 yuan (US$14) and 200 yuan for each piece.
By the late 2000s, the village was home to more than 1,200 galleries and up to 20,000 painters crammed into less than half a square kilometre and, at its peak, Dafen accounted for about 60 per cent of the global market.
"Before the 2008 global financial crisis, more than 90 per cent of Dafen's dirt-cheap reproductions, including van Gogh and Monet knock-offs, were sold for export, mostly to Europe and North America," said Huang Tong, head of Huang Jiang Oil Painting which owns dozens of galleries in Dafen.
"Exports of oil paintings dropped to one-third of the total in 2015 and are about 20 per cent now.
"Our business this year is much worse than last year. Domestic sales have fallen by than half, and there have been few orders from overseas traders for months.
"I only had to pay a painter 20 yuan for a replica of a simple landscape oil painting in 2007, but now that costs nearly 200 yuan."
Huang said that as with other exports from Guangdong, most foreign and Hong Kong dealers are heading to Southeast Asia to place their orders as costs rise in Dafen.
One bright spot for the industry had been the growth in demand among Chinese consumers thanks to the booming property market.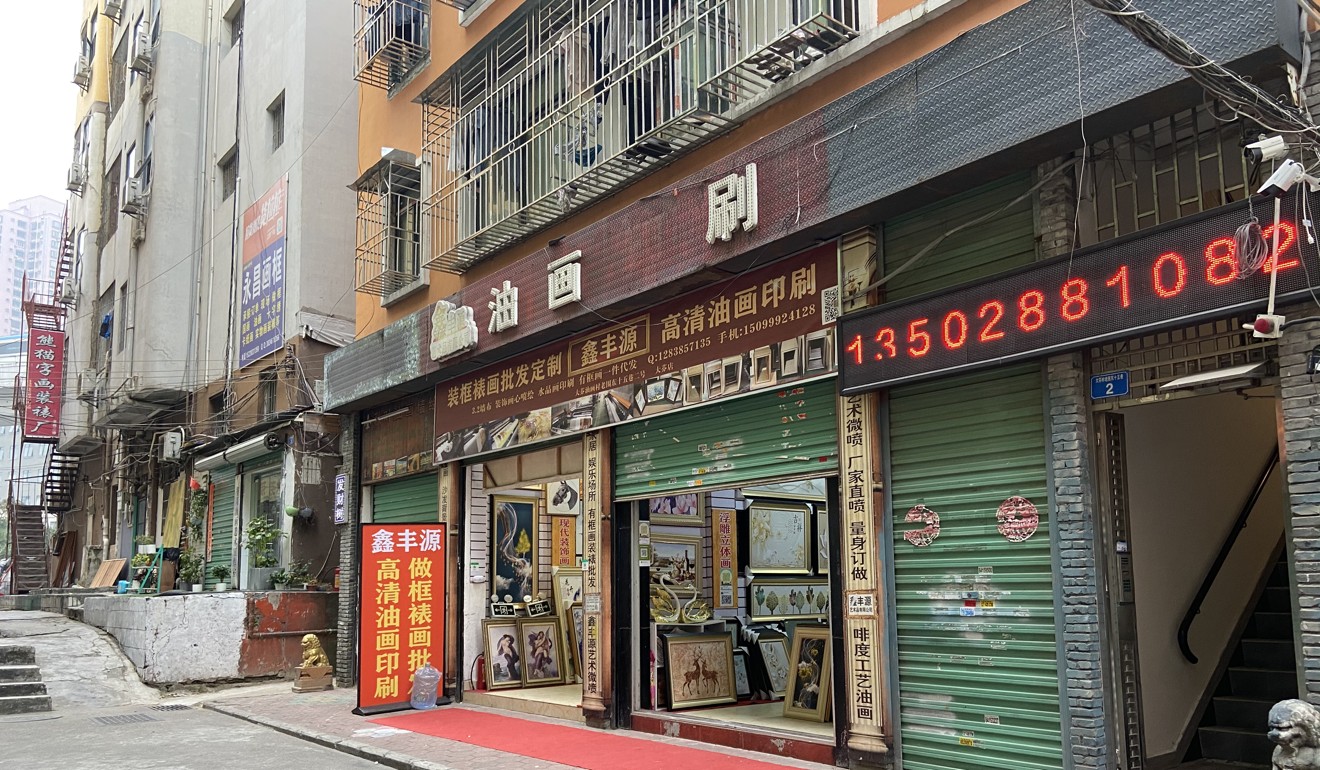 Annual revenue for the village grew from about 1 billion yuan (US$142 million) in 2010 to 3.9 billion yuan (US$557 million) in 2011, stabilising at about 4.2 billion yuan (US$600 million) from 2014 until last year.
But now the middle class and rich are also cutting back on spending on non-essentials.
"Many galleries did not have an order in September and October. We all hope that the property market will recover next year," Huang added.
Another gallery owner said: "[Painters and galleries] are all sensing and feeling the impact of the worsening economic situation. Buyers who once lined up to buy those original paintings for tens of thousands of yuan each, are now unwilling to pay about 3,000 yuan (US$430) for one that's 2.8 metres by 1.2 metres."
"There were many orders from Hong Kong buyers before the unrest," a staff member at the Qingyan Space for Contemporary Art said.
"We once saw many of both Chinese and foreigners living in Hong Kong came to enjoy a weekend in Shenzhen and buy oil paintings. But they are just gone.
"Look at the chaos in Hong Kong – who is in the mood to buy paintings?"
This article appeared in the South China Morning Post print edition as: Paint is fading on knock-off art village