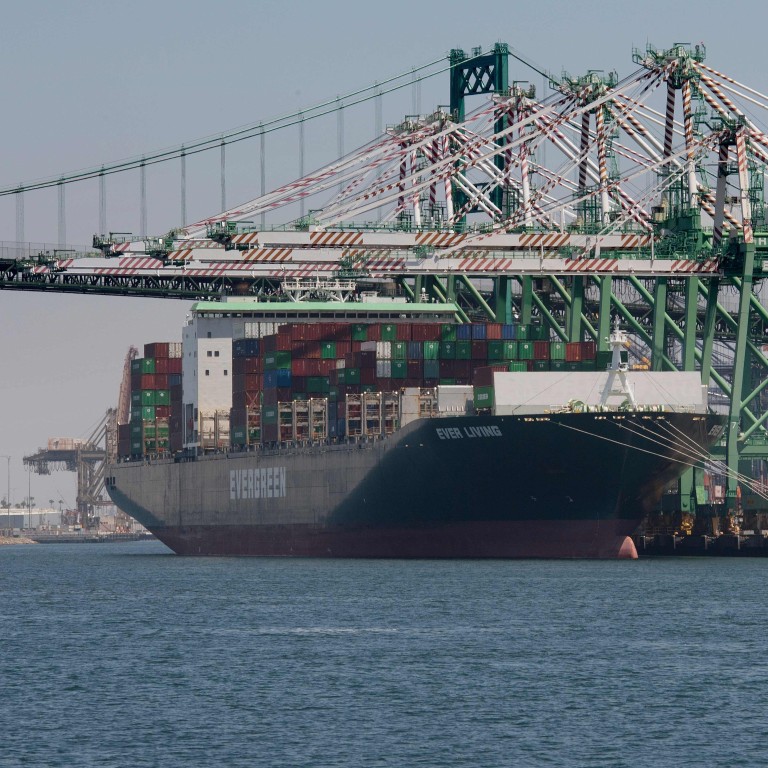 Trade war clues sought in China's 'ambiguous' new export control law
China's new export control draft law has removed references to 'retaliation', viewed by some as an effort to play down tensions with the United States
However, most agree that the law is intentionally ambiguous, with power of reprisal remaining with China's Ministry of Commerce
After Beijing lawmakers published a new draft of China's incoming export control law, trade watchers were sifting through the "overwhelming lack of specificity" for any messaging on the trade war with the United States.
The draft of a law that will allow China to regulate who
imports its goods
contained few major hints, but perhaps a couple of minor ones, but even then, the main takeaway for legal wonks was the startling vagueness.
"This common theme of ambiguity and uncertainty is no accident and specifically designed to allow the government agencies flexibility and discretion in the implementation," said James Zimmerman, a partner in the Beijing office of the US law firm Perkins Coie.
The draft is an update of a 2017 version, which caused a stir among foreign business groups in China due to language related to export control retaliation – a rare principle that does not exist in the export control regimes of the European Union or the US.
This would essentially have given China the bandwidth to respond to the sort of export controls used by Washington to cripple key Chinese companies such as Huawei, ZTE and Fujian Jinhua – three technology giants which have been choked from their US suppliers over the past two years – with export controls of its own.
This clause has now been removed, and the updated version contains no references to retaliation.
"I think that is certainly relevant to
US-China trade tensions,"
said Frank Pan, a trade partner at Shanghai law firm Xin Bai. "The Chinese government deliberately removed that provision to reduce the level of hostility. Even under the US or European legislation there was no such scheme allowing a government authority to retaliate with export control measures because its own companies are targeted by foreign legislation."
That is not to say that the draft law is toothless, with Pan adding that there are other provisions that will allow China to issue export controls on national security grounds, should the institution or state in question be deemed to pose a threat by the Ministry of Commerce.
Furthermore, the ambiguity of what would constitute a "national security threat" has shades of Washington's use of Section 232 tariffs to ban imports of foreign aluminium and steel because they were perceived to contain a national security threat, even though most analysts said they do not.
Johnny Xie, managing director for forensic and risk advisory services at FTI Consulting in Shanghai, pointed to what he calls the "mother law" – China's foreign trade law – which still retains the power to retaliate in reciprocal fashion to export controls, tariffs or any other of punitive trade measures.
"I think the reason they removed the retaliation provision from this draft is that they have already been defined in China's foreign trade law," Xie said. "So in that kind of overarching law, there are several provisions describing how China will defend its own national security against any kind of discrimination or sanctions. You do not need to repeat it in the export control law."
China is also sitting on an unreliable entity list, aimed at punishing companies alleged to have damaged Chinese interests. The list remains unpublished amid progression in the US trade talks, but former White House sources previously briefed the
South China Morning Post
that it was their understanding that it would have been unleashed should the cancelled tariffs due on
December 15
have entered force.
It is unclear what provisions this might contain, but it is possible that it could override existing trade and export laws, although many analysts think that this is China's nuclear option, with regard its trading relations with the US.
"It's my personal opinion that the unreliable list will either never be published and/or those supposedly listed will never be openly under scrutiny," said Zimmerman from law firm Perkins Coie. "Part of the reason Beijing is slow to move forward with the unreliable list is because it does not want to bite the hand that feeds it."
Zhao Deming, a partner at Global Law Office in Shanghai, suggested that the removal of the retaliation clause, combined with the removal of a re-export provision on foreign-made commodities containing China controlled items show a "certain degree of restraint" from Beijing, and a conspicuous distinction from the US.
The decision to drop the re-export provision on foreign made commodities is as much practical as it is symbolic, said Zhao, given the resources required to police all the movements of goods in today's globalised world.
The draft export controls law has been published to solicit comments, with most experts in Chinese law expecting it to come into effect later this year.
Purchase the China AI Report 2020
brought to you by SCMP Research and enjoy a 20% discount (original price US$400). This 60-page all new intelligence report gives you first-hand insights and analysis into the latest industry developments and intelligence about China AI. Get exclusive access to our webinars for continuous learning, and interact with China AI executives in live Q&A. Offer valid until 31 March 2020.
This article appeared in the South China Morning Post print edition as: Draft export control law silent on retaliation over trade war