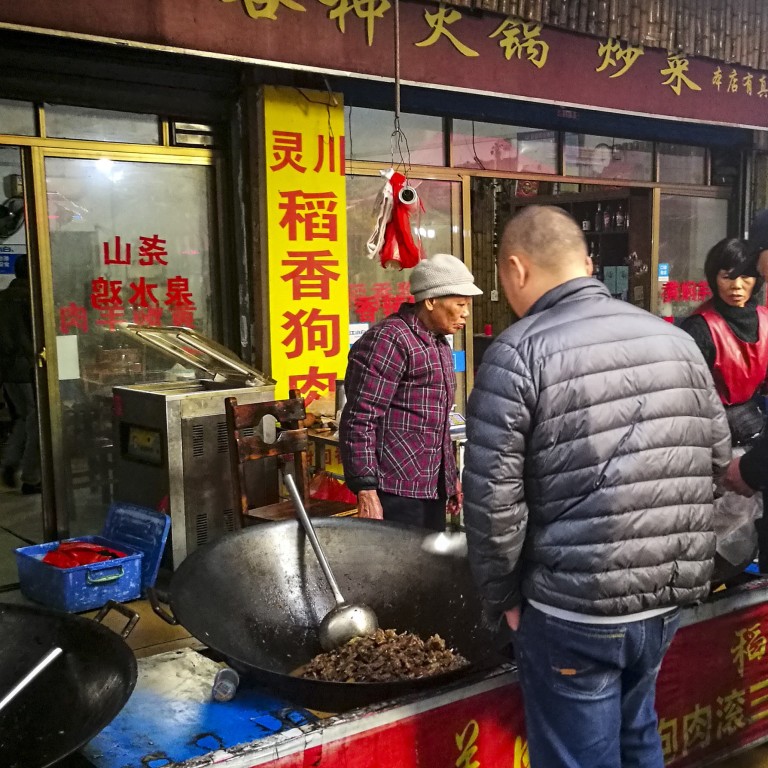 China's pork crisis piques interest in dog and cat meat, as animal activists raise the alarm over illegal slaughter
Some regions of China have a long tradition of dog meat consumption, but African swine fever has boosted interest in an alternative source of protein to pork
Animal rights groups claim that as many as 10 million dogs are eaten each year, claiming that many are stolen or poisoned
At a wet market in Guilin, a city in China's Guangxi province, a pork trader is bemoaning the loss of sales to an unlikely competitor.
"They have taken away a lot of our business this year because now dog meat, as well as cat meat, is cheaper than pork and beef," said the vendor, while pointing at a dog meat stand doing a roaring trade at the city's bustling Ximen fresh market in December.
He is one of the many people in China to have suffered due to an African swine fever crisis which has led to the deaths of up to a quarter of the world's pigs, decimating the
nation's pork supply
, according to research from Rabobank. Since the first reported case in August 2018,
pork prices have soared
, culminating in a year-on-year increase of 110 per cent in November.
"Pork was priced at just 25 yuan (US$3.57) per kilogram last year and now has soared to 60 yuan," said the Guilin dog meat trader, referring to the change since 2018. Prices of other meats have also risen sharply, including chicken, duck and beef, along with other protein sources such as eggs.
The prices of pork and beef were advertised as between 60 and 90 yuan per kilogram in the markets of Guilin. Dog meat was going for 45 yuan per kilogram on average, while cat meat was just 24 yuan per kilogram.
The price differential has allowed Guiilin vendors to report higher sales of
dog and cat meat
, but has also led to concerns among animal rights groups in China that more dogs and cats will be illegally slaughtered to satisfy growing demand.
Some Chinese provinces, from Guangxi on the border with Vietnam to Jilin next to North Korea, have a tradition of eating dog meat that long predates the pork crisis. To many local diners and those breeding the animals for meat, the trade is no different to poultry or pork husbandry, despite the fact that younger generations of Chinese people in wealthier cities more commonly see them as pets, rather than an item on the dinner menu.
The surge in the
price of pork
– by far China's most popular meat – has generated renewed interest in dog and cat meat among less affluent groups in Chinese society, particularly in smaller third and fourth-tier cities and rural counties, according to animal rights groups and field visits by the
South China Morning Post
.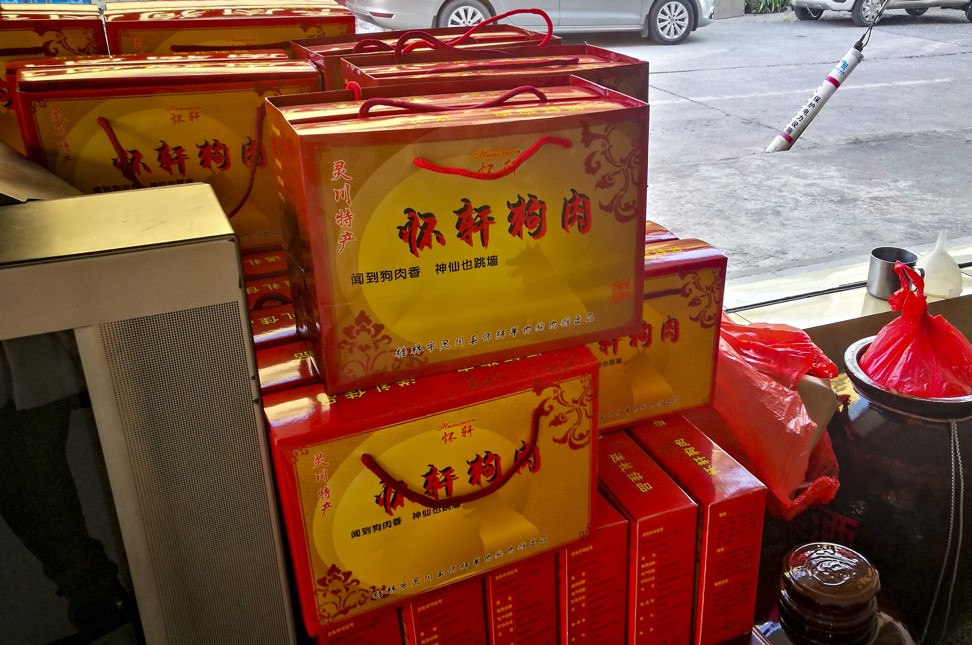 There are no official statistics or third party researchers to offer a comprehensive quantitative picture, but the popularity of dog meat is evident in the marketplaces of Guilin, world-renowned as a tourist destination for its stunning karst mountains and flowing rivers, but known as one of the primary hubs of dog meat consumption in China.
Dozens of restaurants large and small throughout Guilin serve dog meat dishes, stewed or roasted, sliced and served with hotpot. Dog and cat meat stalls are found in almost every local wet market, while it can also be ordered in gift packages online. One shop with stacks of packaged dog meat has a sign claiming that "even the immortal cannot resist the good smell of dog meat".
In these thronging bazaars, dog meat does not feel like a controversial thing to eat. Instead, it is in the mainstream.
"I can sell up to 20 dogs each day, and the bigger stalls can sell more," said another dog meat vendor at the Chengnan wet market in Lingchuan county, on the outskirts of Guilin.
Mao Fenglan, who has owned a shop selling dog meat since 1986, said it is the "best local gift" for those visiting Guilin. "My clients are all over the country, in Guangdong, Jiangxi and Guizhou provinces," Mao said.
Aluminium plates are piled high with dog meat dishes at restaurants scattered around the market, while meat stewing shops attract long queues of consumers.
"Dog meat tastes better than pork. Why not choose dog meat to treat guests, because it's no longer
affordable to order pork
?" said Luo Liu, a local resident in Wanan county, in the landlocked easterly Jiangxi province, where "spicy braised dog meat" has become a popular dish this winter. "I did not eat any dog meat last year but I've eaten it many times at business banquets this winter."
"It's easy to buy dog meat at local wet markets and the price is very affordable compared to pork," said another Jiangxi resident who did not wish to be named.
In China, there are no laws banning the trade or consumption of dog or cat meat. The source of the meat, however, is a common cause of controversy.
Unlike chickens or pigs, there are no industrial-sized dog or cat farms in China. Instead, according to a four-year study by the Animals Asia Foundation (AAF), over 10 million dogs and 4 million cats ended up on Chinese dinner tables every year, with most of them having been stolen or sourced illegally.
There are many local media reports about pets being poisoned, then stolen for meat. In December 2017, Chinese police in Anhui province arrested a gang that sold nearly 200,000 poisonous syringes to dog thieves.
In the same month, a court in Fujian province sentenced a dog thief in a rural village to death with a two-year reprieve for trying to shoot a dog with a poisoned dart but accidentally killing a pregnant woman instead.
In May 2019, meanwhile, a gang of 16 people in Jiangsu province were sentenced to between one and six years in prison for poisoning and stealing dogs, then selling more than 40,000kg of dog meat worth 400,000 yuan (US$57,394).
In the wholesale livestock market and wet markets in Guilin, vendors sell a variety of dog and cat breeds. Some animals were clearly recently kept as pets, given the bell collars still worn around their necks. They are sold live or processed. In some cases, the sellers slaughter the animals in front of the buyers.
Despite the long history of eating dog meat in China, and despite or – perhaps because of – the recent uptick in interest, there is increasing disdain among some residents in Guilin, who view it as cruel and barbaric.
"Hundreds of cats and dogs are eaten here in Guilin every day during the peak winter season, and we are so worried because we are actually seeing local people eat more dog and cat meat than in previous years because of the sharp rise in the price of pork," said Guilin resident Lisa Gao.
A worker at a Chinese animal rights group, who declined to be named, claimed that there are health concerns associated with the trade, given the illicit trade in poisoning and stealing pets. "The public and authorities need to be alert to the food safety problems with dog and cat meat," they said.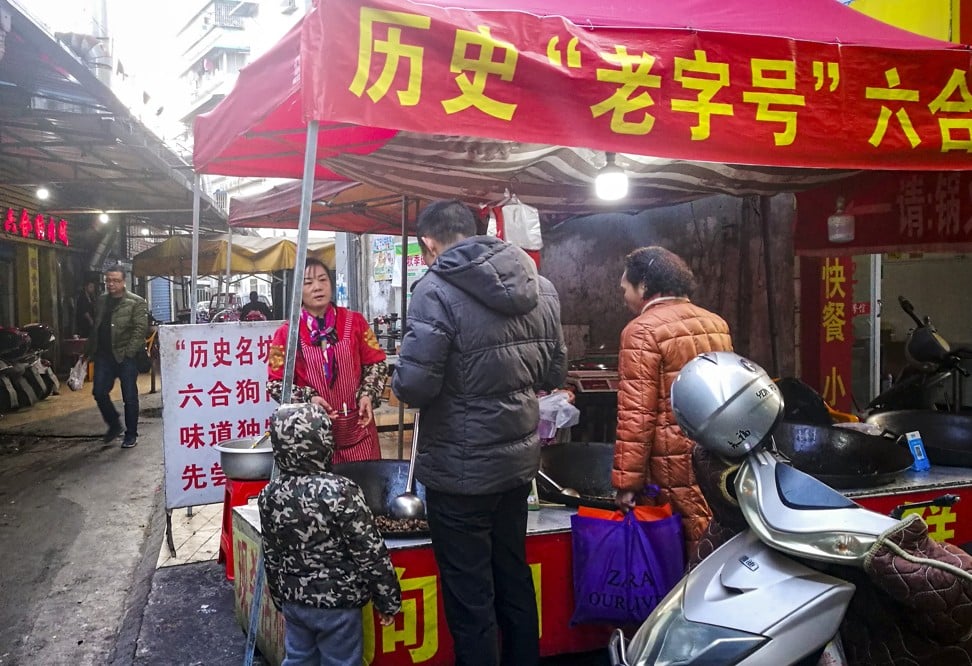 Zhang Hongbo, the founder of Shenzhen Cat, a non-government cat protection agency based in the Guangdong city, said there are signs of a "rise in dog and cat meat consumption, though we have no idea if it's just a limited and short-term phenomena".
There is a strong lobby in China against the slaughtering of dogs and cats for meat. For instance, the city of Yulin in Guangxi has been hosting a dog meat festival every June for the last 10 years, with around 10,000 dogs slaughtered each year. Animal rights activists protested, leading to clashes with local dog meat vendors.
Meanwhile, a growing number of Chinese families are taking in dogs and cats as pets. China had about 168 million pets in 2018, most of them dogs or cats, with the number expected to rise to 248 million by 2024. The "pet economy", namely food and care products, is one of the fastest growing sectors in China.
Research from CBN Data found that the industry was worth over 172.2 billion yuan ($24.71 billion) in 2018.
The Chinese government, for now, is not taking sides and in Guilin, the dog and cat meat trade continue to thrive.
"To engage in food production, food sales, and catering services, a license must be obtained in accordance with the law," the city's market regulation department said in a statement in April. "However, no license is required to sell edible agricultural products. Dog meat is an edible agricultural product [so] no license is required to sell dog meat."
This article appeared in the South China Morning Post print edition as: dog meat vendors feed on crisis as pork prices soar