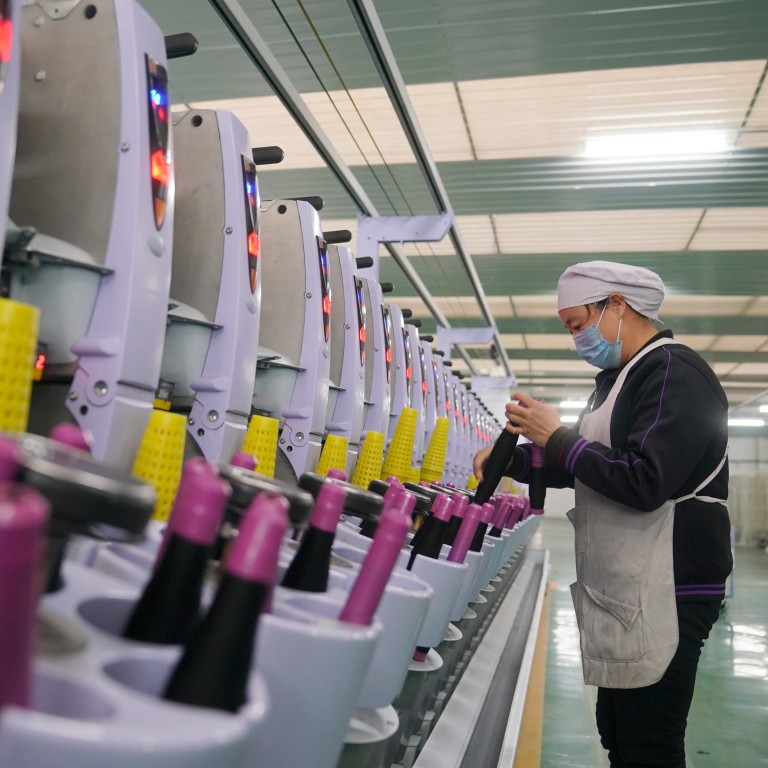 China to 'trigger the vigour' of manufacturers hit by US trade war
State Council says it will move to 'trigger the vigour' of the sector and boost small and private enterprises
Shipments of merchandise to the US fell sharply in the first 11 months of last year as tariffs took their toll
Beijing has promised to extend more relief measures to manufacturers hit by the US trade war as it moves to promote the sector and ensure steady growth this year.
At Friday's State Council meeting, headed by Premier Li Keqiang, the manufacturing sector was praised for"fundamentally supporting" economic growth.
"[We] must resort to reforms and market-oriented measures to fully trigger the vigour of market entities," the cabinet said.
Merchandise shipments to the United States dropped 12.5 per cent in the first 11 months of last year as tariffs took their toll, while overall exports fell by 0.3 per cent over the same period.
Domestically, the lowest growth rate in almost three decades also weighed heavily on manufacturers, with national industrial profits falling by 2.1 per cent in the January-November period. Industrial output growth also fell by 0.7 percentage points to 5.6 per cent.
The authorities said they would focus on cutting fees levied on the manufacturing sector this year, including measures to reduce telecoms surcharges and cut power costs by allowing business to trade with power generators.
The move follows last year's corporate tax cuts worth 2 trillion yuan (US$287 billion), including a 460 billion yuan reduction from reforms to value added tax.
Li's cabinet also plans to offer more support for small and private businesses, which employ a majority of the workforce.
"[We] will implement a differentiated credit policy, encouraging medium and long-term lending, equity and bond financing to manufacturing," according to the statement.
The People's Bank of China cut the required reserve ratio on commercial banks by 50 basis points earlier this week, releasing 800 billion yuan of liquidity into the market and further cuts are also expected.
However, Nomura China economist Lu Ting warned in a research note that small enterprises and exporters faced continued difficulties despite recent positive signs such as the phase one trade deal with the US and rising industrial profits.
Lu cited the Caixin manufacturing purchasing managers' index, which eased to 51.5 in December from 51.8 in November, and said: "The employment sub-index edged down to 50.0 in December from 50.1 in November, signalling still-strong headwinds to employment amid weakening domestic demand and still-elevated uncertainty over the US-China trade dispute."
The trade war is believed to have cost millions of manufacturing jobs, and businesses also face a range of other problems, including rising wage and land costs and increased competition from neighbouring countries.
Chinese authorities have pledged to remove barriers for private and foreign investors, and encourage industry to move to inland provinces.
The Ministry of Industry and Information Technology has listed advanced manufacturing, electronification projects and new energy vehicles as key areas for 2020, saying last week: "We will focus on stabilising manufacturing investment and guiding capital into areas where there are multiplier effects."
This article appeared in the South China Morning Post print edition as: Fresh raft of relief measures aim tolift manufacturers