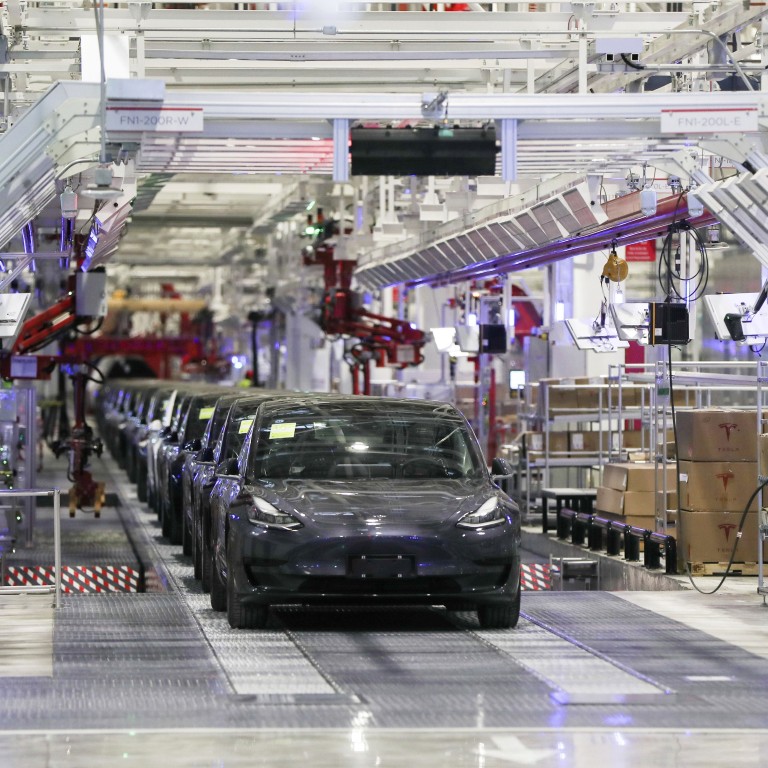 China's updated Anti-monopoly Law aimed at further protecting foreign firms criticised for not doing enough
Amendments to China's Anti-monopoly Law, which are under public review this month, include increasing penalties and obliging police to assist with investigations
China has been accused, particularity by the United States, of not protecting the interests of overseas firms while favouring state-owned enterprises
China's proposal to amend its Anti-monopoly Law is aimed at creating a better business environment for private and foreign businesses, but critics say weak and nontransparent enforcement remain a key issue.
The amendments, which are under public review during January, include imposing an obligation on China's police to assist in antitrust investigations, while also increasing the penalty for failing to report a merger for review from a maximum of 500,000 yuan (US$72,000) to 10 per cent of the companies' revenue from the previous year. It also includes the setting up of a review process to prevent the government from introducing polices that restrict competition.
"Amending the monopoly law, in particular, cracking down on the abuse of administrative power to eliminate or restrict competition, and increase antitrust investigations and penalties is to
create fair competition
in the market," said Zhen Tao, a Shanghai-based lawyer.
"It's more important for foreign companies because what foreign companies need most in the domestic market is a fair environment for competition and legal protection."
Before the establishment of the State Administration for Market Regulation in March 2018, the enforcement of the law involved a complicated split between three government branches, including the Ministry of Commerce, which weakened the enforcement of the regulation that had been in place since 2008.
The law has previously been criticised for targeting foreign companies partly because almost all merger and acquisition cases that the Ministry of Commerce banned or approved with extra conditions were related to foreign companies. This inevitably led to speculation that the authorities were applying different standards, including unconditionally approving cases such as mergers launched by
state-owned enterprises.
This speculation stemmed from the a lack of public disclosure, with Liu Xu, a researcher from Tongji Intellectual Property and Competition Law Research Centre, claiming that most of 2,142 merger cases unconditionally approved under antitrust reviews from 2008 to the end of June in 2018 were completed without disclosing the full text of decisions and any relevant evidence.
The state-run People's Daily reported in 2018 that the authorities imposed 11 billion yuan (US$1.6 billion) of penalties in total for violating the law since its inception in 2008, with two thirds involving four foreign companies, namely Qualcomm, Mercedes-Benz, Tetra Pak and General Motors.
"It's hard for China to refute foreign accusations that China 's antitrust enforcement is unreasonably preferential," Liu said.
The addition of a "fair competition review" that prevent the government from introducing polices that restrict competition though, remains unclear as to who will enforce the amendment and what would be covered, including government subsidies or other preferential conditions offered to local firms.
"The Anti-monopoly Law already has provisions prohibiting the abuse of administrative powers, and it is the freedom of the government to check it beforehand. Shouldn't the investigation and disclosure of such cases be the key?" Liu added.
Last year, the State Administration for Market Regulation ruled zero case on the abuse of administrative power to limit market competition, based on official reports.
At a local level, the Shandong branch of the administration said it investigated five cases without further elaboration. Cases that could be investigated could include officials ordering government purchases only from suppliers recommended by local industry associations.
Purchase the China AI Report 2020
brought to you by SCMP Research and enjoy a 20% discount (original price US$400). This 60-page all new intelligence report gives you first-hand insights and analysis into the latest industry developments and intelligence about China AI. Get exclusive access to our webinars for continuous learning, and interact with China AI executives in live Q&A. Offer valid until 31 March 2020.