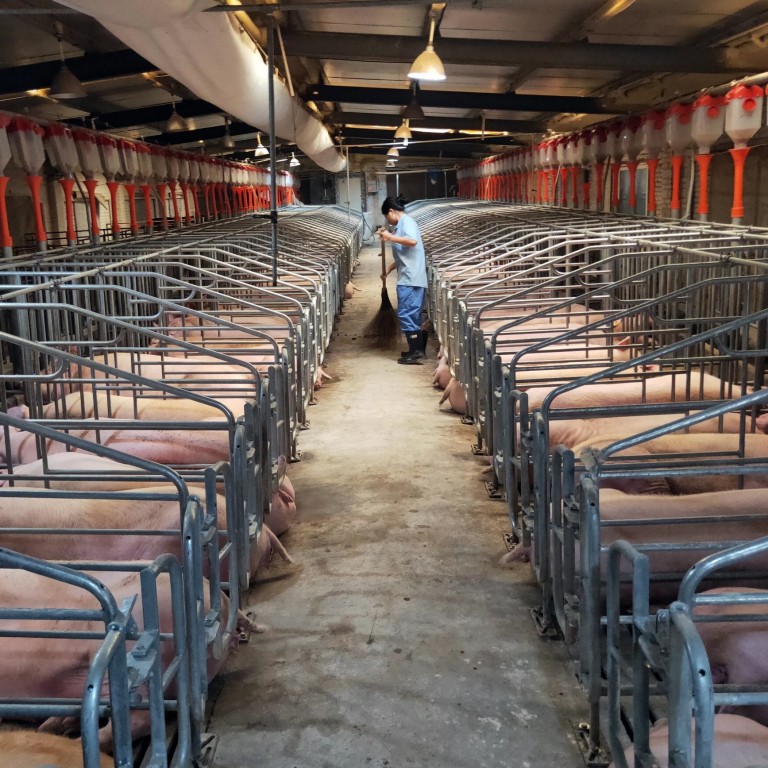 China's pork price rockets 97 per cent in December, keeping inflation at eight-year high
Pressure increases on Chinese government to arrest pork crisis amid African Swine fever outbreak, with Lunar New Year approaching, where pork is a vital dish
The consumer price index (CPI) rose by 4.5 per cent in December, while the producer price index (PPI) continued to fall, dropping by 0.5 per cent last month
China's consumer inflation rose by 4.5 per cent from a year earlier in the last month of the decade, amid an African swine fever crisis which sent pork prices soaring by 97.0 per cent year on year.
Last month's increase in the consumer price index (CPI) was flat from
November,
which was the highest since January 2012, and below an analyst poll by Bloomberg, which forecast 4.7 per cent growth.
Within the CPI, food prices rose by 17.4 per cent in December from a year earlier, with pork prices nearly doubling, new data released by the National Bureau of Statistics (NBS) on Thursday showed. Prices for beef, mutton, chicken, duck and eggs rose between 7.3 per cent and 20.4 per cent, while vegetable prices were also up 10.8 per cent.
Non-food prices rose 1.3 per cent, while consumer goods prices rose 6.4 per cent and services prices increased 1.2 per cent.
China's producer price index (PPI), the price manufacturers charge at the factory gate, remained in contraction for the sixth consecutive month at minus 0.5 per cent year-on-year in December, from minus 1.4 per cent in November. The figure was in line analysts' forecasts of minus 1.4 per cent.
"Moderating food price inflation took the pressure off consumer price inflation while producer price deflation eased thanks to base effects and an increase in energy prices. The big picture is that demand-side pressures remain subdued, leaving ample space for policymakers to ease monetary policy," said Julian Evans-Pritchard, senior China economist from Capital Economics.
Prices have been shrinking as China's economy slows, with exporting companies feeling the pinch of a
trade war with the United States
which has seen hundreds of billions of US dollars worth of tariffs slapped on Chinese goods.
But it is consumer inflation that will cause the more severe headache in Beijing. The Lunar New Year will be celebrated early this year, at the end of January.
Pork
traditionally forms a key part of family meals and business banquets. This year, many families in China will be hard pushed to put pork, by far the most widely-eaten meat in China, on their dining tables.
The 97 per cent gain in the price of pork was still slower that the 110.2 per cent expansion in November.
"The tight supply of pork has further relaxed, with the positive changes in the pig production, the releases of the central and local frozen pork reserves, and increased imports," Shen Yun, a senior statistician at the NBS, said in a statement.
Since the first outbreak in August 2018, African swine fever – which is deadly for pigs but harmless to humans – is estimated to have wiped out up to 200 million pigs through disease or cull, about a quarter of the world's pig population.
"Consumer price inflation held steady at 4.5 per cent last month. This was the result of food inflation moderating: pork price inflation fell from 110 per cent year on year to 97 per cent and actually contracted the most month on month since March 2018. This, together with the pig supply – which jumped the most in a decade last month – adds credibility to official statements that African Swine Fever has come under control," added Evans-Pritchard from Capital Economics.
"This suggests that seasonal swings around Chinese New Year aside, pork prices should continue to trend down in the coming quarters. Even if food prices remain unchanged, and non-food inflation was constant, headline inflation would drop back to 2 per cent year on year by September."
At a press conference in Beijing on Wednesday, China's vice-agriculture minister Yu Kangzhen said that the
African swine fever
situation "is still severe and complex", and that "the risk of outbreaks will rise with the rapid increase in the number of live hogs", as farmers try to replace those pigs which have perished.
According to Yu, China's sow herd rose 2.2 per cent in December compared with November.
However, experts have said that the disease is preserved by cold weather and as such, further cases are likely over winter. Particularly in China's freezing north, farmers are less inclined to clean their vehicles during the winter months, meaning the swine fever can be more easily transported from farms to slaughterhouses.
"So the
disease is being spread
on the motorways just as it was a year ago. There's no reason to think that it's over with," E. Wayne Johnson, a veterinary surgeon consultant at Enable AgTech Consulting in Beijing, said in a recent interview.
Further pressure on consumer inflation this year could come in the form of oil prices, which spiked 5 per cent as Iran and the US launched air attacks at respective targets. While China has dramatically reduced its dependence on Iranian oil since last year, since new US sanctions came into place, it still buys heavily from Middle Eastern countries including Saudi Arabia, Iraq, Oman and Libya.
Should Iran move to block the strategically vital Strait of Hormuz, as it has threatened to do in the past, then China would be choked from crucial energy stocks used widely for transport and in the utilities sector.
While the government has not confirmed its
inflation target for 2020
, recent reports indicate that it will shoot for something in the range of 3 per cent, the same as 2019. This is despite the pressure on consumer prices from pork and energy.
Overall, China's CPI increased by 2.9 per cent in 2019, within the official target range, Thursday's NBS data showed.
A fuller picture of the Chinese economy will be available next week, when the NBS releases its
economic growth for 2019,
as well as export and import data for December.
Also next week, US and Chinese negotiators are expected to meet in Washington to sign the
phase one trade deal,
which will mark a truce in the near-18 month trade war.
This article appeared in the South China Morning Post print edition as: Mainland inflation stays at 8-year high as pork prices soarMainland inflation stays at 8-year high as pork prices soar