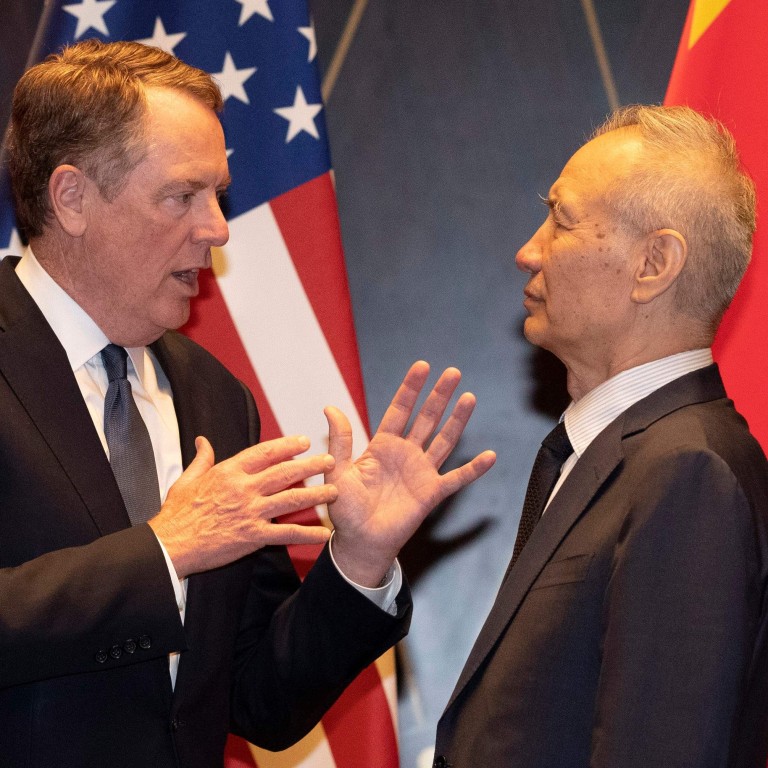 Trade war: China to send Liu He to US to sign phase one deal next week but phase two talks remain remote
China's Ministry of Commerce confirmed on Thursday that Vice-Premier Liu He will travel to Washington on Monday to sign the phase one deal with the United States
Spokesman Gao Feng said there was no information to provide regarding talks over a phase two deal
China has confirmed it will send a delegation led by Vice-Premier Liu He to sign the phase one deal with the United States next Monday, but showed progress on the second phase of negotiations would not materialise any time soon.
Ministry of Commerce spokesman Gao Feng said at a press conference in Beijing on Thursday that Liu "will lead a delegation to visit Washington from January 13 to 15 to sign the phase one deal with the US". At the same time, Gao said China has "no information" to provide on the phase two talks.
Liu's trip had been arranged following "an invitation by the US", the spokesman said, though the vice-premier will not bear the title of "special ambassador of President Xi Jinping", and will instead travel to Washington as "a Politburo member, Vice-Premier and the China side leader for China-US comprehensive economic dialogue".
The
South China Morning Post
reported on Sunday that Liu had
postponed his trip to Washington
by eight days to January 13 after US President Donald Trump published a tweet on New Year's Eve that he would sign the deal on
January 15
at the White House.
The tweet had surprised officials in Beijing, with China only revising its plans to accommodate Trump's plan following "a full afternoon's discussion", the Post reported.
Gao did not confirm that China had changed its plans or provide details of a proposed
phase two part of the trade deal
, despite Trump also tweeting that "At a later date I will be going to Beijing where talks will begin on Phase Two!"
But at the same time, Gao said the two countries' negotiating teams are still "communicating closely" over the specifics of how to sign the deal.
China has been relatively guarded over how the interim deal will be signed compared to the US side, reflecting that officials in Beijing are less enthusiastic than their American counterparts about signing the agreement.
The deal is expected to see China significantly boost purchases of US agricultural products in exchange for the US scaling back some of its existing tariffs on Chinese products. However, China has not confirmed any specific numbers about agricultural product purchases.
Han Jun, a key member in China's negotiation team and a deputy agriculture minister, was quoted this week by the Chinese magazine Caixin as saying that China has no intention of changing its grain import quota system, a decision that analysts say could make it hard for Beijing to meet US demands that it buy an additional US$80 billion in American agricultural goods over two years.
Gao said China's grain import quota system was "not contradictory" to the country's plan of boosting US imports.
Huo Jianguo, the former head of a think tank under China's Ministry of Commerce, said the signing of the phase one deal will only "temporarily ease of tensions" in bilateral trade relations because some punitive US tariffs will remain.
Huo said the phase two talks will be even more difficult than the phase one deal because the next stage of negotiations will involve structural issues concerning China's economy that required deeper reforms from Beijing, including changes to industrial policies, subsidies and higher-level opening-up - all of which were much more difficult for Beijing and Washington to achieve a consensus on.
"All the difficult parts were pushed to the phase two negotiation ... and it will be more difficult to reach agreement," Huo said. "There is no exact information about the agenda of the phase two negotiation, neither from China or the US."
Larry Hu, chief China economist at Macquarie Capital in Hong Kong, said China was less eager to sign a deal than the US.
"The Trump administration has a presidential election to run but the Chinese government doesn't," Hu said.
Purchase the China AI Report 2020
brought to you by SCMP Research and enjoy a 20% discount (original price US$400). This 60-page all new intelligence report gives you first-hand insights and analysis into the latest industry developments and intelligence about China AI. Get exclusive access to our webinars for continuous learning, and interact with China AI executives in live Q&A. Offer valid until 31 March 2020.
This article appeared in the South China Morning Post print edition as: China to send team to the US on Monday to sign deal