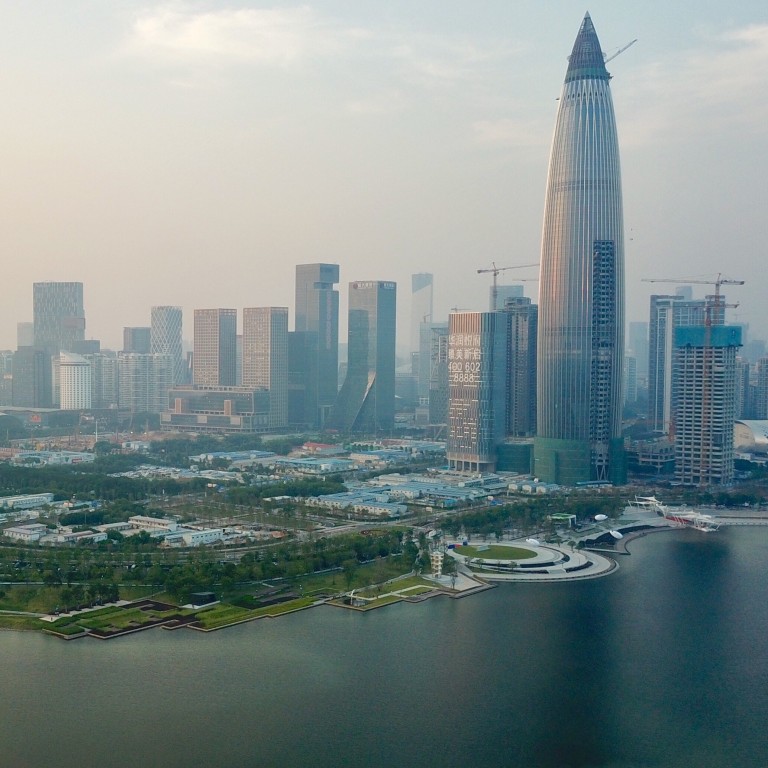 China's tech hub Shenzhen set to hit 2019 growth target after surprising fourth quarter rebound amid trade war
Shenzhen's gross domestic product (GDP) is estimated to reach over 2.6 trillion yuan (US$374 billion) in 2019, a growth rate of 7 per cent
But the home of technology giants Tencent, Huawei, and DJI is set to lower its 2020 growth target to 6.5 per cent from 7.0 per cent in 2019
Shenzhen's economy is set to have expanded by 7.7 per cent in 2019, with a surprising rebound in the fourth quarter helping the home of technology giants Tencent, Huawei, and DJI reverse a rapid deceleration earlier in the year to meet its target, according to the mayor of the southern Chinese city.
The city's gross domestic product (GDP) was estimated to reach over 2.6 trillion yuan (US$374 billion) in 2019, which would meet its growth target, the city's mayor Chen Rugui told the annual local legislature meeting that began on Wednesday.
At the same time, Shezhen lowered its 2020 growth target to 6.5 per cent from 7.0 per cent in 2019.
In 2018, the city's GDP reached 2.42 trillion yuan, surpassing Hong Kong for the first time, however, for most of 2019, Shenzhen's economic growth fell faster than the rest of China. In the first nine months of last year,
Shenzhen's GDP
grew by 6.6 per cent year to date.
Local governments do not release quarterly year-on-year growth figures, but economists from China International Capital Corporation said Shenzhen's economy grew 5.2 per cent in the third quarter of 2019 having grown 7.6 per cent and 7.2 per cent in the first two quarters.
The sharp fall raised concerns that one of China's frontline areas of innovation and opening up was losing its growth potential and escalated concerns over the
country's overall economic performance
for the coming year.
Shenzhen
is heavily reliant on trade to boost its economy, and in 2018 the total value of its trade was 1.23 times its overall GDP, meaning the city has been particularly vulnerable to the
trade war
between China and the United States.
During the first three quarters of last year, Shenzhen's exports increased by 4.8 per cent, having declined 2.4 per cent in the same period of 2018, according to official data.
Shenzhen's imports, though, fell 9.3 per cent in the first three quarters compared to an increase of 28 per cent a year earlier, meaning the overall value of total trade dropped 1.8 per cent to 2.1 trillion yuan (US$302 billion).
It remains unclear why the city's growth rebounded at the end of 2019 since the government has not yet released its annual economic report.
"Shenzhen is very integrated into China's [and the global] supply chains of manufacturing and tech products, so changes in the macro climate can have a visible impact on Shenzhen's economy," said Aidan Yao, a senior emerging Asia economist at AXA Investment Managers.
"Hence, I think the recovery in fourth quarter could be driven by the trade and manufacturing pickup as well as what appears to be a revival in the tech cycle."
The trade war has expedited the relocation of manufacturers from Shenzhen to other surrounding cities in Guangdong province that have a relatively cheaper cost of operation.
Last year, the Shenzhen government said 192 firms moved out of the city from 2016 to 2018, close to 40 per cent from the key electronic manufacturing sector.
Shenzhen
is home to some of China's biggest technology firms including Tencent, Huawei, and DJI, with advanced manufacturing contributing more than 70 per cent of the city's industrial output.
The sector in Shenzhen grew 7.2 per cent in the first three quarters of 2019, but slowed to 5.6 per cent by the end of November, according to the latest data.
Shenzhen's success has relied on a thriving private sector, but in the first three quarters of 2019, private investment grew by just 3 per cent from a year earlier, compared to 11.7 per cent in 2018.
In response to the decline, in November the government sought to woo global investors by offering a 30 sq km plot of land mainly to be used in the hi-tech industry.
Purchase the China AI Report 2020
brought to you by SCMP Research and enjoy a 20% discount (original price US$400). This 60-page all new intelligence report gives you first-hand insights and analysis into the latest industry developments and intelligence about China AI. Get exclusive access to our webinars for continuous learning, and interact with China AI executives in live Q&A. Offer valid until 31 March 2020.
This article appeared in the South China Morning Post print edition as: Shenzhen tech hub set to meet growth target