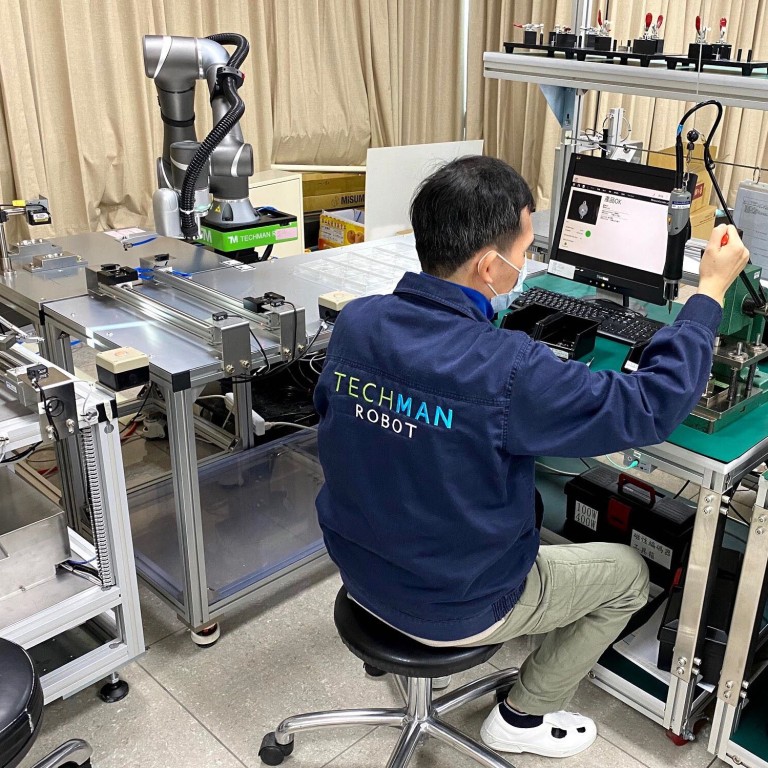 Taiwan manufacturers come home from China, as trade war feeds into economic debate at election
Government in Taipei has rolled out the red carpet for manufacturers looking to avoid US-China trade war tariffs, acting as a boost to the economy
Economic impact of returning companies a cause of debate in Taiwan's election campaign, with opposition party the Kuomintang claiming it has been exaggerated
Against a bright blue sky, a crane is busy laying a foundation for a building site in Taoyuan, a city near the Taiwanese capital of Taipei that is home to many of the island's hi-tech manufacturers.
A few hundred metres away, a light brown fog of dust and exhaust fumes rise from the site, the smell permeating the air. When finished, this hub of construction activity will be home to a NT$950 million (US$31.6 million) production complex for Quanta Computer, the world's largest original design manufacturer of notebook computers, its third in the area.
Quanta moved production of its computer servers out of China and back to Taiwan at the end of 2018, part of a flurry of Taiwanese companies relocating back home, spurred by the prospect of
US trade war tariffs
which made exporting to America prohibitively expensive.
However, only a handful of those companies will have made a mark on
China's economy
like Quanta, whose Shanghai entity was at one point was the mainland's second largest exporting company. Its partial withdrawal from China, then, is particularly symbolic among the wave of Taiwanese companies that are relocating.
In order to start production right away, however, Quanta had to ask for help from a subsidiary company, Techman Robot, which had to vacate its facility so that Quanta could move in.
"Quanta didn't have any production facilities in Taiwan two years ago, as it had gradually moved production lines to mainland China over the past decades. We sort of gave them our facility overnight, and we needed to find a new facility on our own," Scott Huang, the chief operating officer at Techman Robot told the South China Morning Post.
As the only Taiwan-based manufacturer of collaborative robots – machines designed to work with people – Techman provided about 100 robots to Quanta for its production line. This shows another common and vital factor in the return of Taiwan's manufacturers: the need to use
robots to replace
human labour.
"It is impossible for labour intensive manufacturers to exist in Taiwan as we have such a small population," Huang said. "Of course, we can import labourers from Southeast Asian countries, but that can only be a short-term solution. From a long-term perspective, manufacturers must adopt large-scale automation."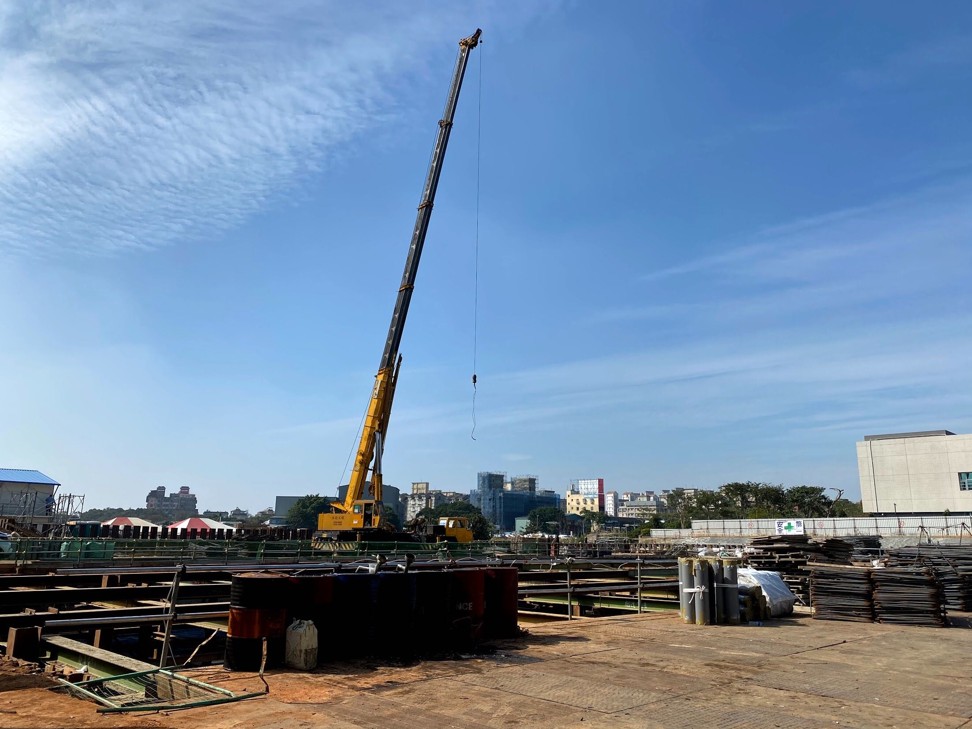 As is the case in many developed countries, young people in Taiwan are reluctant to work in factories, making it difficult to staff production lines. Furthermore, compared to other manufacturing hubs in Asia, Taiwanese workers are expensive.
The Post
previously reported that in a
Foxconn factory in China
, workers earn a base salary of about 2,000 yuan (US$287) a month, which they supplement with long hours of overtime. Meanwhile, another company that recently fled China to avoid US tariffs, the Hong Kong furniture maker Man Wah Holdings, was offering
staff in Vietnam
8 million Vietnamese dong (US$340) per month in 2018, the company said.
Taiwanese workers, on the other hand, earn about NT$30,000 (US$998) per month without working overtime, said Mr Wu, the manager of Techman's factory, who has spent 16 years working for the Quanta Group, and who preferred to give his family name.
In addition to moving its plant from China, Quanta announced in November that it had acquired an 11,000-ping (36,355 square metre) property in Taoyuan worth NT$4.28 billion (US$142.4 million) to establish an artificial intelligence laboratory.
This sort of expansion is music to the ears of the Taiwanese government, which in 2019 launched a three-year action plan to lure Taiwanese firms back home. The name of the programme translates from Chinese as "Taiwanese firms' repatriation".
As part of the drive, a new body, InvesTaiwan, was established under the Ministry of Economic Affairs (MOEA) to help the returnees secure land, water, electricity, labour and financing, as well as tax breaks.
"The term 'repatriation' could be easily misunderstood. The government programme is specifically aimed at cutting investment in China and bringing it home. However, such straightforward language would not work in the current political climate, that's why 'repatriation' is used as a more neutral expression," said Ma Yu-Chun, assistant research fellow at the Chung-Hua Institution for Economic Research, a Taipei-based government think tank.
"There are prerequisites to the government plan, which many people fail to realise. To be entitled to government incentives, the repatriating companies must have invested in the mainland for at least two years and must have been affected by the US-China trade war, and must have
intelligent manufacturing technologies
," Ma added.
The government of Tsai Ing-wen has been loudly trumpeting the stream of Taiwanese companies coming home. As of December 27, the MOEA claimed that it had approved investment applications from 165 enterprises worth NT$712.1 billion, creating 58,918 new jobs.
However, Tsai's exuberance has been questioned by the Kuomintang (KMT), Taiwan's major opposition party, which is regarded as the primary pro-China force in island politics, and which claimed the ruling Democratic Progressive Party has exaggerated the trend.
As such, the repatriation has become a hot topic of debate between Taiwan's two main political parties ahead of Saturday's presidential election. Caught between Beijing and Taipei, repatriating manufacturers are cautious in what they say, since many still maintain facilities in China.
At an MOEA meeting last year, former government official Chiou Jiunn-rong was shown a long list of Taiwanese firms wishing to repatriate, but asked that their names not be disclosed publicly. "Taiwanese companies were having concerns because they still have facilities in China," said the former deputy minister of Taiwan's National Development Council, the policy-planning agency.
Rising costs in China led to a small number of manufacturers returning to Taiwan starting in 2015, but the trend really gathered momentum after
the trade war
began in July 2018, Chiou said in an interview with
The Post
.
Many of these companies already had factories in Taiwan, which they simply expanded rather than starting from scratch. Due to the difficulty in quickly sourcing land, some refitted facilities that were previously staff basketball courts or car parks.
The repatriation programme addresses a key obstacle for the local economy: a low ratio of investment to gross domestic product. This has become one of the "biggest problems for Taiwan's economic growth", Chiou said.
"It has not exceeded 20 per cent since 2001 and is much lower than South Korea and China, so in the short term, Taiwan's economy will be boosted by the repatriation," Chiou added.
The repatriation trend has also been a significant boost to
Taiwanese exports
to the US, which grew by 17.17 per cent in 2019, according to Taiwan Ministry of Finance. The US now accounts for 14.05 per cent of Taiwan's exports, up from 11.82 per cent in 2018.
It also marks a reversal of a long-term trend where Taiwanese producers – like those from around the world – have capitalised on China's manufacturing conditions to become globally competitive.
From the initial wave of investment in the 1990s, the influx of Taiwanese companies into China peaked in 2010, with total investment of US$14.6 billion.
Quanta, which provides assembly services to clients like Dell, Sony and Lenovo, began relocating its manufacturing facilities to the mainland in 2000, developing three "
manufacturing cities
" in Shanghai, Chongqing, and Changshu in Jiangsu province.
At its peak in 2006, its Shanghai manufacturing compound employed over 30,000 workers, and was officially recognised as China's second largest exporter in 2005 by the Ministry of Commerce.
But Quanta's luck in the mainland ran out in 2008, the global financial crisis hit Chinese exports, while a shrinking labour force and rising wages led to rising employment costs.
The company also created some of its own problems. In 2014, China Labour Watch reported multiple cases of misconduct at the Shanghai plant, including compulsory overtime, and "insulting" management of workers. Hundreds of workers went on strike at the plant the next year, while the Shanghai authorities began to view its low-end manufacturing jobs as a liability rather than a strength.
The trade war came at a time when rising costs and administrative issues in China were already causing many Taiwanese companies like Quanta to look elsewhere.
The MOEA approved 496 applications for investment in mainland China between January and October 2019, worth US$3.2 billion. The value of investment was down 53.88 per cent on 2018 levels, the first year of the trade war. The figure may not include some small businesses or investments made through Hong Kong or offshore companies.
However, many have learnt that leaving China is not always easy, since local governments are loath to lose the tax revenues and employment.
"The majority of the repatriating firms are electronics manufacturers, which also formed the majority of Taiwanese investment in China in the past. If they withdraw their investment, the Chinese authorities could ask them to pay back all the previous tax exemptions," said Ma Yu-Chun of the Chung-Hua Institution.
Revital Shpangental is CEO of Taipei-based Anemone Ventures, a consultancy that helps tech companies set up in Taiwan. She said the trade war has helped attract more interest in doing business in Taiwan, but that there are major concerns over whether the Taiwanese electric power infrastructure can deal with the influx.
"Taiwan is also struggling to maintain its professional talent. Taiwan needs to think beyond Taiwan, it needs to be a hub for international companies wanting to deploy their products and services to Asia. It still has an island mentality. In my opinion, Taiwan could be a global hub if it tackled a lot of the issues that it still has," said Shpangental.
"How sustainable is the repatriating? Nobody knows, because if there's a new US president and tariffs are off, will everybody return to China?" she continued. "My thinking is that Taiwanese companies would definitely want to have a very strong footprint in China and continue to dance at both weddings."
This article appeared in the South China Morning Post print edition as: taiwan manufacturers welcomed home