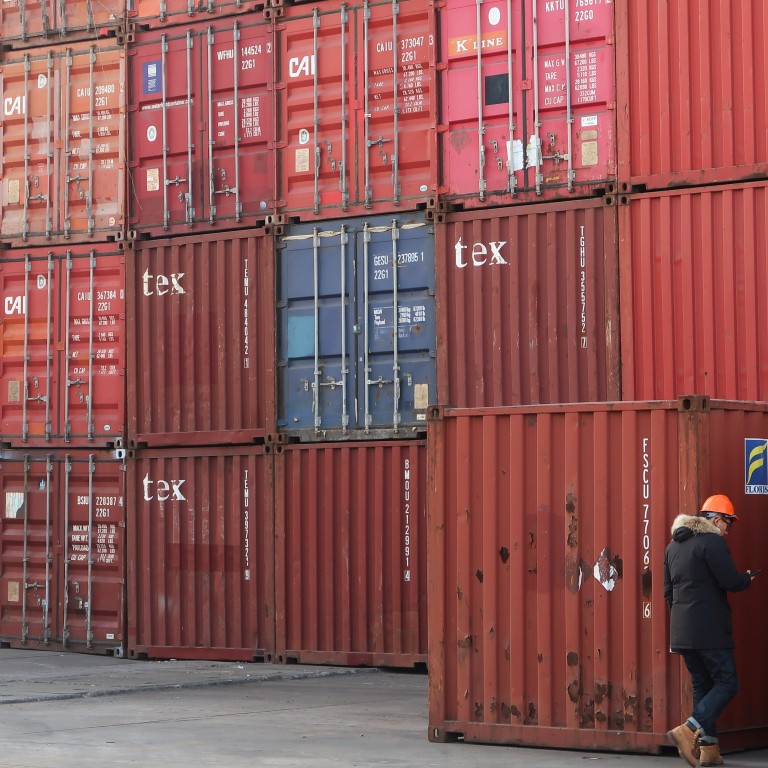 China's imports from the US fell by a fifth in 2019, as trade war stripped away demand
China's imports from the US dropped to US$122.7 billion in 2019 amid an intensified trade war, China customs data released on Tuesday showed
China must engineer a significant rebound in imports to realise its promises to buy US$200 billion in additional US goods and services in phase one trade deal
China's imports from the United States plunged 20.9 per cent in 2019 from a year earlier, after a calendar year dominated by US President Donald Trump's trade war tariffs.
Data from China's General Administration of Customs released on Tuesday showed that
China's imports of US goods
dropped to US$122.7 billion in 2019 from a level of US$155.1 billion in 2018 and US$154 billion in 2017.
This means that Beijing would have to more than double its imports to meet US demands for US$200 billion in additional purchases of American goods and services over the next two years.
The South China Morning Post
and POLITICO reported that
China has agreed
to meet the lofty target by buying around US$75 billion in manufactured goods, US$50 billion of energy, and US$40 billion in agricultural products, plus US$35 billion to US$40 billion in services.
A combined US$165 billion pledged purchase of manufactured goods, energy and farm products would translate to a steep rise in China's US imports. Even if half of the promised purchases are made in 2020, China's imports from US would surge by 67 per cent from 2019.
China's exports to the US dropped 12.5 per cent last year to US$418.5 billion, leaving China with a trade surplus that was 8.5 per cent smaller than it was in 2018.
At the same time, China's US surplus still accounted for 70 per cent of its total trade surplus last year, reflecting the importance of US trade to China's economy.
The bilateral trade figures, which differ slightly from Washington's calculation, were published with the two countries on the verge of signing an interim trade deal that will de-escalate to a costly trade war. Vice-Premier Liu He has arrived in Washington to
sign the deal
on January 15, which will see the US scale back some tariffs in exchange for China's purchase agreements and concessions over intellectual property protection, market access. and forced technology transfer.
Zou Zhiwu, a deputy minister in China's customs administration, told a press conference in Beijing on Tuesday that China has resumed imports of US soybeans and pork, after issuing successive waivers for private purchasers of the commodities in the last month of the decade. Indeed, soybean imports last month reached their highest point since May 2018, before the trade war began.
Despite this, China's imports of US goods in December were valued at only US$11.2 billion, or an annualised amount of US$134.4 billion.
The phase one deal between Beijing and Washington has led many to suggest China runs the risk of alienating and frustrating other trading partners.
"Will China's increased imports from the US following a phase one deal affect other countries and regions selling products to China? I I do not think so because China has a huge market," said Zou, the customs official. However, many analysts have disagreed with this view.
Huo Jianguo, the former head of the Chinese Academy of International Trade and Economic Cooperation, a think-tank affiliated with China's Ministry of Commerce, said Beijing is still willing to import from
other trading partners
and that it would be "a bit awkward" for China to say that it only wants to buy from the US.
Shen Xinfeng, an analyst at the Northeast Securities, a brokerage in China, wrote in a research note that the US$200 billion purchasing demand is easier to deliver than a previous US demand to narrow the bilateral trade deficit by US$200 billion.
According to US calculations, China's imports of American goods and services was US$185.8 billion in 2017, a figure used as the base for the additional US$200 billion in purchases.
Purchase the China AI Report 2020
brought to you by SCMP Research and enjoy a 20% discount (original price US$400). This 60-page all new intelligence report gives you first-hand insights and analysis into the latest industry developments and intelligence about China AI. Get exclusive access to our webinars for continuous learning, and interact with China AI executives in live Q&A. Offer valid until 31 March 2020.